It appears that the Europeans are beginning to wake up to the harsh reality that eventually they will have to take a stand against Putin's Russia. If not now, then down the road. As it stands now, although late to the game, the EU is taking steps to condemn what Russia has done in Ukraine, and laying the groundwork to put in place harsher penalties for continued or further efforts to destabilize the region.
This continues to fuel speculation that sanctions will be put in place that will cut off the flow of money from Western Europe to Russia, but that would cause the flow of energy (specifically natural gas) to stop flowing from Russia to Western Europe; far worse for the EU than Russia in the short term. Long term, we see this leading to Russia and China agreeing to resource deals that would see the Chinese invest in more pipelines to bring Russian energy to Asia and diversifying the risk away from further showdowns between the two neighbors and their western counterparts. That might be the biggest event to occur from all of this long term, which could affect commodities markets for years to come should it come to fruition.
Chart of the Day:
We are once again watching the palladium trade as the metal is showing considerable strength in recent trading sessions. We have broken through resistance at the $760-765/ounce level, and now are testing the yearly highs around $780/ounce. The move is due to the compounding effect by the bulls as they already had pushed palladium up to key resistance levels right as the Ukraine/Russia/Crimea issue surfaced. Many traders seem to be betting on sanctions, something we are not predicting. We think this trade is nearing, if not already at, a high. We would be sellers of the ETFS Palladium Trust (NYSEARCA:PALL) on this latest move and book the profits.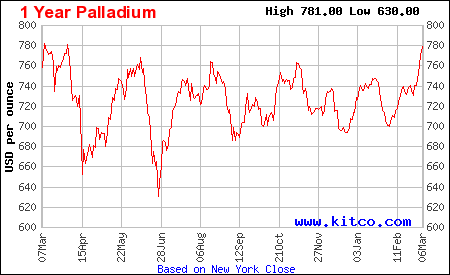 Source: Kitco
Commodity prices this morning are as follows:
Gold: $1,337.70/ounce, down by $14.10/ounce
Silver: $20.96/ounce, down by $0.614/ounce
Oil: $102.52/barrel, up by $0.96/barrel
RBOB Gas: $2.9636/gallon, up by $0.0181/gallon
Natural Gas: $4.618/MMbtu, down by $0.044/MMbtu
Copper: $3.085/pound, down by $0.133/pound
Platinum: $1,485.40/ounce, down by $1.40/ounce
Interesting Events At Cliffs
We are not all that surprised to see Cliffs Natural Resources (NYSE:CLF) have its settlement offer turned down by Casablanca Capital, LP as it was not exactly a great offer to bring Casablanca into the fold. With its 5.2% ownership, Casablanca could theoretically get the two board seats that were offered to them on its own, with a third seat a real possibility. Rather than take the settlement offered by Cliffs, Casablanca, the fifth largest shareholder of Cliffs Natural Resources, will continue to seek full control of the company's board in order to enact its plan to create more value for shareholders.
This is now obviously a fight for total control of the company, with the current CEO's job in jeopardy should Casablanca gain control of the board. With shares not rallying on the news that Casablanca was going to press the issue, our bet is that investors were hoping that the two sides could work together in order to create value and not rock the boat too much.
One would hope that this battle does not turn ugly. Generally it is best when activists work with the company to turn the ship around, and avoid shaking the boat so much that it sinks under its own weight.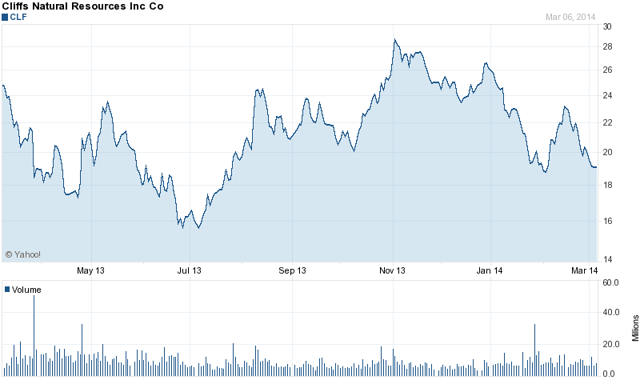 Click to enlarge
Source: Yahoo Finance
Companies in the commodity space are notorious for being able to fight off hostile parties trying to either take them over or seek control of their boards. Recent history is mixed, though, with Potash Corporation of Saskatchewan (NYSE:POT) having successfully fought off BHP Billiton's (NYSE:BHP) takeover attempt, but names such as Hess (NYSE:HES) having fallen victim to activist investors.
Disclosure: I have no positions in any stocks mentioned, and no plans to initiate any positions within the next 72 hours. I wrote this article myself, and it expresses my own opinions. I am not receiving compensation for it (other than from Seeking Alpha). I have no business relationship with any company whose stock is mentioned in this article.