Editor's Note: This article covers a stock trading at less than $1 per share and/or with less than a $100 million market cap. Please be aware of the risks associated with these stocks.
Swisher Hygiene, Inc. (NASDAQ:SWSH) provides cleaning products and services to restaurants, hotels, healthcare facilities and many other businesses. A few years ago, Swisher Hygiene was acquiring companies
and growing at a rapid pace. This strategy worked very well in the
past for billionaire Wayne Huizenga, who invested millions into this company. Mr. Huizenga used this acquisition strategy to make fortunes for himself and shareholders in companies like Waste Management, Inc. (NYSE:WM) and AutoNation, Inc. (NYSE:AN).
However, the fast growth led to accounting issues for Swisher Hygiene, and that led to late financial filings (in 2012), as well as shareholder lawsuits. These problems caused this stock to subsequently crater, but things are looking up on multiple fronts and this very neglected stock could surprise to the upside. While I would still consider this stock
speculative, it appears to have more going for it than the current share price gives it credit for. After close examination of the balance sheet and other details, this stock is not nearly as speculative as it may seem, even though it trades for just about 50 cents (well below the 52-week high of nearly $1.50). Let's take a look at the chart below as well as the challenges and the upside potential for this stock: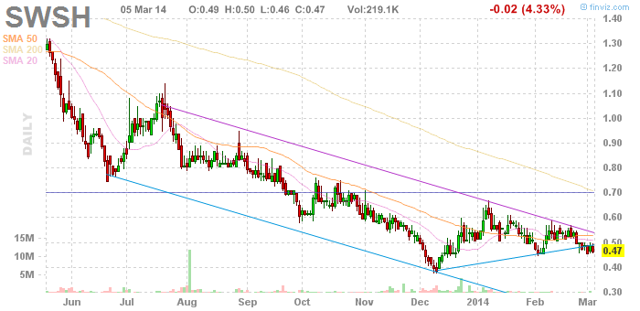 This Stock Has Started to Trend Higher:
As the chart above shows, this stock was trading for over $1 per share
a few months ago. As tax loss selling pressure reached a peak in December, the shares were pushed down to the 40 cent range. However, in recent weeks this stock has been showing signs of having bottomed out and it has even started a new uptrend as shown by the light blue uptrend line (which started in December). The chart also indicates that the 200-day moving average is about 71 cents per share and that could be where this stock is heading to in the short-term. In the long-term, this stock could be trading for well over $1, which would
provide investors with gains of more than 100%, from current levels.
Business Overview:
First of all, the business of supplying cleaning supplies and services to hotels, healthcare facilities, restaurants and other establishments is relatively stable. This line of business is typically solid since many accounts need daily, weekly or monthly deliveries of products and services. This provides the company with very steady cash flow. This line of business appears to give Swisher Hygiene a great foundation for a turnaround as it gets past the issues that punished this stock over the last couple of years. Below, you can see the types of products that Swisher Hygiene offers. (This is sourced from a February 2014 investor presentation.)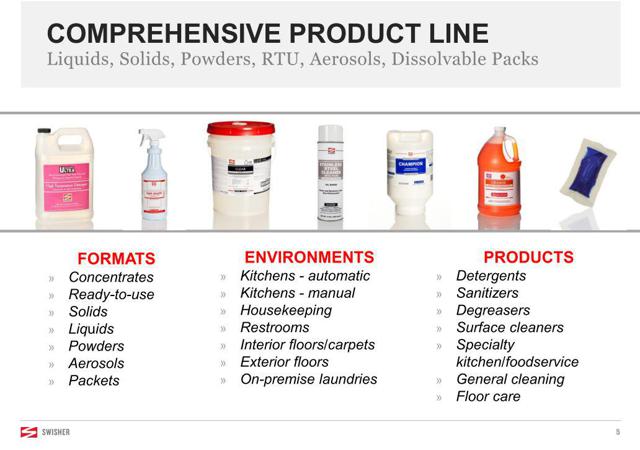 Management Is Taking Action and Headwinds are Abating:
It appears that rapid growth through acquisitions were too much for the former management to handle. Multiple acquisitions led to accounting issues in the past as balance sheets were consolidated from all the acquired companies. Once you have a major problem like this, it can lead to a downward spiral, and create additional issues such as shareholder lawsuits, distractions for management, loss of investor confidence, and many extra expenses. However, these headwinds appear to be in the rear-view mirror for Swisher Hygiene; the restatements have been completed, the shareholder lawsuits were recently settled, and the stock is even showing signs of having hit rock-bottom levels. Furthermore, a new CEO has taken control, and he appears to be taking aggressive action to create shareholder value. Non-core assets have recently been sold, and the company has announced a major cost control plan that could lead to profits. Let's take a closer look at these events:
1) On January 6, 2014, the company announced it sold non-core assets for $3.2 million in cash, plus it could receive additional consideration depending on certain milestones. This shows that management is streamlining the company so that it can focus on its core business. These deals are also adding cash to the balance sheet, which is another positive. This follows up on another non-core asset sale in December 2013, which was valued at $2.3 million.
2) On February 6, 2014, Swisher Hygiene announced that it would pay $5.5 million to settle U.S. class action lawsuits. The great news for shareholders is that the company also stated:
"The SettlementPayment is reimbursable by Swisher's insurer."
This is also good news because it ends the distraction of litigation for management and the risks and expenses that come with it.
3) On February 25, 2014, Swisher Hygiene announced that it would take a non-cash impairment charge for goodwill. I view this as a positive because it shows that management is serious about presenting investors with a clear picture of the financials and balance sheet data. Furthermore, this is a non-cash charge that is common for companies to do after making acquisitions. Another interesting point is that companies often "scrub" their books clean by writing off "fluffy" items like goodwill in order to prepare it for the sale of the entire company. This company has been selling off non-core assets, but it may also end up attracting a buyout in the future. (The sale of non-core assets could also be another sign this company is being prepared for a sale.)
4) Also on February 25, 2014, Swisher Hygiene made an investor presentation at the Robert W. Baird 2014 Business Solutions Conference at The Pierre in New York City. I view this as a positive move by management as it works to get the word out on the investment potential for this stock.
New CEO Has A Great Track Record:
Aside from the fact that Swisher Hygiene has a stable source of revenues and growth potential from the restaurant, healthcare and hospitality industries, it seems that investors should also be bullish due to the new CEO, who was appointed in late 2013. William Pierce was named President and CEO on September 16, 2013, and as noted above, he clearly seems to be taking charge and making the right moves. Mr. Pierce most recently served as senior vice president of Huizenga Holdings Inc., where he worked since 1990. His successful history and background as a CFO should build investor confidence. A company press
release states:
"His tenure included multiple roles, including five years as chief financial officer of Dolphins Enterprises, where he was responsible for all non-football business operations of the Miami Dolphins and Sun Life Stadium."
A Strong Balance Sheet Limits Potential Downside Risk:
When investing in stocks that appear to be more speculative in nature, it makes sense to consider two huge factors that could potentially create downside risks for investors: revenues and the balance sheet. Stocks that trade below $5 and even under a $1 often are cases were the company has little to no revenue, and oftentimes lots of debt and little cash. However, this is not the case with Swisher Hygiene which has reported annual revenues of well over $200 million. It also has a very strong balance sheet with over $33 million in cash and less than $8 million in debt. In fact, the cash on the balance sheet is equivalent to about 19 cents per share which is considerable for a stock trading around 50 cents. This shows the company has financial strength and this greatly reduces potential downside risks for investors. Recent asset sales could add a few million dollars to the existing cash hoard.
Swisher Hygiene has posted losses and that is a potential downside risk for investors to consider. However, the losses are relatively small, especially considering the amount of cash this company has on the balance sheet. For the third quarter of 2013, it announced an adjusted EBITDA loss of $3.3 million. The CEO made note of a company goal for $15 million in annualized savings, which could lead to profitability and a much higher share price. The CEO stated:
"Our aim to achieve $15 million in annualized expense savings remains intact, but we expect it will take additional time to realize that goal. Our immediate focus must be on improving and optimizing operations across the board, winning new business, further strengthening our customer service and completing the simplification of our business model."
This Stock Appears Significantly Undervalued:
This company has a market capitalization that currently stands at about $82 million. This appears very undervalued especially when you factor in the cash on the balance sheet at over $33 million. The market cap to sales ratio also indicates this stock is undervalued since the market cap is close to one-third of the annual revenues. Many companies trade for a multiple of annual revenues, and if Swisher Hygiene traded for just one times its annual revenues, the stock would nearly triple. I don't expect that to happen soon, but even that level could be very conservative in the long-term when you consider the valuation of other firms in this industry.
In order to get a better view on what fair value could be for Swisher shares, it makes sense to look at the valuation of a competitor. Much like Swisher, Ecolab, Inc. (NYSE:ECL) offers cleaning and other products and services to the hospitality, food service, healthcare, industrial, and other industries. As such, Ecolab is a leading competitor for Swisher which makes it a reasonable stock to compare it to. Ecolab currently has a market capitalization of about $33 billion and it has annual revenues of just over $13 billion. That means it enjoys a market cap to sales ratio of nearly 3 times. This is almost 10 times the current ratio for Swisher Hygiene, which shows some of the upside potential it may have in the future. Thanks to a cheap valuation, Ecolab could even find Swisher Hygiene to be an attractive takeover target, now that it has put many major challenges behind it.
A Short-Squeeze Could Be An Upside Catalyst:
According to Shortsqueeze.com, there are roughly 5.5 million Swisher
Hygiene shares short. Based on average trading volume of around 284,000 shares per day, the short interest is equivalent to about 20 days worth of average trading volume. That is enough for this stock to potentially see a short-squeeze rally. A short-squeeze could be more likely now, since the stock appears to have bottomed out, and also because many of the headwinds have abated.
Potential Downside Risks Appear Limited Now:
One of the biggest potential downside risks with a stock trading for about 50 cents is typically a lack of revenues. Oftentimes, these companies also have a weak balance sheet that is saddled with a heavy debt load. As noted above, this is clearly not the case with Swisher Hygiene. The class action lawsuit was another downside risk, but the recent settlement alleviates this concern. That leads us to consider a few other potential downside (company-specific) risks which include management execution, continued losses, and the potential for volatility and liquidity risks that can come with investing in micro-cap stocks. There are also macro and other risks such as a recession, or competitive threats from larger companies.
For a number of reasons, I believe the potential downside risks are either limited or can be managed. First of all, with a new CEO who is taking action to resolve past issues and cut expenses, I believe management is executing very well now. As for the continued losses, this potential risk appears limited because the losses are relatively small and the company is clearly focused on becoming profitable. Non-core asset sales can help reduce expenses and the goal to cut $15 million per year from expenses could lead to improved financial results. (If the company can achieve this goal, it would be equivalent to about 9 cents per share in costs savings, which could go directly to the bottom line. This is very significant for a stock trading at just 50 cents per share.) I also am not concerned with recent losses because the "burn rate" is very low when compared to the over $33 million in cash on the balance sheet. That kind of cash on the balance sheet means the company has plenty of time to become profitable. There is no doubt that the company has endured extraordinary accounting and legal fees during the past few quarters, but these expenses are now poised to diminish with the class action settlement. That could help fuel the goal of profitability in the coming quarters.
As for the volatility and potential liquidity risks that can come with investing in microcap stocks, this is a two-edged sword which can lead to big moves either way. These types of stocks typically receive less coverage by analysts and are not as well-known by investors. This can lead to significant volatility since the market is not as liquid, so investors should be prepared for potentially big swings in the stock price. The best way to manage this risk is to keep investments limited to a reasonable portion of your total portfolio. It also helps to not always buy a full position, so that cash is still available to take advantage of any pullbacks.
As for the macro-risks, the chance of another major recession at this time seems limited. In fact, many of the industries that Swisher Hygiene services such as hotels, restaurants, retail establishments and healthcare are seeing growth. This growth could become a continued tailwind that fuels profitability. As for the competitive threats from larger companies, this is a challenge that management will have to deal with, as it has for many years. However, I believe that there is plenty of room in the market for more than one company. With a complete product line and significant scale, Swisher Hygiene is large enough to provide its customers with whatever they need and do so with competitive prices.
Overall, it appears that this stock has already hit rock-bottom levels and that could also mean downside risks are limited. This company generates a substantial amount of revenues of over $200 million, which is nearly three times the size of the current market capitalization. That means this company is not nearly as small as the current share price would suggest. Furthermore, the cash on the balance sheet is equivalent to nearly 20 cents per share. With the shares trading at about 50 cents, if you back out the cash of nearly 20 cents, it's like paying only 30 cents per share for the business. A company with this much cash and with significant revenues is not going away anytime soon, or probably ever. That is why I think the upside potential greatly outweighs the downside. If the economy blows up, and this company never makes a dime going forward and burns through all of its cash, there is a defined downside risk of about 50 cents. However, the more probable outcome is that the economy continues to improve, this company sees revenues grow and expenses decline. That should lead to profits and upside that is a potentially as much as a few multiples of the current share price (based on the current valuation of Ecolab).
Conclusion:
This company appears to be putting many of its past challenges behind it and moving forward with a renewed focus on its core operations and a turnaround towards profitability. With a cash-rich balance sheet, a cheap valuation, limited operating losses and a major cost savings program in place, downside risks appear limited at this time. As shown by comparing the valuation of a leading competitor, the upside potential could lead this stock to be a multi-bagger in the long-term. However, that will require a continuation of the progress that is being made by management. In the short-term, it appears the stock could continue to trend higher and back above the 20-day moving average of 71 cents. Either way, this stock appears to have significant short-term and long-term upside potential.
Here are some key points for Swisher Hygiene, Inc.:
Current share price: 50 cents
The 52 week range is 38 cents to $1.46
Annual dividend: n/a
Data is sourced from Yahoo Finance. No guarantees or representations
are made. Hawkinvest is not a registered investment advisor and does
not provide specific investment advice. The information is for
informational purposes only. You should always consult a financial
advisor.
Disclosure: I am long SWSH. I wrote this article myself, and it expresses my own opinions. I am not receiving compensation for it (other than from Seeking Alpha). I have no business relationship with any company whose stock is mentioned in this article.