Company Overview
Cirrus Logic (NASDAQ:CRUS) is a fabless technology supplier with a dual focus on audio and energy. In audio, the company offers audio codecs, amplifiers, and digital signal processing. The company's products improve voice recognition, sound fidelity, background noise canceling, speaker loudness, etc. all using relatively little amounts of power. In energy, the company offers LED lighting technologies and smart meters.
Recent Concerns
Cirrus Logic currently derives >80% of revenue from Apple (NASDAQ:AAPL), who integrates the company's audio technologies in Apple products. Several months ago, an independent tear down uncovered that Apple's iPad Air did not utilize Cirrus Logic amplifiers. Analysts stressed this point and predicted that Apple would stop using Cirrus Logic amplifiers in all of its products. The loss of the iPad Air is substantial to Cirrus sales, and a complete amp loss at Apple would be devastating. Investors and analysts have focused on this and no one likes that Cirrus is so dependent on Apple. People feel that the company will continue to lose pricing power in order to retain its relationship with Apple.
More Socket Losses at Apple
Subsequent events, like the discovery that Cirrus amps are in the most recent iPad Mini iteration and other Apple products suggest concerns about more Apple losses are too extreme. There is always the chance of losing Apple's business but I don't think the immediate probability of that happening is as high as market sentiment seems to have assigned.
Dependence on Apple and Weakening Pricing Power
Gross margin has declined substantially. In years past, the company was able to average about 55%, but that number has come under pressure recently and is now in the upper 40s. In the Q3 conference call management addressed the margin picture numerous times and stuck strongly to long-term margin guidance of 'mid-40s' in GM and 20% in operating margin. Those numbers aren't too far off where the company is now and the confidence with which those numbers were repeatedly mentioned despite analysts pressing management is encouraging for the next few years. I think the margin situation at CRUS will play out similar to that at Apple last year when margins dropped off historic highs and the market overreacted, leading to margin beats. GM has since stabilized at Apple.
While the Apple exposure does present a substantial risk for CRUS, it is also an opportunity. Apple is an innovation leader that has proven in the last 2 years that it has staying power. While I am not long Apple stock, I think the company will continue to maintain its ground in consumer technology and as time goes on, I believe the likelihood of a major product in a new category becomes all the more likely. It's not something to count on, but the company must be doing something with all that R&D and if there is a new product, the company's recent track record bodes well for the product's success. If Apple does big things, CRUS will likely benefit. Apple's share price reflects future success but CRUS's does not and that disconnect is a major component of my thesis.
Health of the Business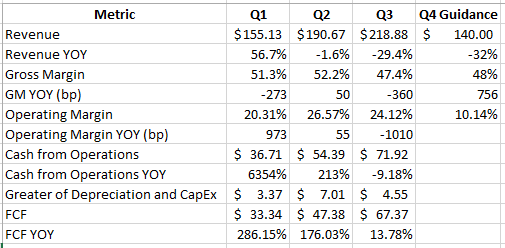 Revenue has been improving on a sequential basis but declining YOY and the guidance for Q4 represents a substantial decline, both YOY and sequentially. However, the implied YOY decline in Q4 is close to that of Q3 and while management described FY2015 as an unexciting year of transition, they did not sound downbeat on the year and mentioned new 55nm products that could have an impact as soon as early calendar 2015 (late fiscal 2015). I am projecting $634M in 2015 revenue, or 10% less than full year 2014 guidance, based on weakness in the first half followed by slight YOY improvement in Q3 and a strong Q4 behind the new 55nm products. For comparison, analyst consensus for FY2015 is $674M, so my estimate is 6% lower and seemingly conservative.
Gross margin and operating margin have been trending poorly but are both expected to be substantially better than the company's mid-40s/20 long-term guidance for the full year. Based on the downtrend and management guidance, I expect 45% GM and 20% OM for 2015.
Cash from ops and FCF have both been improving sequentially but weakened YOY from quarter to quarter. These numbers should weaken in the next few quarters. They've come in strong relative to net income recently but over the long-term, average about what the company is doing on the accrual accounting side, so I expect a reversion. I will assume normalized FCF equal to operating income less the 35% tax rate that will ensue once the company's deferred tax asset is used up shortly.
In general, the business has not done well of late and FY2015 probably will not be a great year either, but after that I believe things will pick up. Management does not manage from quarter to quarter but invests in R&D now to make money 2-3 years in the future. Talk of 55nm products, the potential of the company's energy technologies, the large intellectual property portfolio (~1100 patents), and the idea of a game-changing product from Apple all bode well for Cirrus Logic in the long-term. The company has a strong track record: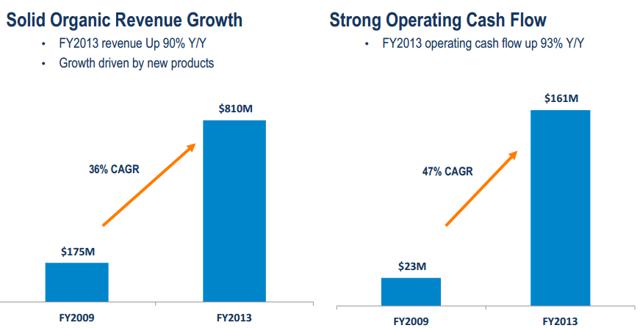 Click to enlarge
Source: Q3 Investor Presentation
I don't anticipate this sort of growth going forward, but I see 10% growth in revenue and 5-10% in cash flow in the next 5 years as reasonable, and just as it was not consistent growth in the last 5 years, there will inevitably be bumps in the road in the next 5. This is a technology company and so fluctuations should be expected.
I get the impression that Cirrus is a well-managed company. Its products must be of high quality to pass Apple's rigorous standards and the company has won awards for fast growth and being a great place to work, critical to success for a firm that relies on the brains of its engineers. The future is bright for the markets CRUS inhabits as suggested by global smartphone volume projections, portable audio market opportunity, and LED light bulb TAM.
Valuation
To be conservative, I will be valuing the firm using FY2015 estimated financials which may or may not be weak relative to the company's long-term normalized financials, but these numbers are at least reasonably predictable at this point.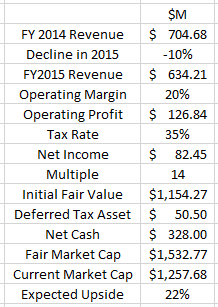 In my valuation I used assumptions detailed in the prior section and others based on management guidance. The critical value driver here is the multiple of 14x I assigned to the operations. This is based on the high degree of uncertainty regarding the long-term direction of CRUS's business, my best estimate of about 10% growth going forward, and my assessment of the qualitative aspects of the business like management, product quality, etc. It is rather generous relative to what I typically assign. I found that the company is trading 22% below my estimated fair value. That represents decent upside, but I typically demand at least 30-35%, so it's not cheap enough for me to make an entrance here.
Indicators
Besides the valuation shortfall, what really keeps me from investing is the large insider sales in late 2013 that took place at prices right around where the stock is now. The company did repurchase $30M in stock @ $19.37 in Q3, but I think that pales in comparison to the insider sales.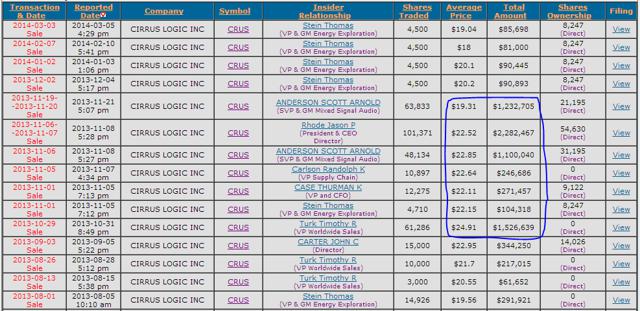 Click to enlarge
Source: SECForm4.com
Respected investors, Joel Greenblatt, Ken Griffin, and Chuck Royce hold long positions in the stock and most recently increased their positions.
Short float is quite high at 19.6% which, as a contrarian, I typically see as a bullish hint and a potential catalyst to higher share prices.
Conclusion
Cirrus Logic seems to be a well-managed company with a strong relationship to a great company in Apple. I believe the market has treated the stock unfairly in the last few months, creating a potential buying opportunity, but shares are not yet in my range and recent insider sales are discouraging. I will continue to follow CRUS and may pick up shares in the next few months if it gets to $17.37, but even if I do go long, it will be a small position given the high degree of uncertainty and the company's excessive dependence on Apple.
Disclosure: I have no positions in any stocks mentioned, and no plans to initiate any positions within the next 72 hours. I wrote this article myself, and it expresses my own opinions. I am not receiving compensation for it (other than from Seeking Alpha). I have no business relationship with any company whose stock is mentioned in this article.