Two weeks ago, our article on rail freight numbers was titled "Rail Freight Volumes Begin to Level Off." The conclusion about a leveling off of freight drew some criticism from commenter's who saw things differently, but this week the Association of American Railroads [AAR] lead its weekly press release with:
The Association of American Railroads today reported that rail traffic has leveled off after twelve consecutive weeks of gains.
What we've been seeing in recent weeks is year-on-year gains on weak 2009 numbers but insufficient growth in the freight traffic to reach pre-crash volumes.
The following charts show intermodal and carloads freight volumes since 2007, along with a 52-week moving average. (Click charts to enlarge)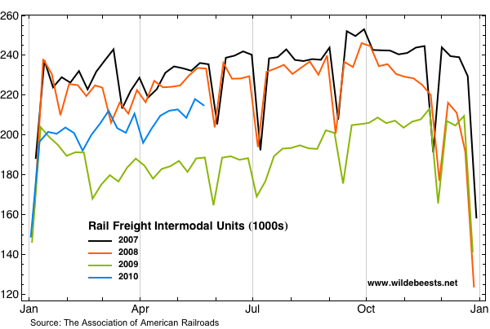 Click to enlarge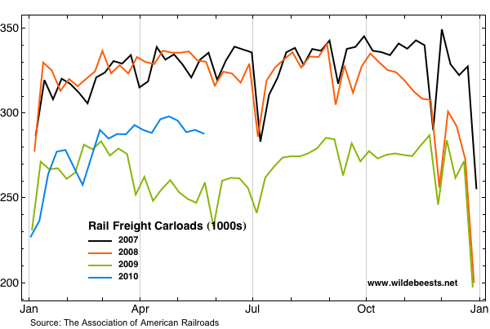 Click to enlarge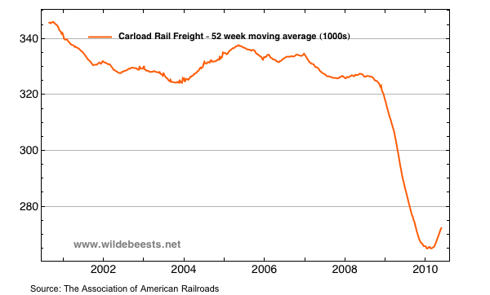 Click to enlarge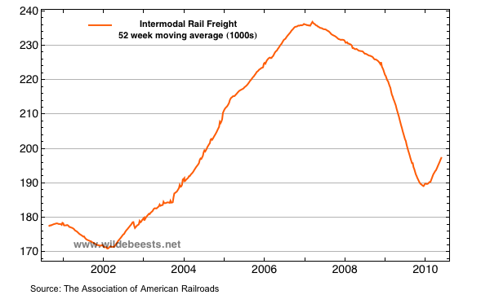 Click to enlarge
Note that the container movements at ports are correlated to intermodal freight as shown here.
The carload data is divided by the AAR into 18 specific categories (plus a 19th called "other"). Below are the charts for each of the 18 individual categories. The same color coding used in the first two charts above applies: black -- 2007; orange -- 2008; green -- 2009; blue -- 2010. Please click on the image to enlarge it.


Click to enlarge



Click to enlarge



Click to enlarge
Disclosure: No positions