The script numbers for Arena Pharmaceuticals (NASDAQ:ARNA) Belviq for the last week in February are in. According to industry tracker IMS, the prescriptions for Belviq came in just under 7,000 and were up just over 6% from the previous week. On an adjusted basis (10% adjustment), scripts were just below 7,400 for the week. This is a more modest gain than we would have hoped to see, but it is a gain nonetheless.
After the Arena conference call investors were able to note that the bottles of Belviq shipped between the launch and December 31st were 157,000. Considering that the bottles shipped would include bottles sold as well as inventory, it became prudent to revise the adjustment factor applied to the channel check data. At launch I applied a 30% upward adjustment. After the Q3 conference call I lowered the adjustment to 20%. I now use a 10% adjustment on IMS. The prudence in these adjustments is that over time the channel checking companies refine their data and gain accuracy. At some point in the near future, the appropriate number may be simply splitting the difference between what IMS reports and what Symphony reports.
As stated above, the weekly rise in scripts was a bit above 6% according to IMS. I estimate that just over 154,000 prescriptions have sold to consumers since launch. The chart below reflects adjusted data vs. an expectation line. The chart is not manipulated to skew anything one way or another. The chart has remained the same over time. The adjustment factor has changed on two occasions (with me informing the readers of the changes each time). The changes in the adjustment factor are made when pertinent information becomes available that demonstrates an adjustment is appropriate. For those that want to compare this chart (tracking sales vs. expectations) to a chart that simply tracks sales, you will need to consider an important factor as to why the charts will carry different appearances. I will illustrate that by showing you the identical chart with identical data with the expectation line removed. Hopefully this will clarify what has become a rather distracting debate among some perhaps over-passionate Arena investors.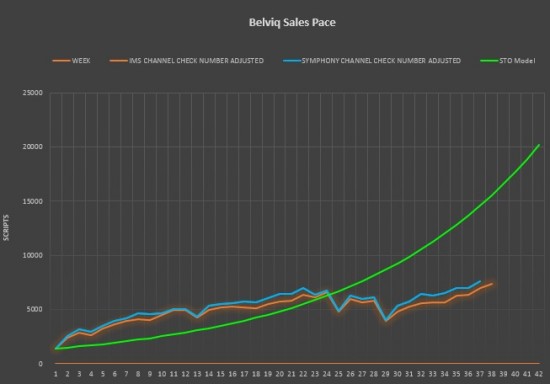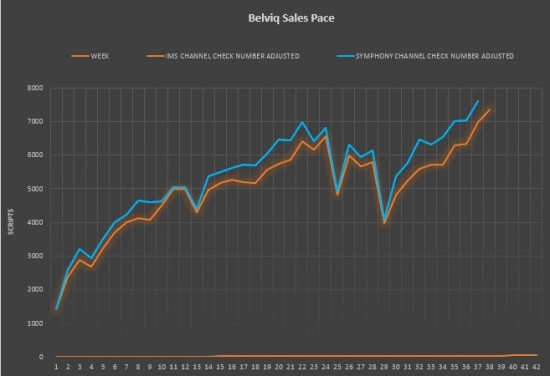 Chart Source - Spencer Osborne
The second chart (with the expectation line removed) looks very positive. It should, as sales have been increasing. The dynamic of why the chart looks flatter vs the chart with expectations included is because the chart with expectations considers higher script sales in future weeks. While this may seem rudimentary to many readers, please consider that readers are at different levels of understanding. Taking the time to point this out should ease the confusion factor so that discussions can focus on the important things such as sales progression and not how pretty a chart can look.
The overall sales numbers are another important factor to watch. After all, one big question is whether or not Belviq will get to blockbuster status, how long that may take, and whether or not it can happen in the U.S. alone or there is a need for several other countries to get there. Using Belviq to treat other indications, such as smoking cessation, could help the progression. I estimate that sales to consumers since launch stands at about $38 million. We now are one week shy of nine months in sales. The pace thus far is $4.2 million per month overall and about $4.9 million per month so far this year.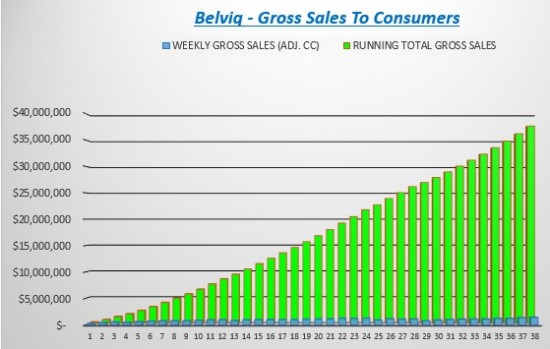 Chart Source - Spencer Osborne
In looking at Belviq sales quarter over quarter, this week was quite promising. Last week we were seeing that Belviq sales were pacing about 12% to 15% above last quarter. This week has a 73% increase over the respective Q4 week. This is explained by the holiday impact in Q4 that will be virtually nonexistent in Q1. For this reason, sales are well on their way to outperforming the previous quarter. In fact, sales are now 21% better than last quarter and should be able to get to 30% with relative ease.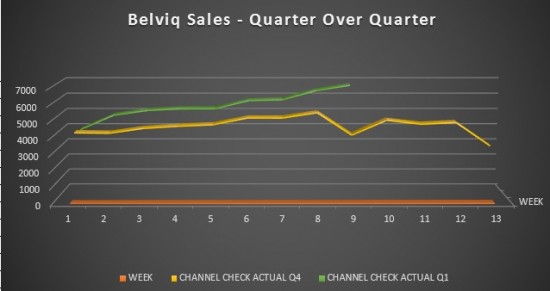 Chart Source - Spencer Osborne
Overall, the sales are moving up, but not at a pace that screams consumer traction and awareness. The good side of that is that there still exists potential for better awareness. The bad side of that is that investors that were expecting a huge run will need patience. It is really as simple as that. Sales, over all since launch, look to be on a pace to be closer to $45 million by March 31st rather than to the $50 million to $60 million which was revised downward from $200 million and $150 million. We need to see the sales numbers gain some traction. The very cold weather is behind us, and the excuses are running thin. The street is looking for growth stories. Advertising on television is supposed to start in April, but that will not help the current quarter. If sales can demonstrate a pace of $50 million, it could help establish a foundation in the equity to build from next quarter. Stay Tuned!
Disclosure: I am long ARNA. I wrote this article myself, and it expresses my own opinions. I am not receiving compensation for it (other than from Seeking Alpha). I have no business relationship with any company whose stock is mentioned in this article.