One of my favorite kinds of investments is a high yielding company that pays monthly. As I was researching companies for an experimental high-yield portfolio (you can see the portfolio here) I came across what I consider to be the absolute best in breed when it comes to monthly dividend payers.
Company Overview:
Main Street Capital (NYSE:MAIN) is a Business Development Corporation that IPOed in 2007. Since that time, it has proven itself to be among the best managed BDCs in the industry and grown its investment portfolio, dividends and share price at an enviable rate.
Like all BDCs Main Street lends to smaller companies. In this case to the lower middle market companies (LMM) segment of the economy. These are underserved companies that make $5-$300 million in revenues and EBITDA between $3-$20 million. Main Street's typical loan is between $2-$15 million and for lengths of 3-7 years. The loans are used for growth financing, acquisitions, ownership buyouts, recapitalizations and other areas generally reserved for Private Equity companies. Main Street, unlike some other BDCs, isn't interested in startup companies. Instead the company prefers to invest in mature and proven firms. It utilizes a hybrid loan/equity strategy. This means the company makes various kinds of loans as well as take equity stakes in companies. The equity stakes are typically 5-50% of a company and sometimes include controlling shares. As of the end of 2013 the company averages 33%shareholdings in their equity positions. This hybrid approach allows for a mix of high income used to pay the dividend, as well as capital gains which grows the NAV. This causes share price appreciation and pays for special dividends. Though there are about 30 BDCs for investors to choose from there are certain things that make Main Street the absolute king of BDCs and monthly dividend stocks in general.
1. Managerial Excellence: The best description of Main Street's management team is from their website. "Main Street's management team includes a unique group of professionals with over 100 years of investment experience, each of whom has significant experience in corporate finance, mergers and acquisitions and private equity investing."
2. Management Invests Alongside Owners: While many BDCs have excellent management, what makes Main Street's so special is its dedication to aligning its interests with that of shareholders. From the beginning of his tenure, CEO Vincent Foster has been buying shares of Main Street. In fact today. Mr. Foster is the single largest shareholder of Main Street Capital. He owns over 1.4 million sharesof the company worth $39.25 million. In fact, management owns 9% of Main Street's shares. Unlike many management teams who obtain free or reduced price shares through generous stock option grants, Main Street's management buy all its shares at market prices.
3. Lower Operating Costs: Main Street Capital is an internally managed BDC with total expenses just 1.7% of assets compared to 3.2% average expenses for internally managed BDCs and 3.6% for externally managed BDCs. This means that Main Street has the lowest operating costs of any BDC in operation. One of the reasons for this is the previously mentioned insider ownership. With management investing much of its own personal fortunes in the company's long term success, it has an incentive to keep the operations as lean and profitable as possible.
4. High and Growing Yield: Since IPOing in 2007, Main Street has increased its dividend from $.33/quarter to $.495/quarter which is an increase of 50%. This represents an 8.5% compound annual growth rate, CAGR. This is the fastest dividend growth rate of any BDC. In fact it is among the fastest dividend growth rates of any high yielding company, REIT, MLP or any other investment vehicle. In addition, according to the last earnings report during the 4th quarter of 2013 Main Street Capital achieved a record high of NII/share of $.60/share. This is 23% higher than the recently raised dividend. NII stands for Net Interest Income and represents the money from which dividends are paid. NII/Share is the number one thing that all BDC investors should monitor. If NII/share dips below the dividend then the sustainability of the dividend is in doubt and future growth cannot occur. With Main Street we see NII/share growing quickly which fuels fast growing, high and sustainable dividends. In fact Main Street's dividends are so well managed that during the great financial panic of 2008-2009, when every other BDC was eliminating or greatly reducing its dividend, Main Street was able to maintain and actually raise its dividend throughout the duration of the crisis.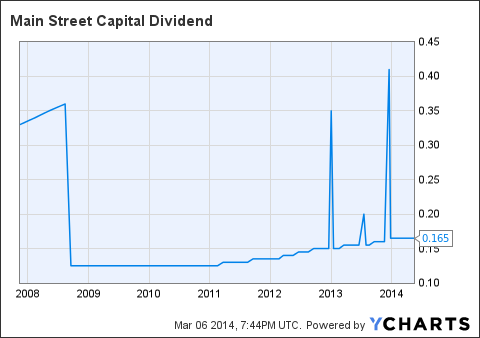 The apparent drop in 2008 is a transition from quarterly dividends to monthly. Main Street started off with a $.33/share dividend that grew to $.36/share and then was raised to $.125/month which is equal to $.375/share.
Speaking of yield, there are two aspects to Main Street's dividend. First is the regular monthly dividend which has grown at 50% in the last 6 years. Then there is the semiannual special dividend generated from the company's taxable capital gains. As a BDC, Main Street is forced to pay out 90% of taxable income as dividends. It is allowed to keep up to $1/share in taxable capital gains. Once that limit is reached a special dividend is required and management believes that the special dividend will be paid out for at least several more years.
For the first half of 2014 CEO Vincent Foster has asked the board for a $.25-$.275 special dividend. This would place the total yield of Main Street at 7.2-7.3%.
One final comment must be made on the nature of the dividend. While most BDCs dividends are taxed as regular income (and so these BDCs should be held in tax deferred accounts such as Roth IRAs), Main Street's dividends are partially taxed as long-term capital gains. In 2013, about 30% of Main Street's dividend will be taxable at the lower 20% long-term capital gain rate. Management anticipates a similar rate going into 2014.
5. BDC hyper growth: Whereas most BDCs pay high dividends but seldom grow them, Main Street has proven itself a master at both high yield and growth.
In the last 6 years not only has the dividend grown at 8.5% CAGR but the NAV has grown at 9.1% CAGR. Net Asset Value is the value of a company's investments. It can be thought of as book value for financial companies such as banks and insurance companies. A growing NAV is a sign of a healthy, thriving and well managed BDC. In addition, the easiest way of valuing a BDC is by looking at their price/NAV. This is equivalent to price/book value for banks or insurance companies. If a company's book value grows then its share price is sure to follow. Thus, along with the fast growth in dividends, the fast growth in NAV is one of the drivers of Main Street's best in class market returns.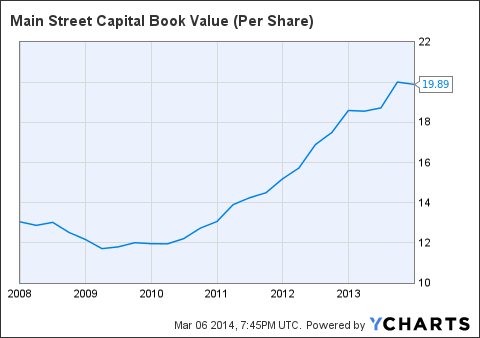 6.Total Returns: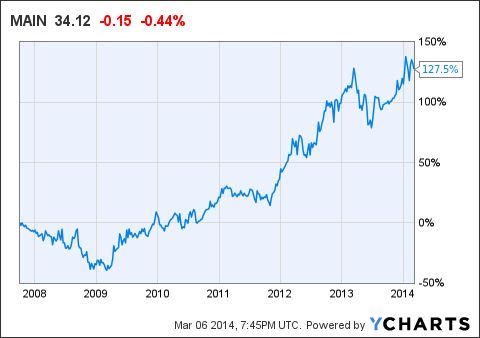 Main Street Capital is a rare and precious gem in the investment world. Not only does it have a high and fast growing yield but its best in industry management is capable of growing its NAV quickly. This helps to fuel share price appreciation more appropriate to a growth company than a boring and high yielding BDC.
In the last 5 years Main Street Capital has returned CAGR of 18.1% in share price appreciation alone. Add in dividend reinvestment and that growth rate climbs to an astonishing 28.84%. This makes Main Street Capital one of the greatest investments of the last 5 years.
7. Cheap Access to Capital
One of the things that critics of Main Street point out is that the company trades at a high premium to NAV of 1.73. What this means is that investors are willing to pay $17.3 for every $10 in Main Street's portfolio. The reason for this premium is the proven track record of management to not only operate as a great BDC but as a private equity firm as well. Main Street Capital is rightly being priced higher because of its track record of growth, in NAV, NII/share and dividends. The premium represents confidence in the best management in the industry to keep firing on all cylinders. Just as there is a premium to Tesla (NASDAQ:TSLA) stock because of Elon Musk and Berkshire Hathaway (NYSE:BRK.B) because of Warren Buffett, so too does Main Street trade at a premium because of its exceptional management.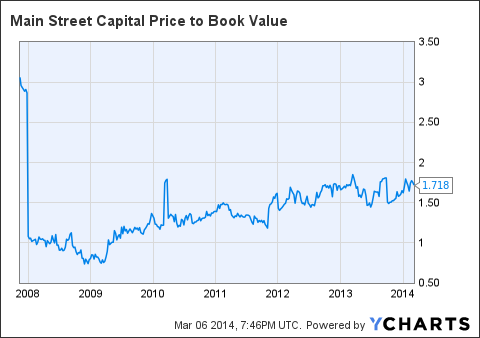 In addition, what critics fail to realize is that Main Street is able to use its premium to great benefit for shareholders. This is because, to grow its investment portfolio BDCs must either borrow or sell additional shares. Legally the company is not allowed to borrow more than the value of its assets so all BDCs must occasionally sell additional shares in a secondary offering.
When a company does a secondary at a share price greater than NAV it automatically becomes accretive to existing shareholders rather than dilutionary.
For example, if a company has a NAV of $10/share but sells shares for $15/share, then it is selling $1 of value for $1.5 and automatically making a profit. That $5/share premium that new investors are paying is automatically added to the NAV and makes the company more valuable. Well, it does if management is smart and can then take the free money and invest it at a high rate of return. This is an area in which Main Street's management has proven to be masters. Even if the secondary offering initially appears to dilute existing shareholders, if shares are sold above NAV (the higher the better), then the NII/share will increase and so too will the dividend.
This high premium to NAV is creating a can't lose scenario. If the stock price stays high then existing investors make capital gains while collecting steadily growing dividends. Management can then raise cheap capital to reinvest and further grow the portfolio, NII/share and dividend. This further raises investor's income as well as the share price. As the market's confidence in management grows so does the premium to NAV (as well as the NAV itself). This means that the longer Main Street can execute well, the bigger it grows and the cheaper and more accreitive does new capital become to existing shareholders. It is a way to ensure that a proven winner keeps winning.
8. Portfolio Diversification:
According to its 2013 year end investor presentation, Main Street Capital's investment portfolio is $1.15 billion spread out over 169 companies. No investment represents more than 3% of the portfolio or 2.5% of the interest income. Only 2 of the loans are on non-accrual status meaning the company is not making payments. This 2.3% non-accrual status is among the lowest in the industry and shows the care with which management performs due diligence on a company before giving tit a loan or buying stock in them.
51% of its loans are in the Lower Middle Market segment (meaning small companies) and the average yield on this segment of the portfolio is an astonishing 14.7%. Yet 86% of these loans, which carry increased risk, are First Lien loans. This means that in the event of a bankruptcy Main Street would be first in line to collect on its debts when the company's assets were sold off. 93% of these LLM loans are fixed rate and pay monthly which helps Main Street pay its investors.
37% of the portfolio is Middle Market companies which are larger, more stable and less risky. The average yield on this segment of the portfolio is 7.8%. While this is lower than the riskier LLM segment, it is still higher than the 7.3% total yield that Main Street is paying investors. In addition, 94% of these loans are floating interest rates which means that Main Street stands to benefit from rising interest rates.
9% of Portfolio is in private loans. There are 15 total companies represented in this segment. 95% of these loans are secured and 98% on a First Lien basis. The average yield is 11.3%
Valuation and Future Performance
Valuing BDCs is both easier and more difficult than most companies. Traditional metrics such as EPS and PE ratios don't matter as much as does NAV, NII/share and price/NAV.
The 5 year average price/NAV is 1.53, indicating that the current share price is 13.1% overvalued.
However, another way to value a BDC is by adding the yield and the CAGR of the dividend together. This is an estimate for total returns since the dividend yield is what drives the price of BDCs. In this case we have a yield of 5.6-7.3% (depending on whether one includes the semiannual special dividends) and a dividend growth rate of 8.5%. This indicates that investors could expect to earn total returns of 14.1%-15.8% CAGR going forward. Taking into account dividend reinvestment we get anticipated future returns of 20.5-24.25%.
Taking into account the anticipated 5 year returns and discounting by the stock market's 1871-2013 CAGR of 9%, I get a fair present value of $43.36-$46.69/share. This indicates that Main Street Capital is trading at a 26-35% discount to fair value.
Technical Analysis:
The short-term technical signals are mildly bullish for this stock. There is moderate support at $34.49 with almost no resistance to speak of above the current price. The latest candlestick pattern is a neutral Bullish Harami. This basically means there is little short-term risk to the stock at its current levels, other than a general market correction.
Conclusion:
Main Street Capital is truly a buy and hold forever stock. During the great financial panic when it seemed that another depression was upon us, management steered the company to calmer waters all the while maintaining and raising the dividend. The track record and shareholder friendly nature of management is truly outstanding and should give long term investors the greatest confidence that management is investing alongside you and your best interests are being served. Despite being at near record highs, I do not hesitate to recommend Main Street Capital as a long-term very strong buy. I recommend all investors initiate a position and add during dips. Main Street Capital is the kind of generational wealth creating juggernaut that deserves a place in every portfolio.
Disclosure: I have no positions in any stocks mentioned, and no plans to initiate any positions within the next 72 hours. I wrote this article myself, and it expresses my own opinions. I am not receiving compensation for it (other than from Seeking Alpha). I have no business relationship with any company whose stock is mentioned in this article.