By Jharonne Martis, Director of Consumer Research, Thomson Reuters
The retail outlook for February was expected to be bleak, but the final numbers show it was even grimmer than forecast. The Thomson Reuters Same Store Sales Index actual result for February 2014 showed a gain of 1.8%, missing the final estimate of 2.8%. Excluding the drugstore sector, the SSS growth rate decreased to 0.3%, missing the 1.9% final estimate.
The February numbers compare poorly with January 2014, when the SSS Index rose 3.1%, and the ex-drug indicator gained 3.6%.
The February ex-drug 0.3% result is the weakest showing since August 2009's -2.4% result. Overall, 45% of retailers missed their estimates. During the first two weeks of February, winter storms kept shoppers out of the malls. Retailers who beat expectations cited improved weather during the last weeks of February and tax refunds.
Gap (NYSE:GPS) reported a -7.0% comp, significantly below its 0.9% final estimate. Excluding the Easter holiday sales seasonality, this is Gap's weakest showing since July 2009's -8.0% SSS result. Its global division saw the weakest result and the retailer said that severe weather caused store closures in February. Similarly, American Apparel (APP) reported a -5.0% February SSS.
Our Thomson Reuters Quarterly Same Store Sales Index, which consists of 75 retailers, is expected to post 0.9% growth for Q1 (vs. 1.7% in Q1 2014). This is below the 3.0% mark of a healthy retail sector. Moreover, due to the amount of negative guidance for Q1 2014, analysts have become bearish on retailers, and have been lowering both earnings and same store sales expectations since the beginning of the quarter (Feb). Since the beginning of the year (January 2014), the Same Store Sales growth estimate for Q1 2014 was 2.4%. Today it is 1.3%.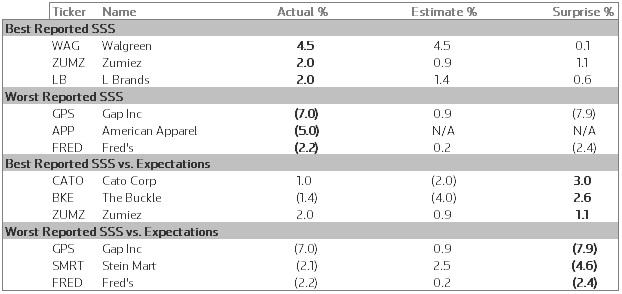 Sector Breakdown
The Discount sector posted one of the strongest results, with a 1.9% SSS, but below its 2.3% final estimate. Costco (NASDAQ:COST) missed its 2.3% estimate with a 2.0% SSS. Excluding two headwinds -- changes in gasoline sales and foreign currency exchange -- Costco posted a 4.0% SSS, beating expectations. On the flip side, Fred's missed its 0.2% same store sales estimate with a -2.2% comp. The retailer also said bad weather shut down some of its stores, which hurt February comps.
The Apparel sector registered a -3.2% SSS in February, missing its final estimate of 1.0%. Excluding the Gap, one of the heaviest-weighted components in the sector, the February average for Apparel rises to 1.3% SSS, which is also above the 1.0% final estimate. Stein Mart (NASDAQ:SMRT) also posted one of the weakest SSS in the group, with a -2.1%, below its 2.5% comp estimate.
Teen Apparel registered a -0.1% SSS for February, above its -2.1% final estimate. The Buckle (NYSE:BKE) beat its final estimate of -4.0%, and reported a -1.4% comp. Zumiez (NASDAQ:ZUMZ) beat its 0.9% final estimate, posting a 2.0% SSS gain.
Disclosure: I have no positions in any stocks mentioned, and no plans to initiate any positions within the next 72 hours. I wrote this article myself, and it expresses my own opinions. I am not receiving compensation for it. I have no business relationship with any company whose stock is mentioned in this article.