This week's circular brings a list of Blue Light Specials in the Financials Aisle of the stock market.
Financials
Health Care
Industrials
Information Technology
Materials
Telecom
Utilities
Sector #4 - Financials
Investopedia defines the Financial Sector as:
A category of stocks containing firms that provide financial services to commercial and retail customers. This sector includes banks, investment funds, insurance companies and real estate.

Financial services perform best in low interest rate environments. A large portion of this sector generates revenue from mortgages and loans, which gain value as interest rates drop. Furthermore, when the business cycle is in an upswing, the financial sector benefits from additional investments. Improved economic conditions usually lead to more capital projects and increased personal investing. New projects require financing, which usually leads to a larger number of loans.
Much like the energy sector, the financial sector contains many different industry types: Banking, Insurance, Financial Services, Real Estate Investment Trusts (REIT) and Business Development Companies (BDC).
As a result of including so many different industry types, the financial sector takes up a significant portion of the membership of the CCC List. Of the 509 companies on this list, 125 of them, or 24.6%, are members of the financial sector. For this article I reviewed that list of companies with F.A.S.T. Graphs to find five prospective companies that appear to be at attractive valuations based on current market prices.
As noted with the previous articles, these stocks were selected based on historical information and analyst estimates for future growth. The companies are presented as ideas for further due diligence.
| | | | | | | | |
| --- | --- | --- | --- | --- | --- | --- | --- |
| Company | Symbol | Sub-Industry | Price | P/E or P/OCF | Yield | 5YR DGR | 10YR DGR |
| AFLAC Inc. | (NYSE:AFL) | Insurance | $64.02 | 9.4 | 2.31% | 8.40% | 17.50% |
| AmTrust Financial Services, Inc. | (NASDAQ:AFSI) | Financial Services | $36.97 | 11.0 | 1.51% | 30.00% | N/A |
| BlackRock, Inc. | (NYSE:BLK) | Financial Services | $300.35 | 18.9 | 2.57% | 17.40% | 37.30% |
| Omega Healthcare Investors, Inc. | (NYSE:OHI) | REIT - Health Care | $32.17 | 12.5 | 6.09% | 9.80% | 23.20% |
| Wells Fargo & Company | (NYSE:WFC) | Banking | $46.15 | 11.2 | 2.60% | 24.20% | 18.00% |
Aflac Incorporated provides supplemental health and life insurance products in the United States and Japan. The company offers insurance products including cancer plans, general medical indemnity plans, medical/sickness riders, care plans, accident, critical illness/critical care, fixed-benefit dental, and others. The company was founded in 1955 and is headquartered in Columbus, Georgia.
Aflac is a member of the Dividend Champions List, having raised its dividend for the last 31 years with an average increase of 17.5% over the last decade. The company most recently raised the dividend in October of 2013, with the payout rising by 5.7% to $1.48 annually.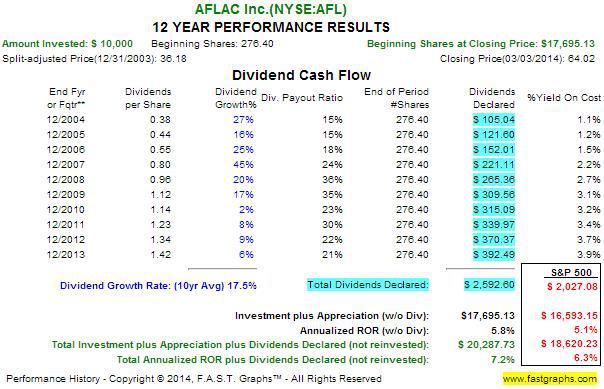 The company has a long track record of continuous earnings growth as it has maintained a growth rate of 12.9% since 1994 and 12.0% over the last decade.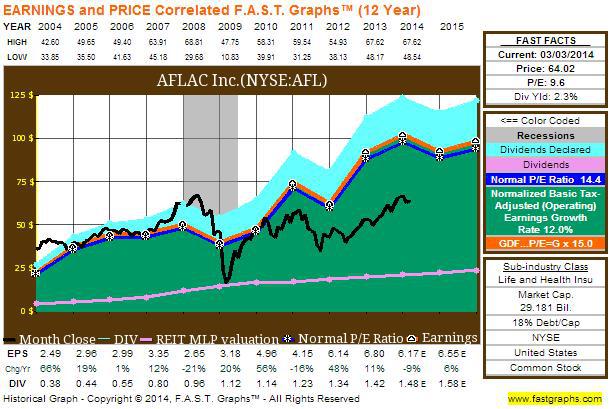 The company has struggled recently as the Japanese Yen has been on a downtrend against the U.S. Dollar since the end of 2011. The company derives a large portion of its earnings from sales in Japan, which leaves it vulnerable to currency fluctuations. This is part of the reason that earnings are projected to dip by 9% in 2014, which has led to weakness in the share price. However, with the stock now trading at under 10 times earnings, this looks to be a decent entry point in the stock.
AmTrust Financial Services, Inc. is a property and casualty insurance provider in the United States and internationally. The company operates in four segments: Small Commercial Business, Specialty Risk and Extended Warranty, Specialty Program, and Personal Lines Reinsurance. The company was founded in 1998 and is based in New York City.
AmTrust is a member of the Dividend Challengers List, having raised its dividend payout for the last 9 years and over the last 5 years it has raised the dividend at a CAGR of 27.5%.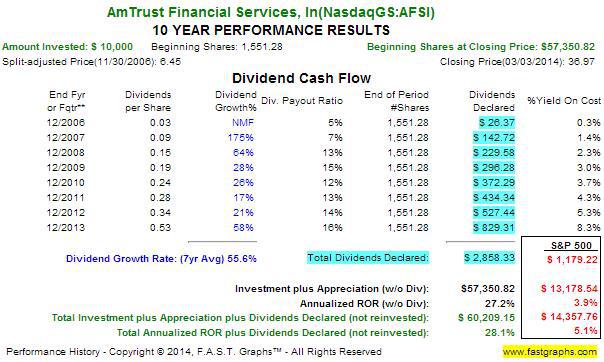 The company's earnings are also impressive as they have grown at an 18.3% annual rate since 2006, with analysts projecting continued growth at a 15% rate going forward over the next 5 years. The excellent growth rate of the stock and the dividend have provided market crushing returns of 28.1% annually since 2006. While the current dividend is a bit low at just a 1.5% yield, an investor who bought at the beginning of 2006 would already have an impressive 8.3% yield on their invested capital.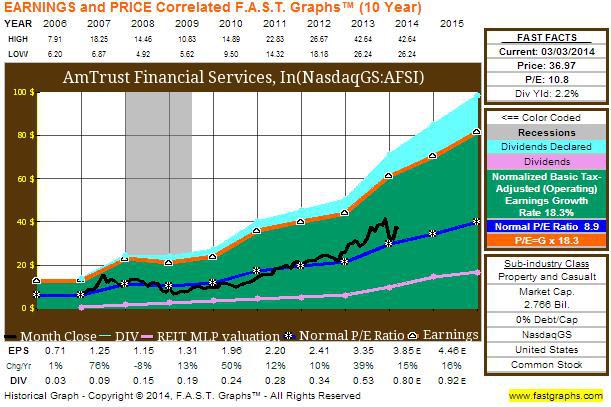 While some investors nearing retirement may disqualify a stock like this because of the low current income, this appears to be a great candidate for a younger investor who is looking for both capital gains growth and a compounding dividend.
BlackRock, Inc. is an investment manager that provides its services to institutional, intermediary and individual investors. It also manages accounts for corporate, public, union and industry pension plans, insurance companies, third-party mutual funds, endowments, foundations, charities, corporations, official institutions, and banks. The firm was founded in 1988 and is based in New York City.
BlackRock is a new member of the Dividend Challengers List and has raised its dividend for the last 5 years after freezing the payout in 2008-2009 during the financial crisis. Even taking into account the one year freeze, the company has a provided an average annual dividend growth rate of 37.3% over the last decade.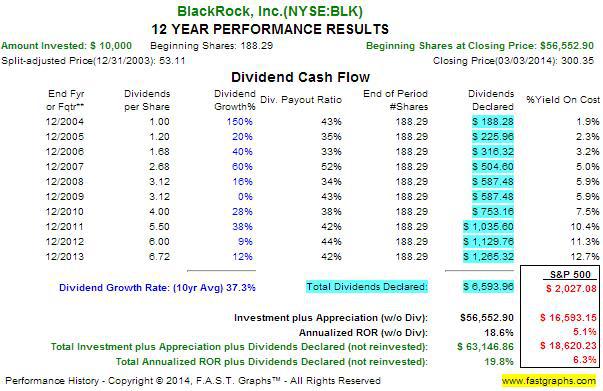 Similar to AmTrust above, BlackRock has an excellent track record of high earnings growth over the last decade with an annual growth rate of 18% over the period. Analysts are expecting the rate growth to slow slightly over the next 5 years, but still remain at an attractive 14% rate going forward.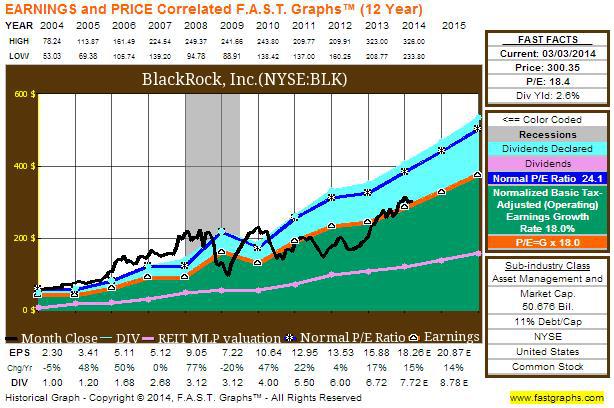 With the stock trading at just 18 times earnings and providing an initial yield of 2.6%, the stock also looks like an attractive prospect for both income and capital gains in the years ahead.
Omega Healthcare Investors, Inc. is a real estate investment firm that invests in healthcare facilities in the United States. It invests primarily in long-term care facilities for its portfolio. Omega was founded in 1992 and is based in Maryland.
Omega Health is a member of the Dividend Contenders List and has raised its dividend for the last 10 years with an average annual increase of 23.2%. The stock is currently providing an attractive yield of around 6%. The combination of a high current yield and above average growth in the payout makes this an ideal candidate for the dividend growth strategy. An investor who bought at the beginning of 2003 would have received over 3.5 times his initial investment in just 11 years, with a yield on cost at the end of 2013 of a remarkable 50.8%.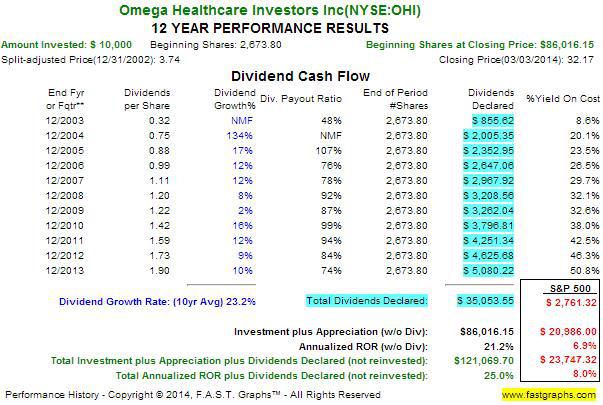 While the days of 20%+ dividend growth are likely well in the past, the company has maintained a 10% growth over the last 3 years and management predicts stable growth ahead. Demographics are also working on the company's favor as the Baby Boomer generation continues to age and increase the demand for long term care facilities.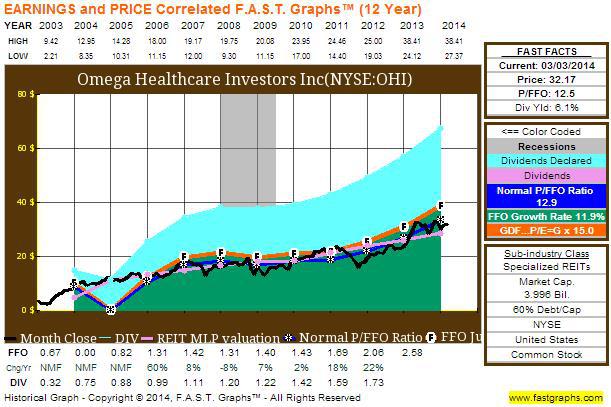 The combination of a high current yield along with prospects for future growth make this an attractive candidate for investors looking for income in retirement as well as those looking to build a portfolio in the accumulation phase.
Wells Fargo & Company is a provider of retail, commercial, and corporate banking services to individuals, businesses, and institutions. The company also offers financial advisory, wealth management, brokerage, retirement, trust, and reinsurance services. Wells Fargo & Company was founded in 1852 and is based in San Francisco.
Wells Fargo is the lone company that was selected that is not a member of the CCC list. As a large commercial bank, the stock has provided a volatile ride over the last decade, most notably during the financial crisis and corresponding "Great Recession" of 2008-2009. Like most big banks at the time, the company was forced to cut its dividend to maintain adequate reserves during the crisis. This was driven largely by the acquisition of Wachovia's assets which degraded the company's balance sheet. However, once the smoke cleared Wells Fargo quickly re-established an attractive dividend and with another increase expected soon, it will likely return the payout to above pre-crisis levels.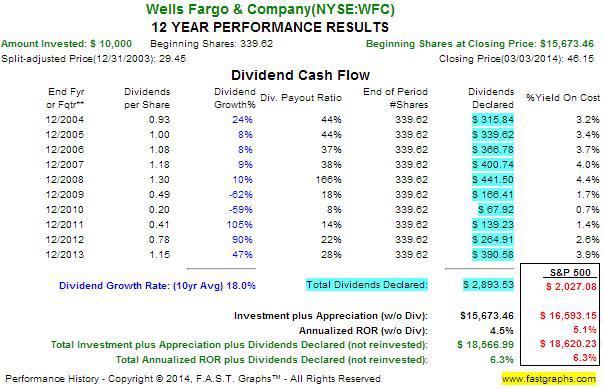 As you can see below, the market has placed a discount on the shares since the recession as the stock price generally tracked between a 12-15 PE ratio prior to 2008 and now trades at a PE of just 11.2.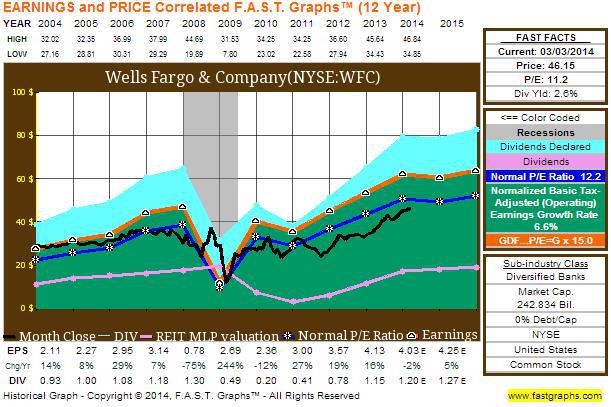 In a recent investor presentation, the company targeted a total payout ratio of 50-65% between dividends and stock buybacks.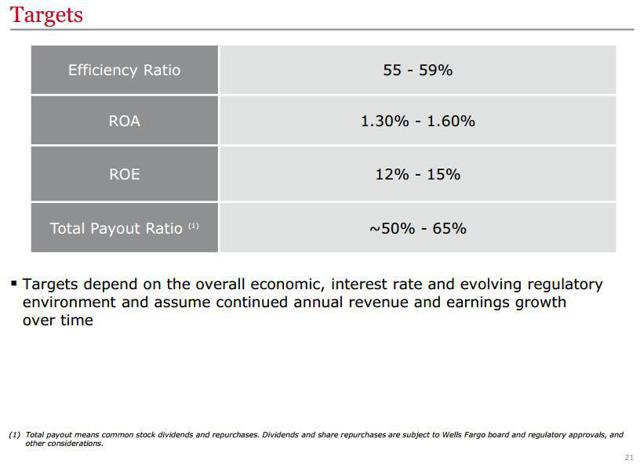 With earnings projected to reach around $4.00 in 2014, an investor could expect $2.00-$2.60 in total returns to shareholders based on this ratio. While some of this return will likely be in the form of stock buybacks, I think its reasonable to expect another significant boost to the dividend in the coming months.
Summary
While I wasn't able to find a member of each sub-group of the Financial Sector, the stocks selected do cover 4 of the 5 types. The stocks selected provide a diverse mix between high growth with AmTrust and BlackRock, mid growth with Aflac, high yield with Omega Health, and a blend of each with Wells Fargo.
While the sector has a reputation of volatility in the banking division, the other sub-sectors have shown long stretches of consistent growth over the last decade. I hope these selections give investors some ideas for further due diligence.
The next part of this series will take a look at the Healthcare Sector, where I hope to find some more "Blue Light Specials" in the market.
Disclosure: I am long AFL, OHI, WFC. I wrote this article myself, and it expresses my own opinions. I am not receiving compensation for it (other than from Seeking Alpha). I have no business relationship with any company whose stock is mentioned in this article.
Additional disclosure: I am a Civil Engineer by trade and am not a professional investment adviser or financial analyst. This article is not an endorsement for the stocks mentioned. Please perform your own due diligence before you decide to trade any securities or other products.