Share price of Wells Fargo (NYSE:WFC) has appreciated by 31% over the past 12 months, outperforming a 22% return for the S&P 500 Index. In my view, the stock's price uptrend will continue in 2014 given its inexpensive valuations and the company's promising growth prospects.
Despite the solid run-up, WFC continues to trade at favorable valuations relative to its peers (see chart below).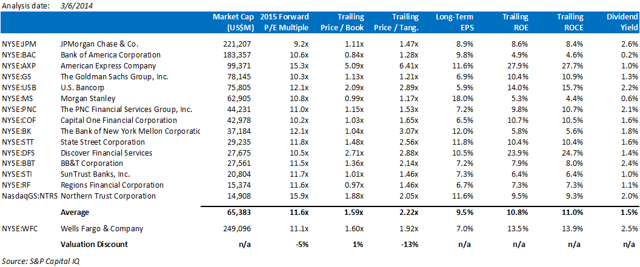 While its price-to-book multiple of 1.6x is in line with peer average, both its forward 2015 P/E and price-to-tangible book multiples trade at discounts of 5% and 13%, respectively, to peer averages. Although WFC's consensus long-term earnings growth estimate is below peer benchmark, I still view this relative valuation to be attractive because 1) WFC is able to generate superior return over its peers, as reflected by the bank's above-average return on equity and return on common equity metrics; 2) the stock's 2.5% is notably above peer average at just 1.5%; and 3) WFC has managed to deliver positive sequential EPS growth over the past 16 consecutive quarters and the trend is expected to continue in 2014 (discussed below), and such stability of growth is rare in banking sector.
Looking forward, I expect WFC to continue delivering solid sequential EPS growth in 2014 owing to the following developments.
In 2013, the bank's loan portfolio experienced 4% growth, driven by growth in almost every loan category (except for home equity). Management currently targets 6% growth in 2014. It is believed that the following developments will substantiate management's view on loan growth acceleration:
The US housing market is expected to continue improving. According to Morgan Stanley, average house price in the US is estimated to rise by 5% to 7% year-on-year in 2014. WFC is believed to be best-positioned to benefit from this trend given its significant exposure

to the hou

sing sector. It is expected that the continued housing recovery should drive strong loan growth and lower default rate.
Aside from the housing market, continued improvement in the job market and consumer spending would drive consumers' willingness to take on more debt. In addition, a potential high level of capital market activity in 2014 (e.g. M&A and corporate borrowings) would also support loan growth in the wholesale banking business.
In Q4 2013, WFC's net interest margin compressed by 0.12%. Given that the lower margin was primarily a result of large deposit growth and liquidity management, investors should view this as a positive sign. According to management, the bank currently earns less than 0.3% on approximately $200B in short-term liquid assets accumulated by the deposit growth and liquidity management, leaving room for the bank to improve net interest margin by redeploying a portion of these funds to higher-yielding investments.
In addition to driving the top-line growth, management's focus is also on improving the efficiency ratio. The bank achieved an efficiency ratio of 58% in 2013. It is believed that the ratio will trend lower in 2014, as WFC continues to have excess headcount capacity post a few rounds of job cuts in 2013. Management suggested that they would be able to bring down the headcount if the performance in Spring 2014 comes out below expectations.
Management recently indicated an intention to increase capital return to shareholders by boosting the payout ratio. Given that WFC's Basel III Tier-1 common ratio reached 9.8% by the end of 2013, which is above management's 9.0% target, I expect to see a significant increase in dividend and share repurchase in 2014 (e.g. likely 10% increase in dividend).
Management's high-level strategy to build a balanced banking model with diversified business lines continues to work out nicely. The bank sees solid growth across many of its core businesses in 2013, which I have summarized below. Going forward, I expect this trend to gradually enhance the bank's ability to generate more consistent earnings growth in different stages of an economic cycle.

In summary, as WFC continues to demonstrate solid earnings growth, I expect the stock's current rising valuation trend (see chart below) to persist in 2014. WFC is a buy.


All charts are created by the author, and data used in the article and the charts is sourced from S&P Capital IQ, unless otherwise specified.
Disclosure: I am long WFC. I wrote this article myself, and it expresses my own opinions. I am not receiving compensation for it (other than from Seeking Alpha). I have no business relationship with any company whose stock is mentioned in this article.