The smartphone market is ARM Holdings' (ARMH) forte, with the company's processor designs deployed in more than 95% of the world's smartphones. Last year worldwide smartphone shipment volumes hit 1 billion for the first time, up 39.2% year over year, but this growth will slow down to a CAGR of 11.5% from 2014 to 2018. For long term growth, I think it's time for ARM to explore areas beyond mobile computing. The following are the future growth drivers that will play a key role in providing a boost to the top line:
Enterprise networking and server market
Embedded computing
Emerging smartphone markets
In fiscal year 2013, over half of ARM based chips shipped by its customers were used in non-mobile devices, i.e. consumer electronics, embedded computing and enterprise networking applications. This denotes non-mobile devices' growing share in ARM's top line and the expansion of ARM's addressable markets.
Enterprise networking and servers: Two markets which provide strong growth potential
Unlike the smartphone market, where ARM based designs dominate the smartphone processor, ARM's presence in the enterprise networking and servers market is at a nascent stage. In enterprise networking, ARM based chips commanded a mere 5% market share in 2013, or 70 million chips, up 100% year over year. In comparison, less than 5 billion ARM based chips were used in mobile devices in 2013.
Despite its small market share, ARM is starting to gain growth momentum, with almost all major semiconductor players in this market announcing ARM based designs, and four of them are shipping ARM based chips and paying royalties.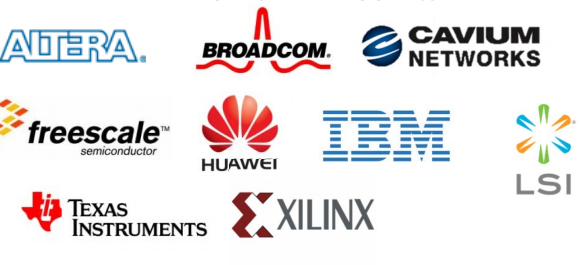 Source: ARM's fourth quarter earning slides
Driven by infrastructure in the cloud, telecoms and carriers, the enterprise market is expected to grow from $13 billion in 2013 to $20 billion in 2018, which is the same size as the application processors market in 2018. This is an excellent market opportunity for ARM, providing a boost to its licensing and royalty revenue. In addition, ARM is expecting more penetration of its Cortex-A and ARMv8 designs, which command higher royalties, contributing toward royalty revenue growth. The company is eying penetration of 25%-35% in this market in 2018, which denotes incremental revenue of $4.5 billion-$6.3 billion, based on a total addressable market of $18 billion. At the lower end of this range, the figure is approximately 4 times fiscal year 2013 revenue. Thus, this market provides strong revenue growth potential ARM could add to its top line. ARM's processor provides high performance with a power efficiency feature, which could be a prime reason for attracting more designs from chip vendors, providing traction in the market.
ARM currently has no presence in the server market - Intel (INTC) and its x 86 architecture chips dominate the market. However, the company is working with vendors from more than 15 different companies that are building chips and looking at designs based on ARM technology. The recent announcement came from Intel's rival AMD, which recently revealed its Opteron A1100 Series processor for servers based on ARMv8 designs. ARM expects to grab 10% of the server market by 2017 from none in 2013. Like the enterprise market, ARM will leverage its power efficient design to gain more designs from vendors and gain market presence.
Despite having a low presence in these markets, ARM has built a strong customer base, which will help the company gain traction in the future and achieve the set penetration targets. I believe that these markets will add significant value to ARM's top line, and the company will look to simulate a similar performance in mobile computing as well.
Embedded computing: Another non-mobile device market opportunity
Embedded computing includes all applications that utilize a microcontroller (MCU) as the main processor. This market opens a new set of market opportunities labeled under Internet of Things (IOT), which include devices that combine three elements: one or more environmental sensors (temperature, pressure, yaw, pitch etc.), a smart MCU to process the data gathered by the sensor, and a wireless radio to connect the smart sensor to the Internet. ARM Cortex M series processors are the preferred MCUs designs used by device manufacturers in the IOT space due to the low cost and power efficient benefits. The company currently commands a 22% share in the MCU, while it commanded more than 75% market share in the sensor as of 2013. IOT provides a new growth opportunity for ARM to add to its revenue, as the IOT installed base is expected to increase from a mere 0.9 billion in 2009 to 26 billion units in 2020.
ARM's MCUs are considered one of the lowest in cost, thus enabling OEMs to keep the product's Bills of Material (BOM) down. In 2013, more than 3 billion ARM-based embedded computing products were shipped, and more than 160 companies are registered to use Cortex-M processor technology, which indicates a strong licensing base in the embedded space.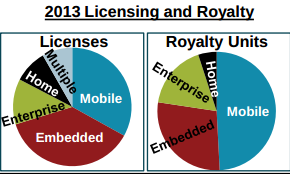 Source: ARM Roadshow Slides
Embedded computing is already starting to form a major part of ARM's royalty and license base, thus closing the gap with mobile computing. As visible from the above chart, the mobile device segment continues to dominate the licensing and royalty base. As of 2013, the company has 1,060 cumulative licenses, and this strong license base ensures strong royalty growth potential for ARM in mobile computing.
This market provides a strong market growth opportunity for ARM, with TAM for embedded expected to increase from $14 billion in 2013 to $20 million in 2018. ARM has built a strong base in the embedded space, and the company could add value to its top line from targeting the embedded market opportunity.
Conclusion:
Although mobile computing remains the most valuable market for ARM, its other markets such as enterprise and embedded will play a key role in sustaining growth momentum in the future. In the mobile computing market, the company's growth fundamentals remain intact as the slowdown in premium smartphones is offset by strong demand for low to mid-price smartphones from emerging countries. In addition, increased adoption of 64-bit architecture and ARM's Mali graphics are another set of growth opportunities in the smartphone market. I recommend buying this stock.
Disclosure: I have no positions in any stocks mentioned, and no plans to initiate any positions within the next 72 hours.
Business relationship disclosure: Fusion Research is a team of equity analysts. This article was written by Rohit Gupta, one of our research analysts. We did not receive compensation for this article (other than from Seeking Alpha), and we have no business relationship with any company whose stock is mentioned in this article