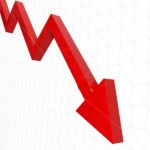 The famous Wall Street expression "Sell in May and go away" proved itself once again May 2010. The final monthly numbers: Dow -7.9%, S&P -8.2% and Nasdaq -8.3%.This was probably one of the most interesting months in Wall Street history (positive as a learning experience, negative as a, well that's obvious). Mixed economic data, Europe collapsing, foreign currency downgrades, oil spills, problems in China, financial reform, and flash crash all contributed to increased volatility, uncertainty, and a lot of unhappy investors. The drop in the Dow was the largest monthly drop since the downfall in February 2009.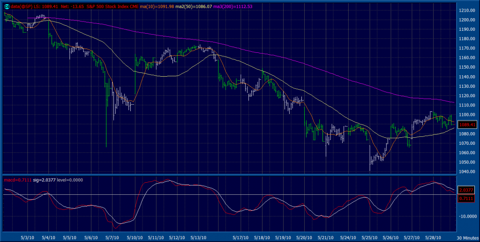 In fact, this was the worst Dow since Franklin Roosevelt was in office (back in the 1940s when the index dropped about 22%). However, if you look at it from a points basis, it's the worst drop in history. As equities sold off, the dollar index gained ground and treasury yields dropped to new lows. In fact, the dollar gained about 8.5% on the euro. Yields on the 10 year closed at 3.30% today, but came close to hitting the 3.10% level earlier this week.
Speaking of negative data points, U.S. economic growth fell to a 39-week low (Aug 2009) in the latest week according to Economic Cycle Research Institute. The Weekly Leading Index fell to 125.6, down from a revised 127.2 the previous week. Perhaps this was the weekend we are all waiting for, the final days of the notorious month of May (similar to the sigh of relief when 2009 was over?).
I wouldn't bet that the Fitch downgrade of Spain was the exact cause of today's sell off, but it definitely was a contributing factor to the panic. But I think there's more to come for Spain – Greece and Portugal are tiny nations compared to the country (Spain is about 5x larger in terms of GDP). Just because May is over doesn't mean we're starting fresh next Tuesday. There's still plenty of event, litigation, and political risk in the air that an exacerbation of any of these factors (which is highly probable) will trigger only more fear. I would hate to be a rating agency right now.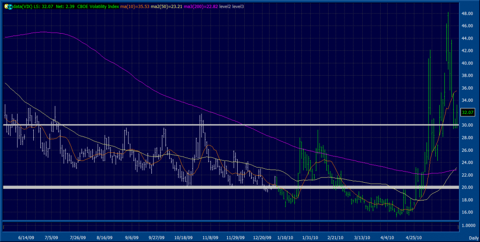 The VIX chart above shows that during the month of May we were trading above the "fear level" of 30, an indication that implied volatility is high. The reasons for the increased fear are quite obvious, and will continue to be the topic of discussion among economists for a number of years. Economic data is quite mixed – some indicate the recession is winding down, while other numbers support the fact that we have a long way to go before we see sustained and progressive recovery. On a positive note, the trend has been drops in May are usually followed by double digits gains during the summer period, but then again, can we really use historical data and correlations to predict what's going to happen over the next 3 months?
Global growth will take a huge fall as China is about to witness a bubble burst and property prices are at enormous levels. Tackling inflation is a battle in itself and quite the challenge when facing immense global macro instability. The American economy has had its share of ups and downs the last few months, but I still think we are far away from a recovery. With no jobs, and corporations still dependent on government stimulus, we have a lot of problems to fix.
I don't think we'll see a second 2008-2009 depression, but we will see fall back continue. On the positive side, things are picking up as data checks indicate Americans are starting to spend more- thus indicating increased confidence, which should have a positive effect on job growth.
However, Europe's horrendous condition will be a deal breaker for the United States as recovery in the struggling continent will take years. The introduction of austerity into the declining nations will cause set backs that we should all be prepared to witness. Looking for the best bang for your buck? I recommend shopping in Europe…