BP plc (NYSE:BP) is a giant in the energy sector. Since the Gulf of Mexico incident in 2010 the company faced many challenges. The current situation is a combination of the company's growth strategy and macro-economic factors has made it ambiguous for an investor to understand the prospects of the company for the future. The purpose of this article is to look at some positive and negative outlooks of the company that will either help or hinder the company in the future.
Threats To The Company
Oil Spill Settlement Terms Becoming Onerous
The Gulf of Mexico oil spill was the largest U.S. offshore oil spill. After the deepwater Horizon explosion and rupture of BP's Macondo oil well, the company had to face severe litigations and pay huge settlement costs. As per the fourth quarter 2013 presentation the total cumulative net charge for the incident to date is $42.7 billion, excluding any provision for business losses. Initially the economic loss estimated by the company was $7.8 billion but in 2013 this amount was increased to $9.2 billion and the company expects this amount to grow even higher. BP had appealed to block payments in terms of losses not directly linked to the oil spill but the court rejected the company's objections which implies that the company will have to abide by the settlement agreement postulated by the victims of the oil spill. It will have to resume paying for the losses regardless of whether their losses are traceable to the 2010 spill or not. These cash outflows will act as a drain on the company's cash reserves but BP has robust enough cash flows from its operations, as well as from divestitures, that it can smoothly settle these claims.
BP Investment in Russia At Risk
BP has maintained investments in the oil and gas industry in Russia for more than a decade. Previously it was in the form of TNK-BP (A private Russian oil company) initiated via an investment of $8 billion. Later on in 2013 the company sold its 50% stake in TNK-BP to OAO Rosneft (OTC:RNFTF) that paid BP partially in the form of its own stock. Due to the Russia's invasion efforts and the possible economic sanctions considered by Western powers, the MICEX index of Russian shares tumbled 10.8%. As a result, Rosneft's stock dropped 4.1% and its market value fell by $4.3 billion. Since BP owns 19.75% of Rosneft the loss attributable to BP to date is $849 million. This led the BP ADRs to fall by 3.18% from $51 to $49 in just one day. This is not an end, rather a beginning, as the tension between Russia and Ukraine is escalating and could further dent the stock price of Rosneft proving equally damaging for BP's investment in the company. On the other hand, this situation has increased the prices of Brent crude by 2.2% to $111.41 a barrel. This implies that the products of the company will fetch good prices from the market thus resulting in its margin expansion.
Along with other setbacks BP is facing, the Environmental Protection Agency (EPA) drew up new rules restricting the sulfur content in gasoline as a step towards better fuel economy. According to the American Petroleum Institute, these rules will cause oil companies to pay capital costs of $10 billion and annual compliance costs of $2.4 billion. The actual impact of these rulings is yet to be seen but it will result in increased costs for the company. As per API projections the price of gasoline will rise by 9 cents a gallon after the regulation is implemented. It will be a matter of time before this price increase will be enough to cover the incremental costs.
BP Is Increasing Its Focus
BP is shifting towards a more focused portfolio as it completed the divestiture of assets worth $38 billion and also has plans in store to divest assets worth $10 billion by 2015. This will render BP a smaller but more streamlined organization that would be able to operate at maximum utilization. This approach of the company may have saved it from being Icarus Paradox. It realized its investment in TNK-BP and received almost $12 billion in cash out of the deal, apart from shares of the acquirer i.e. Rosneft. BP had enjoyed around $19 billion as dividends from TNK-BP since its investment back in 2003. As a result of divestments BP expects its reported production to fall short of 2013's levels by around 140 barrels of oil per day. The expiry of the Abu Dhabi onshore concession will also contribute to the reduced production.
BP is investing enormously to replace its depleting reserves with new proven reserves; evidence of the company's excellent operating performance. The reserve replacement ratio measures the amount of proved reserves added to a company's reserve base during the year relative to the amount of oil and gas produced. This key metric for BP stood at 129% thanks to organic growth (compared with 77% in 2012) and including the repositioning in Russia it increases further to 199%. Organic capital expenditure was $24.6 billion in 2013 and is expected to be $24-$25 billion in 2014. Throughout the end of the decade the company aims to spend $24-$27 billion in terms of capital expenditure.
Six new growth projects are on track for 2014 while 3 major projects have already become operational in 2013. BP has completed commissioning for its Whiting Refinery Modernization project. It will transform BP's U.S. fuel business following the divestiture of Texas City and Carson refineries last year. It is expected that this project will deliver incremental $1 billion of operating cash flows per annum. There are other projects online for the company that can bolster its production as well as cash flows including Mars B and Na Kika phase 3 in the Gulf of Mexico, Kinnoull in the U.K. North Sea, Total Operated Clove in offshore Angola and HSE sunrise phase 1 in Canada's oil sands. These projects, along with the reversal of the working capital build of $5 billion, can boost BP's CFO this year to over $30 billion up from $21 billion in 2013. This makes us believe that BP will be successful in achieving its aim of increasing its CFO by 50% between 2011 and 2014.
This year BP aims to ramp-up its capital expenditure in Alaska by 25% to $1.2 billion thanks to the more favorable tax rate in the state as per the recent bill passed. This will lead the company to have a 15 well Prudhoe Bay program in 2015 and 2016. Upon successful completion of this program it could be extended to 200 wells to be drilled. However, the cash flow effects of this investment will not be visible until the end of the decade. Some other projects in Alaska are also under consideration and can potentially boost the company's production capacity by 40,000 barrels per day.
BP has signed a deal with Sultanate of Oman for development of Khazzan field spanning 15 years and will be capable of delivering 1 billion cubic feet of gas/day and 25,000 barrels /day of gas condensate. This project will require a total investment of $16 billion and construction will begin in 2014; huge volume production is expected by 2018. These projects all point towards a brighter future and long term growth for BP.
BP - A History of Enviable Returns
The following graph shows the dividend profile of BP that has been robust throughout the decade apart from the downfall in 2010 due to the Gulf of Mexico oil spill. The company is increasing its dividends y/y but it still lags behind the $0.84/share levels in 2009. BP is offering a dividend yield of 4.53 in an industry where 2.02 is the norm.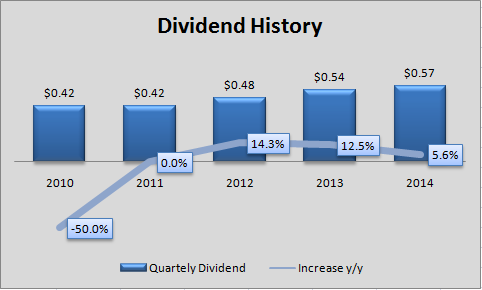 Source: Nasdaq.com
Other than cash dividends BP has rewarded its shareholders through buybacks from 2000 to 2008 and spent $51 billion on share repurchases during this period. However due to the financial crisis in 2009 and oil spill in 2010 this trend slackened but it didn't end as in 2013 the company announced its intention to repurchase shares of up to $8 billion. This announcement came after the company realized its investment in TNK-BP by selling its 50% stake in TNK-BP to Rosneft. Out of this $8 billion, shares worth $6.8 billion have already been repurchased to date. With a current price level of $49 this buyback will result in the cancellation of almost 0.2 billion shares. Through price appreciation this stock transferred a 21.50% return to investors' wallets in 2013. These all sum up to a total return of 27.64%.
Final Take
There are some divestitures may on one hand streamline the company's operations and on the other hand will result in additional free cash flows. Growth projects will bolster the company's top and bottom line along with its cash reserves. These projects warrant the stable dividend payout on part of the company. However, the fickle dynamics of the industry and the harsh effects of macro-economic factors can damage the company's results in terms of losses and cash outflows. The current war-like situation in Ukraine due to Russia has made the situation more uncertain. Despite the company's potential to reward its investors properly some setbacks have made it a crucial decision to enter the stock. Therefore in such circumstances I will not recommend buying this stock until the stock price incorporates the drop from the Russian stock market. When BP's price dips further from its current levels to around $40 or even below then it is the correct time to buy the stock for its long-term prospects. Investors who are holding the stock for the long-term should continue to hold on to it until the political arena is cleared.
Disclosure: I have no positions in any stocks mentioned, and no plans to initiate any positions within the next 72 hours.
Business relationship disclosure: The article has been written by a Blackstone Equity Research research analyst. Blackstone Equity Research is not receiving compensation for it (other than from Seeking Alpha). Blackstone Equity Research has no business relationship with any company whose stock is mentioned in this article.