As we conclude the first earnings period, investors have mostly disregarded the negative sentiment introduced last week by Barron's and social media bears. The Alerian MLP index - AMZ - returned 0.51% for the week, and money flow into MLP funds continues to climb, up to $300 million this week, along with improving closed-end fund discounts to NAV. 22 MLP unit prices hit a 52-week high with 5 setting a 52-week low. Barclays highlighted the opportunity with variable upstream MLPs, sending the units higher. The market continues to reward high growth MLPs and apply risk premiums to those with lower coverage and growth.
With the IHS CERAWeek event this week, the market has also provided us with Bull and Bear views on the future of US energy production and the potential impact of exports. Recent transparency into Congressional tax proposals has clearly removed the Partnership tax status risk for the near future, a frequently mentioned risk by financial media.
Unit Value Winners and Losers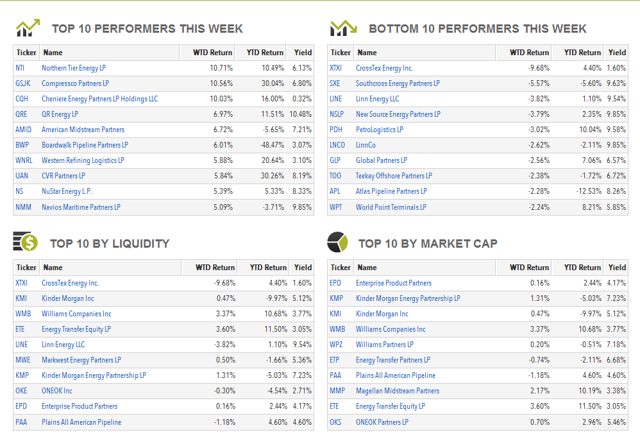 On the winners' side, analyst upgrades of the upstream variable cash MLPs provided a boost to that group and also for Cheniere Energy Partners LP Holdings LLC (NYSEMKT:CQH). The potential disruption of gas transport through Ukraine is a potential positive for U.S. natural gas producers and exporters.
CrossTex Energy Inc. (XTXI) fell on the rumors that the company would be dropped from the Russell 2000 index.
Distribution Rate Changes
There was a single dividend increase announcement this week. Lehigh Gas Partners, LP (LGP) increased the quarterly distribution to $0.5125 per unit, up a penny or 2% from the Q3 distribution. March 17 is the record date for the fourth quarter distribution.
Although the bulk of Q4 earnings announcements have fallen into February, many MLPs announced their Q4 distributions in January. Go to this data page to check on specific distribution increases or decreases.
Insider Trading
The reported trade for Western Gas Partners, LP (NYSE:WES) was new unit issuance to Anadarko Petroleum Corp. (NYSE:APC) as one part of the payment for a $375 million asset dropdown announced in the fourth quarter earnings report.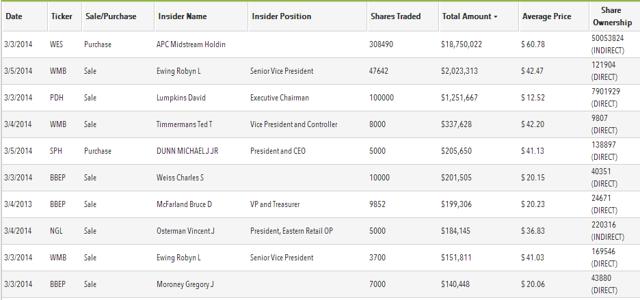 Share Issuance News
QR Energy, LP (NYSE:QRE) registered a $100MM ATM and buys out its GP and Atlas Energy (NYSE:ATLS) registers a 6.325M share issuance.
Get the details of any offer of interest by clicking on the specific issue on the Issuance page of the MLPData Dashboard.


ETF, CEF and Mutual Fund Money Flows
MLP focused funds took in $300 million this week, up from $275 million last week. Further evidence of MLP strength comes from MLP closed-end fund premiums and discounts which shifted another 1.15% to the premium side this week. Last week the move was 1.26% to premium. The chart for this week covers the CEFs with the biggest premium or discount change.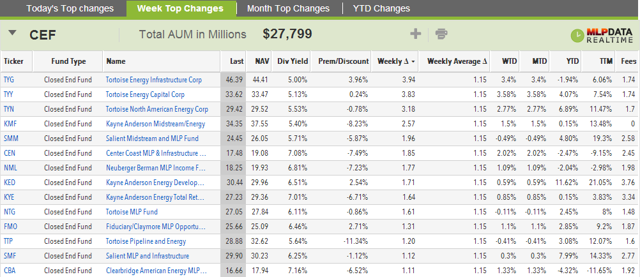 Next Week's Earnings Calendar
The earnings schedule for next week lists 7 releases, compared to 10 that announced this week.

To make sure you get this round-up each week, make sure you are following MLPData here on Seeking Alpha.
Disclosure: I have no positions in any stocks mentioned, and no plans to initiate any positions within the next 72 hours. I wrote this article myself, and it expresses my own opinions. I am not receiving compensation for it (other than from Seeking Alpha). I have no business relationship with any company whose stock is mentioned in this article.