The latest round of product releases from Advanced Micro Devices (NYSE:AMD) and Intel (NASDAQ:INTC) highlight the difference between the two companies' strategies at the low end of the computing market. This week AMD released its AM1 socket and new SKUs based on its Jaguar core Kabini and Temash SoCs under its Sempron and Athlon brands. Intel did the same with the latest versions of its Bay Trail M parts released under its Celeron and Pentium brands. One of these product lines has a real chance in the marketplace and the other doesn't.
What I find interesting here is that both of these chips were failures at making headway into their originally-intended markets, namely tablets and ultrathin laptops. Kabini/Temash was hampered by power issues, and being not quite good enough to overcome Intel's promises to OEMs of subsidies for putting Bay Trail in the next round of tablets running Microsoft's (NASDAQ:MSFT) Windows 8.1. Bay Trail, on the other hand, was non-competitive with Temash from the start but beat it on price since Intel was willing to wrap the SoC in a $10 and a $20 (subsidies have been calculated at nearly $51 per SoC for a chip sold to OEMs for ~$20) and hand it to OEMs to build market share.
Now that both chips are past their 'use-by' dates for their original markets, it is time for the inevitable re-purposing. But, the problem for Intel is that Bay Trail is still an extremely expensive solution for the intended market, low-end desktop and embedded processor market. Here is the price list for the SKUs offered up by Intel this week (granted system builders will pay less, but that argument holds for AMD's chips as well).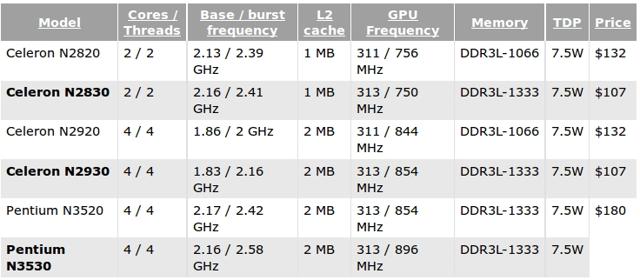 Once we add a motherboard to this, the price for these moves into the $150-170 range. Moreover, these are Ball Grid Array SoCs, meaning they are not upgradeable, soldered onto the board. On the other hand, we have the mix of SKUs from AMD based on Jaguar.

Paired with one of the fifteen motherboards already announced by major manufacturers like ASRock, Gigabyte, MSI and others, the target entry level system can be as low as $60 for CPU/iGPU and motherboard. Kabini supports more memory, 16GB, PCI-E 2.0 for adding a low-end dGPU and SATA 6.0GB. As far as TDPs are concerned, the only one of these that will draw even close to 25W would be the Athlon 5350 as it is a slightly-overclocked version of the mobile A6-5200. The others compare similarly to last year's Temash/Kabini SKUs and should operate between 8 and 25W.
But the real difference here is the $100 and far superior graphics performance of these GCN-containing SoCs over Bay Trail M. All of these parts use 128 shader configurations, just clocked at different speeds. While AMD has not confirmed that the upcoming Jaguar updates code-named Mullins and Beema will find their way into socket AM1 configurations, it seems silly to stress the platform's upgradability without bringing the later versions of the chips to it.
The Battle for Emerging Markets
And it will be outside of the U.S. where AMD will make hay with these. This release coincides with the company moving its CPU headquarters to Beijing, China to put its staff closer to where the majority of its CPU sales come from. AMD is explicitly targeting these socket AM1 processors to continue gaining share in frontier and emerging markets where money is tight and computing needs are high.
The extra $100 that Bay Trail M parts incur for the motherboard and CPU equates to nearly the rest of the system hardware for the AMD one. That's a powerful value proposition for a machine capable of playing DirectX 9 games like League of Legends at 720p resolutions competently.
I was a fan of Microsoft's emerging market strategy for its Windows Phone platform last year and this move by AMD to build brand loyalty in the same markets I like equally well. These chips are produced on TMSC's 28nm process which should have extremely high yields and low costs at this point and AMD should be able to get whatever fab space it needs to cover demand since it has become a more significant customer.
Jaguar was designed to be portable across processes so don't be surprised if the news that some production is moving back to GlobalFoundries, is not, in fact, these socket AM1 parts. This would go a long way to helping fulfill AMD's wafer supply agreement with GloFo and dramatically upscale earnings projections if no future shortfall payments are hanging over the company's head.
Simply put, while the smartphone world is moving rapidly towards 16nm/20nm, there is still a lot of money to be made at the 28nm node, albeit in volume parts, not bleeding edge. Part of Jaguar's development costs were paid by Microsoft and Sony (NYSE:SNE) as part of the R&D for the consoles, these low-end desktop SKUs should have good net margins associated with them going forward.
Price Action
Since January's earnings report, AMD's stock has been trading sideways after recovering from the worst of the sell-off. The breakout above $3.82 to end this week is a significant technical move to filling the gap left post-earnings. Doing so on five times average volume (10 day trailing average) is a major statement by the bulls that they believe fair value for AMD lies a lot higher than the 200 day moving average of $3.77.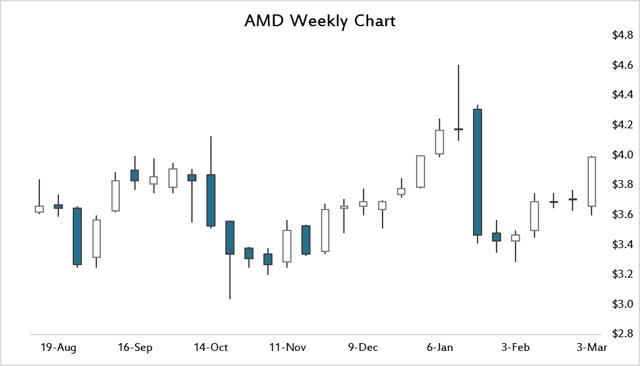 For those looking for a low risk play in AMD, I would be a seller of near-term puts at $3.50 per share. This weekly close above $3.80 is a signal that the probability of a fall back below this month's low of $3.60 is highly unlikely. Any short-term pull back below $4.00 will be an opportunity to go long into that weakness. April $3.50 puts closed the week at $0.10/$0.11.
Personally, I am situated with July calls just out of the money. I think the July $5.00 strike price has great value at around $0.20 since any follow through action will take the stock near the January peak at $4.65 as we head towards April's earnings call.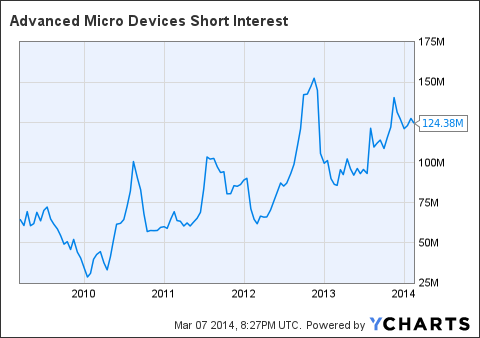 AMD Short Interest data by YCharts
With short interest in the stock still very high, there is a lot of potentially explosive upside to carry this breakout higher.
Disclosure: I am long AMD. I wrote this article myself, and it expresses my own opinions. I am not receiving compensation for it (other than from Seeking Alpha). I have no business relationship with any company whose stock is mentioned in this article.