HQ Sustainable Maritime (Amex:HQS) sells tilapia (bulk, packaged, and prepared tilapia-based meals), nutraceuticals, and feed products for other fish farmers. HQS shareholders had a rough spring. In mid-March, shares broke down and have lost over a third of their value. While the chart doesn't yet reflect any reversal, or even a basing pattern, I believe the next few months will be a lot better than the last few.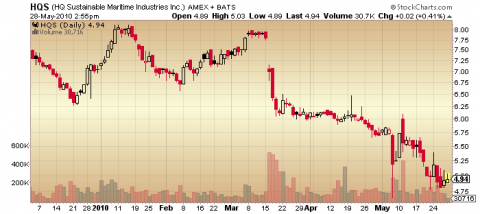 At these levels, HQ Sustainable Maritime offers a solid risk-reward. Here's why:
Rock-solid balance sheet: In its latest 10-Q quarterly report, HQS reported almost $38 million per share in cash, and no long-term debt. That works out to about $2.50/share in cash.
Sales and operating income are increasing: Last quarter, HQ Sustainable Maritime reported a 33% jump in revenues year-over-year, and a 61% jump in operating income. CEO Norbert Sporns explained "We are pleased to report a strong improvement in our sales and profitability. In the first quarter, we successfully recovered more than 80% of our doubtful accounts. The provisions for doubtful accounts were made in prior quarters as a result of a planned, strategic investment in our health and bio-product segment, in order to capture greater market share."
Position as "healthy" alternative should become more important as public focuses on dangers of polluted seafood. Day after day, we see pictures of oily gunk washing up on Louisiana shores. Nobody wants to eat seafood coming out of that mess. HQS's tilapia is a healthy alternative. HQ raises the fish with organic feed in nonpolluted waters. If this aspect of the fish gains traction with consumers, tilapia in general-- and HQ specifically-- could see large improvements in revenues.
I bought a sizable chunk of HQS shares near Thursday's bottom (average cost slightly below $4.90). I am looking for at least a 50% jump over the next year.
DISCLOSURE: Long HQS.