Vale (NYSE:VALE) remains a top pick for investors who want to get exposure to the commodity business and to a rebound in China's economy. Vale is a diversified metals and mining corporation delivering a range of commodities including iron ore, manganese ore, copper, nickel, gold, silver, phosphates and others. Vale's strong dependence on iron ore makes the company a great cyclical bet on increased construction activity and commodity demand in China.
High reliance on China
In the fourth quarter of 2013, Vale achieved revenues of $13.6 billion of which $5.7 billion or 42% were attributable to China. For the full-year 2013, China's revenue contribution stood at 39%. China is by far the most important market for Vale: Europe, for instance, accounted for only 18% of Vale's 2013 revenues and South America for 19%. Total Asia revenues represented 54% of total 2013 group revenues while North America only accounted for 5%. And this is exactly why I am bullish on Vale: In addition to an almost ridiculous valuation (see below), Vale has outsized emerging market exposure especially to the dynamic growth markets in China/Asia.
Short-term growth challenges in China certainly affect Vale. China used to grow its GDP by about 10% or more a year not too long ago. Now that the real estate sector has been overheating and misguided capital allocation policies have revealed themselves, the Chinese economy is taking a breather. As Reuters reported on March 4, 2014:
China will maintain its economic growth target for 2014 at about 7.5 percent, as expected, signaling that its policy focus would be slanted in favor of reforms and rebalancing the economy.

Premier Li Keqiang, in a report to the National People's Congress at the start of its annual session on Wednesday, also said military spending will increase by 12.2 percent.

Key points

- 2014 growth target set at about 7.5 percent

- China to make domestic demand main growth engine

- 2014 CPI target set at about 3.5 pct

- Total trade expected to increase 7.5 pct in 2014

- 2014 Budget deficit seen at 2.1 pct of GDP
Long-term demand drivers
China, at least for the moment, accepts lower GDP growth in order to rebalance the economy. However, China is still the growth engine in the world. In the medium to long term, more Chinese people will migrate to urban centers in order to pursue education, economic opportunities and higher life standards. I judge this urbanization trend to be secular in nature which should lead to substantial public infrastructure investments and a widening of the industrial base. In other words: Urbanization will lead to infrastructure expansions/upgrades (highways, bridges, tunnels, airports, residential and commercial real estate etc.) and, correspondingly, higher commodity demand - especially for iron ore.
Share performance
Vale's stock price has been volatile over the last year and I expect volatility to continue - particularly when Chinese economic data is being released. Vale has lost approximately 28% over the last year which is about the same percentage decline from its 52-week high at $19.10.
(Source: Yahoo Finance)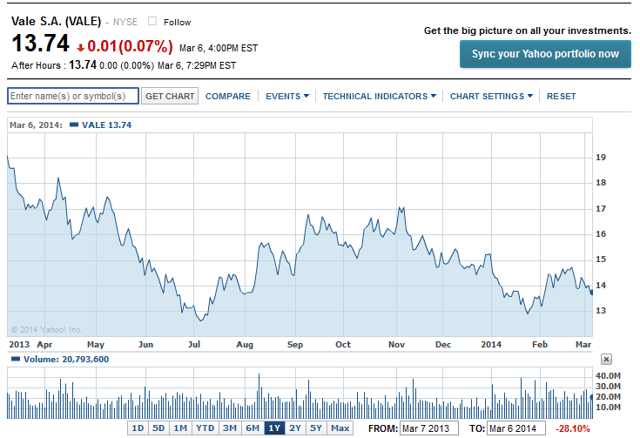 Click to enlarge
Vale shareholders clearly have little to cheer about: The stock returned a meager 2% over the last five years while other large-cap commodity plays performed much better. BHP Billiton (NYSE:BHP) gained 63%, Freeport-McMoRan (NYSE:FCX) 83%, Rio Tinto (NYSE:RIO) 88% and Southern Copper (NYSE:SCCO) 93%. Much of it had to do with Vale's extraordinary reliance on iron ore and China.
(Source: Yahoo Finance)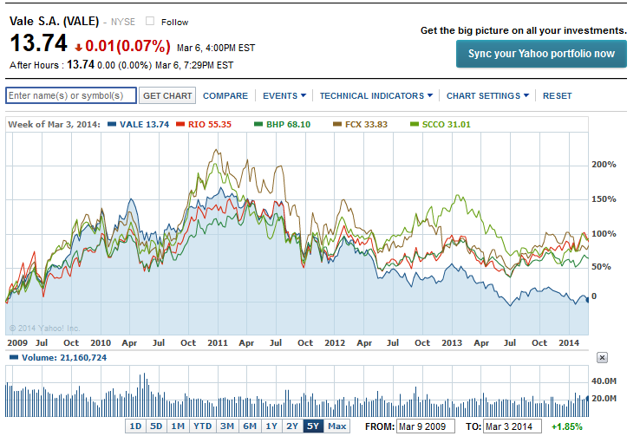 Click to enlarge
Market valuation
There are three things I particularly like about Vale: First, as mentioned above, Vale is highly reliant on emerging markets and its earnings should get a boost when China overcomes its cold. Secondly, as a contrarian investor I always like to purchase companies way below their 52-week high. Thirdly, Vale is just dirt cheap and trades at a depressed multiple because of negative macroeconomic news coming out of China.
In terms of valuation, I think Vale is still the best value in the large-cap basic materials sector. The company trades at just 7.34 times forward earnings which translates into an earnings yield of nearly 14% which is truly bargain territory. The peer group average P/E ratio stands at 10.76 and signals that Vale trades at a substantial discount to its peers.
(Source: Achilles Research, Yahoo Finance)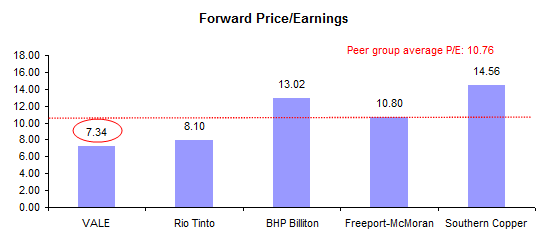 Conclusion
Vale might be a suitable investment for long-term oriented investors who want to purchase a leading iron ore player at a discount price. Secular urbanization trends in China and other parts of Asia should ultimately lead to substantial infrastructure investments, which, in turn, should lead to increased commodity demand for commodities such as iron ore, copper, nickel etc. Since Vale trades at a truly low valuation, investors get a sizable margin of safety but retain all the upside potential that comes from a rebound in the Chinese economy. Strong, long-term BUY.
Disclosure: I am long VALE, FCX. I wrote this article myself, and it expresses my own opinions. I am not receiving compensation for it (other than from Seeking Alpha). I have no business relationship with any company whose stock is mentioned in this article.