At the request of one of our Professional Subscribers, we performed a preliminary analysis of Force Protection, Inc (NASDAQ:FRPT). While it doesn't suit our needs, I have decided to put the summary out in the public domain. I urge any and all readers, subscribers or not, to forward me leads on opportunities (long or short) that you truly feel may be worthwhile. I will offer a month's professional (high end) subscription to anyone who proffers and idea that I consider actionable. Now, on the the analysis…
Force Protection, Inc. (FRPT) provides survivability solutions to support the armed forces of the United States and its allies. The company produces specialty vehicles, which are based on the blast- and ballistic-protected technology, and are designed to protect their occupants from landmines, hostile fire, and improvised explosive devices, referred to as IEDs.
The company designs, manufactures, tests, delivers and supports its blast- and ballistic-protected products to increase the survivability of the users of these products. The business has only one operating segment which is 'survivability solutions'. FRPT is a key provider of the U.S. military's Mine Resistant Ambush Protected ("MRAP") vehicle program and have sold and delivered over 3,000 vehicles under this program.
FRPT currently offers four vehicle platforms the Buffalo, Cougar (includes Mastiff and Ridgeback variants), Cheetah and Ocelot. In addition to vehicle platforms the company also offers modernization and spare and sustainment services for its supplied vehicles.
Poor operating performance is a key concern for the company
For 1Q10, net sales declined 27.0% to $134.8 million compared to $184.7 million in 1Q09. Operating margins also declined significantly to 1.3% from 6.2% in 1Q09. Though, in 1Q10, the company added $48.2 million of modernization revenue, it has failed to offset the decline in revenues from vehicle sales and spares and sustainment.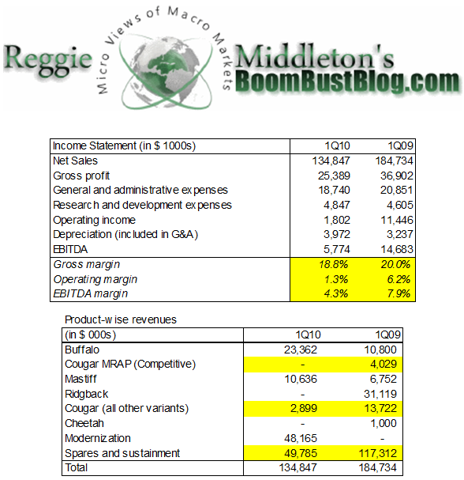 Click to enlarge
For 2009, net sales for the company declined to $977.1 million compared to $1,326.3 million in 2008 driven by decline in MRAP (Mine Resistant Ambush Protected) sales (the decline was driven by the termination of MRAP contract in mid-2009), which was the key contributor to company's net sales in 2008. Operating margin also declined to 4.4% from 5.2% in 2008.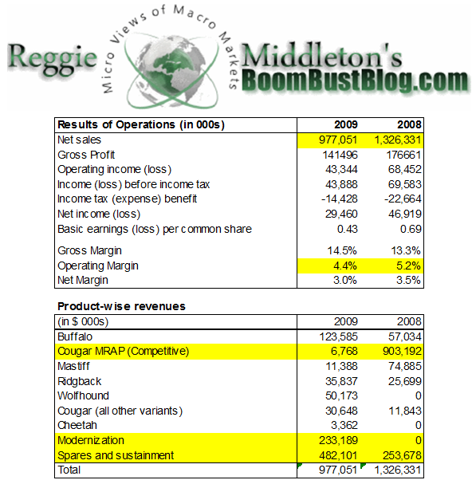 Click to enlarge
FRPT's backlog has declined substantially from 90 vehicles in 1Q09 to 41 vehicles in 1Q10, clearly reflecting decline in its new orders.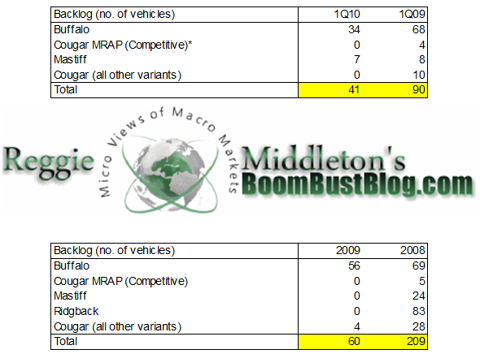 Click to enlarge
Sustainability of revenues is another concern, as majority (73% in 1Q10) of the company's revenue is now derived from Modernization and Spares and sustainment. Both the above services are dependent on the MRAP fleet owned by the US military. And once the term of the related modernization contracts ends, the possibility of its renewal is bleak since the US military has no plans to extend its MRAP fleet.
According to FRPT's 2009 10K
Modernization: In 2009, the Cougar was upgraded with an independent suspension system, or ISS, providing it with off-road capability to deal with more rugged terrain encountered by our customers. This modernization effort consisted of the supply and installation of ISS on most of the U.S. Department of Defense's Cougar fleet for deployment to Afghanistan, which will continue in 2010. We continue to work with our customers on additional modernization upgrades of our vehicles for continued service".
This statement clearly (at least to us) implied that modernization revenues are likely to seize after 2010, as the US military contacted works comes to an end.
FRPT's spares and sustainment revenues relates to maintenance and supply of spares for its vehicles. Until now, a very significant amount of the vehicles that the company has supplied included MRAPs to the US military. Thus, a material amount (if not most) of these revenues are dependent on the MRAP fleet owned by the US military. Since the US military has no plans to increase its MRAP fleet, and is working towards in-house maintenance of its MRAPs, the spares and sustainment revenues are bound to take a hit once the US military starts in-house maintenance.
The balance of this report, including valuation and a quick forensic opinion, is available to all paying subscribers by clicking here. Those who are interested in subscribing can do so by clicking here, and anyone who wants to take me up on my actionable idea offer can reach me here. Be aware that it has to be a GOOD idea that is not already prevalent in the public domain in order to be considered.
Disclosure: No positions