It is not often I take issue with an article on Seeking Alpha that sports an opinion that I tend to agree with to a degree. This article on Exxon Mobil (NYSE:XOM) caught my attention, with the content more so than the premise.
The entire crux of the author's argument was that XOM better have a huge dividend increase because the stock has been underperforming, and has stated it will cut back on R&D in 2014 and forecasts are less than analysts hope to see.
The author uses this Barron's article to advance his thesis. On the surface, who would NOT desire a huge dividend increase from XOM? Obviously, it stands to reason that all shareholders for income want more all the time. To suggest that XOM has lagged, is like looking at an enormous forest behind one tree. I am going to use the same public information that the aforementioned Seeking Alpha article used to explain my opinion.
First there is this chart: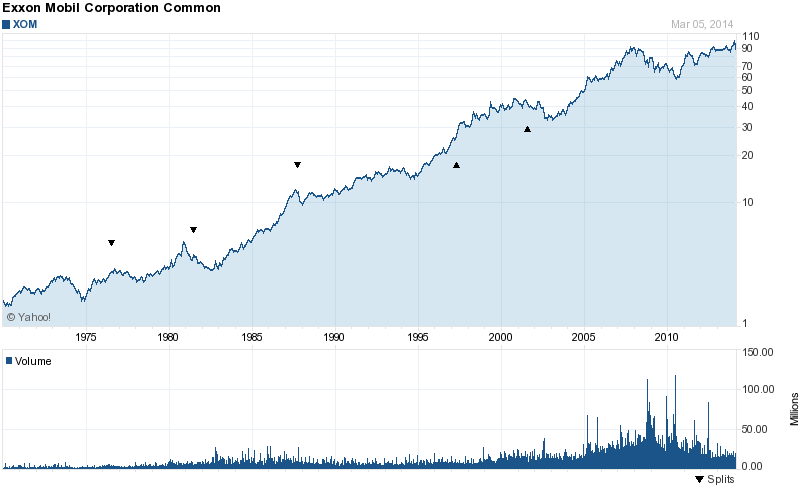 I can tell you that the investors who have owned XOM for the long haul have been richly rewarded. Not just in dividend income, but in capital appreciation as well. Please note that the company has had its ebbs and flows throughout the chart. At times the share price has sunk, like 1982-1984, and again in 1999-2003, and most recently from 2006-2010.
Some can argue that the most recent dips have occurred under the watch of the current CEO, Rex Tillerson, and they would be correct. That being said, would you also applaud Tillerson for the recovery of the stock from the low $60's to the all time high it reached just last year?
It seems to me that it is an absurd argument, but I get the fact that some folks simply do not like "Ol' Rex" (his stance on climate change for example). Well, the man is steering an enormous ship, folks, and the energy "waters" have been changing over the last five years, as my fellow author pointed out with this graphic (from the XOM website by the way):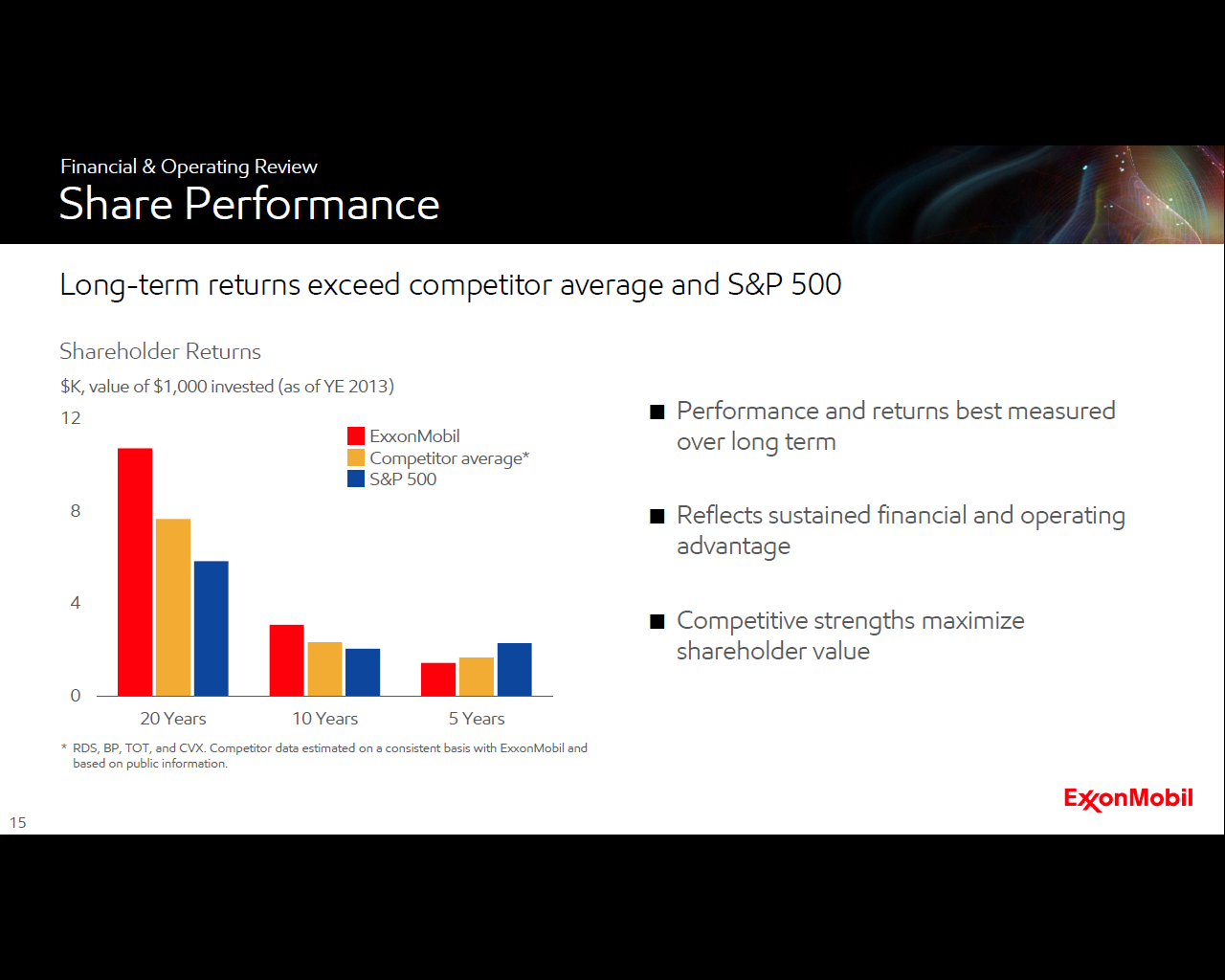 Maybe it is me, but name one other energy company that has grown to the size of XOM that has had a track record comparable over the last 20 years. Okay, how about 10 years? Okay, the last 5 years has seen an enormous shift in the way energy is produced, and there have been other companies who might have been a bit more aggressive than XOM but they too have underperformed the S&P 500 in the last 5 years, according to the chart below. Is it that big of a deal that they have outgunned XOM a tad when over the long term Exxon Mobil has blown them away?
Even the dividend was upped by roughly 10% last year! Raise your hand if YOU received a 10% pay increase in 2013.
The Numbers Speak For Themselves
The company is enormous. Everything about it is enormous, and all any investor needs to do is look at the basic fundamentals.
The company is valued at over $410 billion. That is a B for Billion.
A forward PE of just 11.84, or around 5.00 less than the S&P 500 overall average right now. To me, that seems cheap.
A dividend payout ratio of 23% which tells me that dividend champion status is more than safe. What more can a dividend investor want?
The current dividend yield is 2.60% which is also above the average S&P 500 yield, and it just keeps growing.
50% ownership by institutions, of all outstanding shares.
Dwarfs the size of any competitor.
As for that last bullet point, let me illustrate, from Yahoo Finance: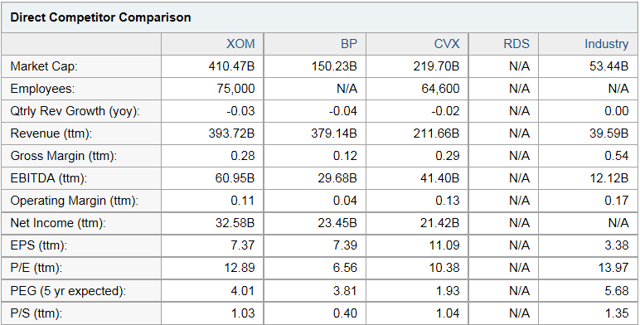 Click to enlarge
More revenues, more income, higher EBITDA, and nearly double to triple the size of any of the competitors on the graph.
Here is MY bottom line: If you had purchased the stock in 2010/11, when it was selling for about $60/share, your current dividend yield on cost would be about 4.5%. Plus you would have over a 50% increase in its share price. Wow, Tillerson is terrible, ain't he?
What I am trying to convey here, is that every business has ups and downs as it navigates the landscape. Nothing goes straight up or straight down when it comes to companies of the magnitude of Exxon Mobil.
My opinion is that if you are a dividend seeking investor, you should hope the share price drops, so you can buy the one of the largest companies on the planet while it is on sale. The sale might be for a very brief period until the next leg up.
Disclaimer: The opinions of the author are not recommendations to either buy or sell any security. Please remember to do your own research prior to making any investment decisions.
Disclosure: I am long XOM. I wrote this article myself, and it expresses my own opinions. I am not receiving compensation for it (other than from Seeking Alpha). I have no business relationship with any company whose stock is mentioned in this article.