Editor's Note: This article covers a stock trading at less than $1 per share and/or with less than a $100 million market cap. Please be aware of the risks associated with these stocks.
Now that nearly a month has passed since the Feb. 11 update to the Ocean Power Technology (NASDAQ:OPTT) and Lockheed Martin (NYSE:LMT) partnership deal to deploy 62.5 megawatts of OPTT's PowerBuoys off the coast of Portland, Australia, shares of OPTT have consolidated from the 104% two-day pop that the news release appeared to have generated.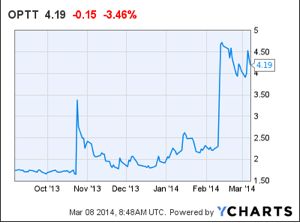 Because OPTT is still in its infancy, my comments and analysis here won't include rough financial projections from the Portland deal (no guidance available), nor will I attempt to speculate in this article as to who OPTT's next customer will be, et cetera.
Instead, I'd like to offer my view as to the potential worth of the company's patents, which I foresee as one of the grand prizes that could be won sometime during this decade.
In essence, holders of OPTT shares own a research and development company, whose intellectual property and visibility work could someday pan out to be worth many-times more than the company's present $49MM market capitalization. And, so far, the company continues to grind forward to that end.
And, from my extensive research on the subject of wave power, OPTT appears to be one of the best companies available to own for a speculative play in the wave power space (see 'Conclusion, and Final Thoughts' to this article), primarily, wave power generation applicable to onshore electricity; hydrogen production and aquaculture; as well as autonomous offshore power for commercial marine, civilian defense and early-warning applications.
For those new to the stock, review OPTT's presentation and fact sheet. There, you'll find a decent synopsis of the company's technologies and the markets it intends to serve. Also, it's not a bad idea to review the latest earnings call, and watch for the next call on Mar. 14.
An Executive Summary of the Portland, Victoria Project
[Author's note: Calls to Ocean Power regarding the discrepancy between my calculations and the company's website figure have not been returned. Lockheed Martin referred me back to Ocean Power to explain the discrepancy. Whether the lower output stated on the website is the result of a loss of power to resistance, or the capacity of the buoy is incorrectly stated on the website. We will update investors as soon as we talk to an engineer at Ocean Power.]
According to several announcements from both OPTT and LMT, the Portland project is worth a total of US$255MM (US$73MM apportioned to OPTT), and the expected result is: to provide power service to 10,000 homes located in the small coastal town of Portland, Victoria, Australia (see map).
At 62.5MWh of contracted power output, the per-home capacity of electricity calculates to 6.25kWh (62.5MWh/10,000 homes) of electricity, at a project cost of $25,500 per home. Assume a 37.5% output rate (see OPTT fact sheet), and the per-capita capacity steps down to 2.35kWh per home.
At 2.35kWh x 24 hours x 365 days x 20 years, the cost per kWh, per home equates to a wholesale cost of 6.2 cents.
That 6.2 cents doesn't include maintenance costs of the OPTT system throughout the 20-year lifespan, nor does it include opportunity costs during the life of the asset.
And, the assumption made, too, is that revenue will generate a meaningful profit to the contractors involved in the project, and, that the largest project ever attempted will, indeed, succeed. We'll know some time in 2017 or 2018, the years anticipated to launch.
Considering Australia's sky-high mean cost of electricity of 29 cents per kWh (heavily taxed), there's some considerable room for continued tax revenue or tax rollback to assimilate the Portland project. In other words, Aussies pay a lot for electricity compared with most other nations, and the Portland project serves as an example of the favorable particularity endemic to the industry.
According to Australian census statistics (2011), there are a total of 9,623 persons living and working in 4,346 total dwellings in Portland, with 4,034 of the 4,346 dwellings designated as private, and 312 designated as non-private dwellings.
So, the project appears adequate and appropriate to a community of the size of Portland. Actually the project appears to be more than adequate to service the town, alone, with statistics from the Aussie government showing only a 4.6% increase to Portland's population between the years 2001 and 2011.
Conclusion and Final Thoughts
OPTT business model and sector lends itself to, in my opinion, the 'investor' who seeks that long-term and oversized capital appreciation. But patience is no doubt needed to realize the potential of this asset. I'm optimistic about OPTT for three compelling and vital reasons:
1) A lead partner of AAA reputation, longevity and capitalization has stuck with OPTT for many years.
2) OPTT's growing moat of experience in a technology that's unquestionably in the future of 44% of the world's population who live and work with 90 miles of a coast.
3) OPTT enjoys institutional investor affiliation and 'insiders' holdings of, in this case, approximately 23% of float.
In a larger context, too, those not familiar with wave-power generation may want to read a fine article from our friends at Institute of Electrical and Electronics Engineers (IEEE) on the subject. You'll get a better idea of what OPTT is up against in the coming years.
And as an observation: many comments regarding management's 'incompetence' is misplaced, in my opinion. It's been my experience when dealing with engineering management 'types', who involve themselves in micro-cap enterprises is, that communications to investors isn't their particular strength. So, keep that in mind, and only seek out the facts as they relate to the company's business model.
Finally, due to length restrictions, the scope of this article is limited in focus to the Portland project. OPTT's other opportunities and commentary involve more in-depth analysis, including the company's less-mentioned opportunities in the civil defense market - a market that I feel could suddenly spring to life in a meaningful way to investors this year.
Therefore, those investors and traders (especially), who would like to keep abreast of my ongoing thoughts on OPTT, as well as other potentially explosive stocks (speculative, only), can follow me on SA (click "Follow" next to my photo at the top of this page) or may visit my website and sign-up to receive email alerts on stocks that, I believe, are poised to generate price-moving news as well as ongoing and charged daily debate.
Disclosure: I have no positions in any stocks mentioned, but may initiate a long position in OPTT over the next 72 hours. I wrote this article myself, and it expresses my own opinions. I am not receiving compensation for it (other than from Seeking Alpha). I have no business relationship with any company whose stock is mentioned in this article.