On January 10th, 2014 I published an article on Seeking Alpha recommending a Buy for NextPoint Credit Strategies Fund (NYSE:NHF) (article: NextPoint Credit Strategies Will Surge in 2014). I not only recommended to Buy NHF, but I personally allocated 20% of my portfolio to the closed end fund and highlighted the basis of my position to make the investment in my last article. After more analysis on NHF and a rise of 15.88% since the release of my last article, I see more upside and have recommended buying it to several relatives, work colleagues, and friends who have asked me where to park their money for a low maintenance investment (by low maintenance I mean little market knowledge and low portfolio management). My relatives and friends do not work in Finance nor have time to watch their investments. Before diving into the details, I am not claiming that my article drove the increase in price because I believe NHF is fundamentally a great investment and is managed by a great team, Highland Capital Management. All I did was write about it along with several other Seeking Alpha Contributors. One last detail before jumping into my updated review of NHF, I use a very systematic model when making buy/sell investment decisions and I assume the average investor has the ability to read through NHF's filings (among other things) to learn more about the fund, so this article will not be a summary of the fund (yes I know, people love the fund summaries on Seeking Alpha to be detailed), but more of a logic to why investors should add it to their long-term investment portfolios (here is an Instablog post on the buy/sell decisions I take in my articles based on my model-driven approach to closed end fund investing and analysis). For readers that have a short attention span, here is my quick summary: investing in NHF is best described as investing in a transparent Hedge Fund investing in a variety of asset classes by a very reputable asset manager.
Quote Snapshot
Market Value: $736.6mil
Distribution Rate: 5.72%
Total Leverage Ratio: 22.19%
Last Actual Premium/Discount: -11.03%
6-Month Average Premium/Discount: -15.31%
3-Year Average Premium/Discount: -9.70%
Current Market Price: $11.56
NAV: $12.96
YTD Performance - Market Price: up 22.40%
YTD Performance - NAV: up 14.39%
As many readers will notice, there are specific Quote Snapshot line items in bold, which will be addressed later in the article. First, I wanted to discuss why I added NHF to my portfolio. My investment portfolio is very model-driven (I mean this in a very Macro-Quant way, or mathematically and statically focused way) by leveraging relative values in the closed end fund universe, with a focus on distribution rates, 6-month, and 3-year average premiums/discounts. Mentioned in my last article(s), I am a huge AllianzGI Convertible & Income II Fund (NYSE:NCZ) and AllianzGI Convertible & Income Fund (NYSE:NCV) investor. Actually, I bet on NCZ and NCV several months ago and I was spot on with my analysis (prices appreciated and the payout was/is very high relative to the high yield fund peer group). However, my portfolio lacked some growth plays that could not only offer a distribution, but potential for some sizable upside. That is when NHF fell in my cross-air and I had to pull the trigger with a substantial portion of my portfolio.
NHF offered my portfolio strategy diversification and it priced perfectly for some upside in my view. The basis of my investment was fairly simple, I conducted a review of the asset allocation of the fund to check how much exposure I was going to benefit from an investment in NHF (from two perspectives: asset allocation and portfolio strategy diversification), then I calculated what I call a "Market Price to Net Asset Value Price Convergence Ratio". Basically, this ratio can tell an analyst/investor if the NAV will actually be closing in on the Market Price overtime based on a variety of factors; some being as basic as fund marketability, but more along the lines of market pricing inefficiency. From my last article on NHF:
"Discount to NAV will Converge - The most attractive closed end fund characteristic that I found in NHF was the NAV price versus the current trading price. Based on the NHF's performance, the NAV is actually appreciating/increasing at a higher rate than the current market price. Effectively increasing/widening the discount to NAV at that same rate. Reviewing NHF's returns, it appears that NHF has been posting solid results year on year (apart from 2008), and returning impressive results compared to its peer group. The three year discount to NAV is around -9%, the last six month discount is -14.41%, and the last discount to NAV stands at -17.45%, which to an investor like myself, just means the price has dropped temporarily to an unrepresentative level due to the unaccounted appreciation in NAV by the average investor, asset management firm, and other serious investors. The only way I can explain this fund's discount is the fact that it might not be well covered or marketed to the general investing community and some of the reasons why this is the case is that the NAV price appreciation is happening at a very high rate (faster than investors realize). Theoretically speaking, all you need is a couple of investment managers to spot this buying opportunity to close the gap between the NAV and current trading price."
At the time I published my last NHF article, the NAV was appreciating at a much higher rate than the market price, however, that rate has actually slowed down and NHF's market price and NAV have actually started converging. 2014 Stats: The YTD Performance - Market Price is up 22.40% and the YTD Performance - NAV is up 14.39%, so the rate of the market price appreciation has definitely begun beating the NAV price appreciation in 2014, which was the market pricing basis of my last article.
Even though the market opportunity seems to be eliminated (since the market price appreciation rate has now beat the NAV appreciation rate), there is still more upside based on historical performance. The current 3 year average premium/discount is 9.70%, while the last market price premium/discount is -11.03%, meaning there is still at least a 1% difference between historical averages. Now, 1% is not a lot, but after reviewing more NHF details, the actionable investment decision to buy is still rather convincing.
Here are three other major changes in NHF's performance since publishing my last article based on Morningstar Data: 1) the market value of the fund has increased by 18%, which is more than the NAV appreciation; 2) the leverage ratio has dropped by about 2%, making it less prone to market volatility (in example: the recent Russia-Ukraine fiasco); and 3) the distribution rate has dropped to 5.72% from 6.19% (distributed monthly), which is not an increase in attractiveness for dividend focused investors, but may explain further price appreciation into 2014. Some more NHF pros (read my last article for all the details): dividend distributions are 100% Fund Income (these are considered financially healthy distributions), 4 Star Morningstar Rating and Very Good Risk Statistics remain strong for investing consideration, and NHF has outperformed all of my suggested alternatives mentioned in my last article (chart below), including JH Premium Dividend Fund (NYSE:PDT), Franklin Universal Trust Fund (NYSE:FT), First Opportunity Fund Inc. Fund (OTCQB:FOFI), JH Tax-Advantaged Dividend Inc. Fund (NYSE:HTD), Clough Global Allocation Fund (NYSEMKT:GLV), and Clough Global Opportunities Fund (NYSEMKT:GLO).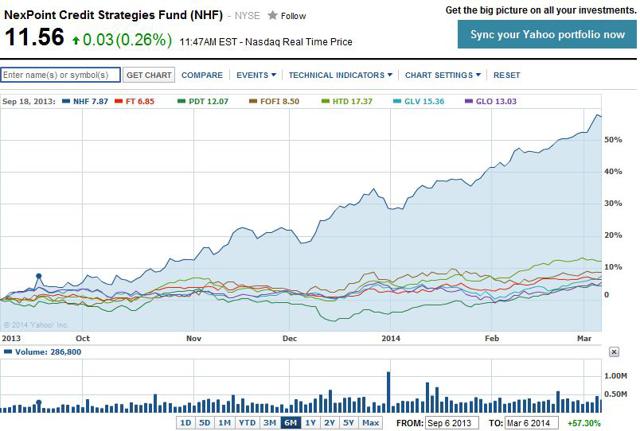 To further my research I read all the comments on my last NHF article and wanted to mention a few key details from other Seeking Alpha Contributors: 1) "Highland Capital, the group essentially behind this fund, are real pros with decades of experience in the loan, high yield, and private placement markets,", 2) "The fund manager attempts to exceed the return of the CS Hedge Fund Index and the HFR Global Hedge Fund Index in a transparent, registered fund format with monthly dividends," and 3) Insiders have been buying up NHF shares, constantly. To further my understanding of the fund, I read over another Seeking Alpha Contributor's article which covered NHF and was actually an interview with Highland Capital Management (article found here). From the other article mentioned, here is a very useful extract I found from Highland Capital Management regarding the fund's approach to investing: "The mandate of the fund is total return. In pursuit of that mandate we go into areas that most analysts in CEF/ETFs are not used to seeing: real estate, CLOs, equity and credit together. We believe that makes our fund and story misunderstood… We've got a model that is updated monthly, based on our macro views of the markets... As part of the real estate that we have, we have created a private REIT underneath the fund. We've been out buying actual real estate in this REIT."
Betalyst View: I'd love to spend more time analyzing every investment asset class NHF has invested in to confidently gage where I see those investments going, but I believe it would be very difficult to come up with an accurate valuation and forecast of the fund since it operates like a hedge fund and changes investments frequently. I do believe that they have taken some serious due diligence measures in both investments and hiring their portfolio management team. I am confident that NHF is positioned to continue surging in 2014 and wanted to reiterate the buying opportunity to the Seeking Alpha Community. Buy NHF for high total returns in 2014.
Disclosure: I am long NHF. I wrote this article myself, and it expresses my own opinions. I am not receiving compensation for it (other than from Seeking Alpha). I have no business relationship with any company whose stock is mentioned in this article.