Shutterstock (NYSE:SSTK) is a $3.3 billion market cap digital image marketplace. Its technology allows image buyers to browse its database of over 30 million images, vectors and video clips for purchase online, either individually or on a subscription basis. The images are uploaded on what amounts to a consignment basis by contributors who earn a portion of the royalty-free license fee for each download. The average price per image is about $3. SSTK is the largest pure-play microstock company, but there are plenty of competitors, many of which charge lower prices. For instance, see the front page results of a Google search for "royalty-free stock images" below.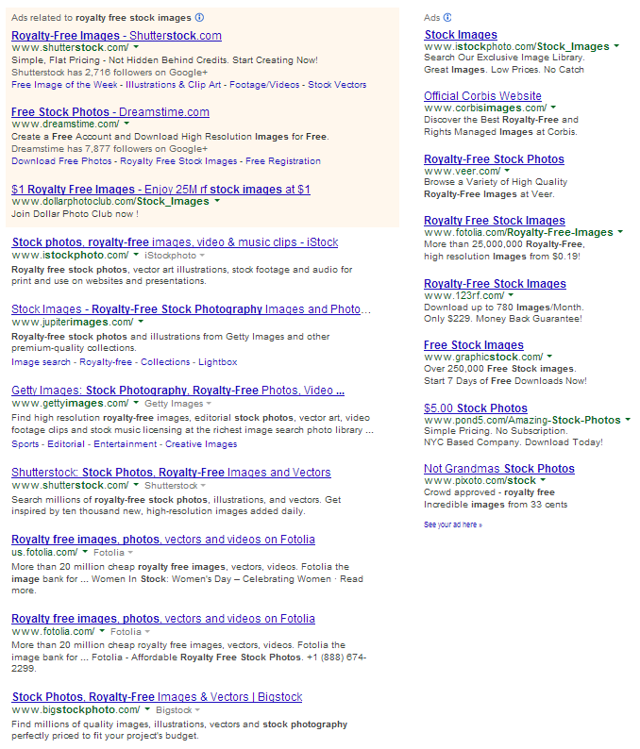 Source: Google
Shutterstock has soared over the past year on a rapidly expanding P/E driven by the theory that once it achieves enough scale, network effects will cement its leadership position and it will be able to continue to gain market share and increase prices.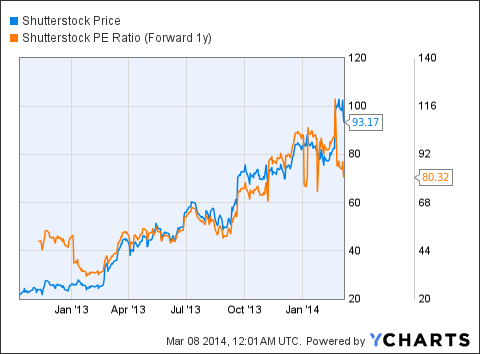 SSTK data by YCharts
This view appears to be at odds with the competitive reality as demonstrated by Getty Images move this week to release 35 million stock images for free use on the internet via an embedding feature. (See here for details.) Getty's free images were already being used illegally to some extent, and they only target a portion of SSTK's sales, so it doesn't mean that SSTK's library is worthless. But it does suggest that $45 per image would be a more reasonable valuation than the current $110.
SSTK appears to be a very nice business, in the sense that it has an economic justification for existing and adds value for both contributors and consumers by reducing search and transaction costs. I reckon Shutterstock will continue to grow at a fast pace and earn an attractive return on invested capital, however not so fast or so attractive as to justify a P/E of 80x forward earnings. A P/E of 45x consensus 2014e would be about right assuming the net margin expand to 13% from 10%, growth averages 17-18% for five years and then slows to 5% in perpetuity, and a 10% discount rate. That works out to a share price of about $40 or 55% downside.
Disclosure: I am short SSTK. I wrote this article myself, and it expresses my own opinions. I am not receiving compensation for it (other than from Seeking Alpha). I have no business relationship with any company whose stock is mentioned in this article.