The Home Depot Inc. (NYSE:HD) has outperformed the S&P 500 in 5 of the last 6 full years from 2008 to 2013, and 4 of the last 4 years. The main reasons for the great performance were the company's strengthening fundamentals and the recovery of total United States construction spending. The graph below, generated in Equities Lab, plots HD's price performance in green, total United States construction spending in blue, the % change in total construction spending over one year in purple, and Home Depot's quarterly sales in grey

Since January of 2012, the purple line which represents % change in total construction spending compared to the same date the previous year has been bouncing between a 5 and 10% growth. Since the start of 2014, we have seen the line consistently over 8% which is a bullish sign for the economy and for Home Depot's sales. The blue line, which simply represents total construction spending, is on the rebound after the huge crash where we saw it decline 38% from March of 2006 to January of 2011. It is now of a streak where it has increased in each of the past 10 months it has been reported.
Valuation Analysis
The PE and price to sales analysis below compares HD with companies that are subject to similar economic risks:
| | | | | | |
| --- | --- | --- | --- | --- | --- |
| Ticker | Yield | Est. 5 Year Gwth | PE | Forward PE | Price to Sales |
| HD | 2.3 % | 17.00 % | 21.9 | 18.43 | 1.44 |
| LOW | 1.4 % | 16.65 % | 23.8 | 18.97 | .99 |
| SHW | 1.1 % | 13.57 % | 27.7 | 23.75 | 1.96 |
| TSCO | 0.7 % | 16.88 % | 30.4 | 26.92 | 1.91 |
| Avg. | 1.4 % | 16.03 % | 25.1 | 22.02 | 1.58 |
Home Depot has the highest analyst expected 5 year growth rate out of the 4 companies at 17%, which also ranks in the top 16 % of all companies with a market cap greater than 50 billion. HD also has the highest yield out of the 4 companies at 2.3%, but that is actually 21% lower than the Dow Industrial average of 2.9%. HD has a PE of 21.9, while the DOW Industrial average PE is 21% lower at 17.3. HD is expected to grow at a much faster rate (17%) than the average Dow Industrial company (8.3%) so the slightly higher than average PE should be of little concern. The table below compares HD to the Dow Industrial average:
| | | | | | |
| --- | --- | --- | --- | --- | --- |
|   | Yield % | Est. 5 Year Gwth % | PE | Forward PE | Price to Sales |
| HD | 2.3 | 17.0 | 21.9 | 18.43 | 1.44 |
| DOW Avg. | 2.9 | 8.3 | 17.3 | 15.20 | 2.50 |
Positives
1. Home Depot currently has a Piotroski F-Score of 8 out of 9. For an explanation of how the Piotroski F-Score is calculated and its affect on price performance, please visit our previous article "The Bullish Case for Himax, Using the Piotroski F Score." After you read that article you will discover that the Piotroski F-Score can have a big impact on price performance. The score essentially rates a stock from 0-9 based on its fundamental health and back testing tells us that high score stocks outperform low score stocks significantly on average. The Equities Lab chart below displays HD's price performance with its Piotroski F-Score plotted alongside it:

Since the beginning of 2011, HD has consistently had an F-Score over 6. Only 56 of the over 6000 (.93%) stocks in our database can say that about themselves.
2. HD has been aggressively buying back shares since the start of 2010.

The Equities Lab graph presented above plots HD's floating shares over time in grey. As you can see, the line is in an impressive downward, almost linear trend. Since 2010, shares float have decreased 17% from 1.689 billion to 1.4 billion. Since January of 2013, shares float have decreased 6%.
3. HD has been significantly increasing their dividend.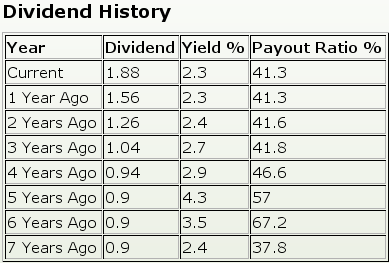 Yearly dividend growth in order from oldest to most recent is 4.4%, 10.6%, 21.2%, 23.8%, then 20.5%. HD was able to maintain a respectable payout ratio of under 50% during the numerous dividend increases. EPS is expected to grow 18% in 2014 so expect the next dividend increase to push it over $2.
4. Home Depot has a history of meeting or exceeding analyst estimates. They recently reported 4th quarter profits that exceeded analyst estimates, "marking six straight years of meeting or exceeding projections", according to this Bloomberg article.
Negatives
1. Long-Term debt took a huge jump over the past year.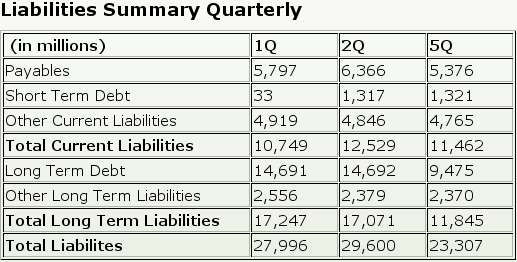 From the 4th quarter of 2012 to the 4th quarter of 2013, long-term debt grew 55% from $9.4 billion to $14.7 billion.
Housing Market Rebound
The graph below, taken from the St. Louis Fed, plots the amount spent on private residential fixed investment over the past 70 years.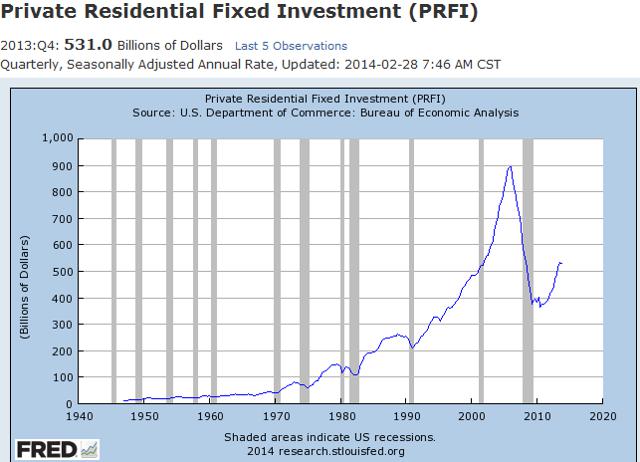 Since the start of 2010, we have seen PRFI gain a lot of upwards momentum as the economy and housing market continue to rebound. The Equities Lab graph below displays HD's performance alongside the Case- Schiller 20-City Home Price Index.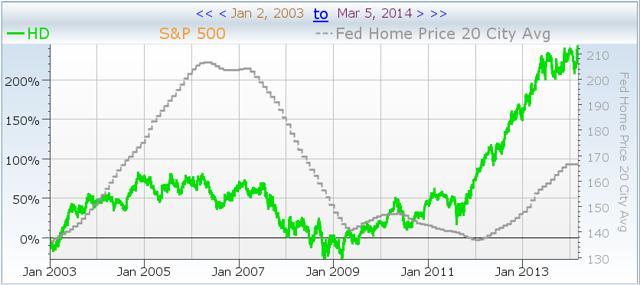 The strong upwards momentum in PRFI and home prices are a very positive catalyst for Home Depot, because as they accelerate so will HD's sales.
Summary
As outlined in this article, total construction spending, private residential fixed investment, and home prices are on a strong rebound which has been a great catalyst for shares of HD that have outperformed the S&P 500 in each of the past 4 full years. The valuation analysis proved that shares of HD are not overvalued since the company is expected to grow at faster than average rate over the next 5 years. There are some fundamental negatives such as long-term debt significantly increasing, but those negatives seem to be outweighed by the positives including significant and consistent share buy backs, a history of meeting or exceeding analyst estimates, and big dividend increases. Taking everything into consideration, we believe that HD will continue to outperform the market over the next 2 years at least.
Disclosure: I have no positions in any stocks mentioned, and no plans to initiate any positions within the next 72 hours. I wrote this article myself, and it expresses my own opinions. I am not receiving compensation for it (other than from Seeking Alpha). I have no business relationship with any company whose stock is mentioned in this article.