Despite regulatory uncertainty over menthol cigarettes, Lorillard's (NYSE:LO) shares jumped by about 10% after Financial Times reported a possible acquisition.
LO, the top menthol cigarette brand in the U.S., has recently made some efforts to enrich its brand "Newport" by taking conspicuous steps towards diversifying the brand. Newport, LO's flagship premium cigarette brand, generates more than 80% of its sales. Newport Non-menthol Gold is the new product that the company is now offering along with e-cigarettes.
Ostensibly, there are two primary issues that can be considered potential threats to LO's long-term success, and are possibly perceived as a cause for concern for investors.
Foremost is the perspective of the FDA on menthol's possible impact on public health; this involves legal issues and can result in significant FDA restrictions on the sale or even marketing of menthol cigarettes. Secondly, the deeming regulation vis-à-vis the e-cigarette is also one concern that makes investors cautious.
Therefore, I believe LO is moving towards diversification to counter any sort of setback. In my opinion, these are the two core reasons that have compelled LO to introduce a new line of products.
Non-menthol Gold
LO launched Newport Non-Menthol Gold in 4Q13, following the FDA's approval of the offerings' 'Substantial Equivalence' application earlier in the year. The apparent idea behind the launch of non-menthol gold was to expand LO's presence in the premium non-full-flavor segment (non-menthol segment), which is about one-third of the total U.S. market. However, Newport Gold didn't receive an encouraging response in terms of both sales and consumer acceptability.
However, Murray Kessler, the CEO of LO, believes that the consumer feedback was "great" and the reason for the failure was "low trial levels".
According to Kessler, "I think there is a confusing issue that we are just not known as a full flavor or as a lesser-than-full-flavor company, and certainly not a less-than-full flavor, non-menthol company. So we'll be working on that."
A growth catalyst
Despite struggling with looming legal matters, LO's practice of capitalizing on emerging growth opportunities didn't come to a halt. LO was the first of the big three U.S. tobacco companies to make a move into international next-gen with the acquisition of SKYCIG. However, LO aims to evolve SKYCIG to Blu in future in order to make it a global brand. Also, the company is intending to roll out SKYCIG across the U.K. in mid-2014, which I believe can result in multiple expansions.
The E-cigarette segment's net sales for 4Q13 increased approximately 38.5% YoY. Presently, LO's Blu is the leading e-cigarette brand in the U.S.
Possible Acquisition
Moreover, earlier this week, FT reported that the U.S. tobacco company, Reynolds American (NYSE:RAI), was exploring a bid for Lorillard Inc. Many other news organizations then picked up this news, which resulted in a drastic increase in LO's stock price. On the New York Stock Exchange, LO's shares jumped about 10% to $54.07 on Monday's afternoon trading, whereas it closed at $48.57 by last Friday night. LO's worth, by Monday night, was $19.6bn. Currently, LO and RAI have market shares of almost 15% and 25% in the U.S., respectively. However, according to FT, no deal is certain at the moment.
Financial Performance
LO stated net sales of $1.689 billion for the fourth quarter, signaling an increase of 1.4% year-on-year. LO registered an EPS of $0.82 for the recent fourth quarter, meaning an increase of $0.03 year-on-year, missing consensus estimates by about 0.47%. The company has been increasing its prices to maintain robust margins; for example LO increased net price by 4% in the quarter. LO's gross margin was unchanged year-on-year, at 52%. However, analysts are expecting a 10.8% growth rate in the next five years. The chart given below shows LO's gross and net margins for the four quarters of 2013.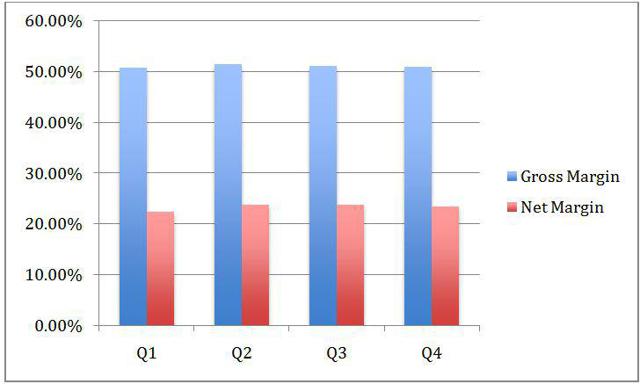 Click to enlarge
Source: Company Reports
Risks
Although LO seems to be performing well on the stock market, the company's future is still unclear because of numerous impending factors. In my observation, any kind of merger between LO and RAI or an acquisition by RAI seem unlikely to happen anytime soon amid the regulatory uncertainty over menthol cigarettes. Plus, after banning all other cigarette flavors, the FDA is mulling curbs on menthol-flavored cigarettes, which makes it even harder to place a value on LO's business. In addition, a deal wouldn't take place without involving the U.K. based British American Tobacco, which owns 42% of stakes in RAI. These are the factors that make me skeptical regarding the future prospects of LO.
Conclusion
I have a buy rating for LO, since its stock continues to be a profitable investment opportunity for dividend investors; LO is currently offering a dividend yield of 5%. Plus, LO has attractive valuations because of its slightly cheaper forward P/E of 14.3x, which is better than its competitors' average P/E of 14.65x. Furthermore, LO also has a lower PEG of 1.4, indicating relatively cheaper growth as compared to its peers, as shown below. Also, analysts are expecting a robust next 5-year growth rate of 10.8%, which is higher than its competitors' average of 8%.
| | | | | | |
| --- | --- | --- | --- | --- | --- |
| | LO | RAI | Philip Morris (NYSE:PM) | Altria (NYSE:MO) | Average |
| Dividend Yield | 5 % | 5.3% | 4.6% | 5.3% | 5.0% |
| Forward P/E | 14.3x | 14.9x | 14.6x | 14.5x | 14.6x |
| Next Five years Growth Rate | 10.8% | 7.7% | 6.6% | 7.4% | 8.0% |
| PEG | 1.4 | 2.0 | 2.4 | 1.95 | 1.95 |
Source: Yahoo Finance
Disclosure: I have no positions in any stocks mentioned, and no plans to initiate any positions within the next 72 hours. I wrote this article myself, and it expresses my own opinions. I am not receiving compensation for it (other than from Seeking Alpha). I have no business relationship with any company whose stock is mentioned in this article.