Russia is the world's second-largest producer of natural gas after the U.S., being Gazprom (OTCPK:OGZPY) the world's largest gas producer. Russia supplies around 30% of Europe's gas consumption, with Northern and Central European countries being heavily exposed to Russian gas. A third of Gazprom's gas is exported though Ukraine. Since 2006, Russia has cut twice its supplies of gas to Ukraine, and consequently a large part of its gas exports to Europe.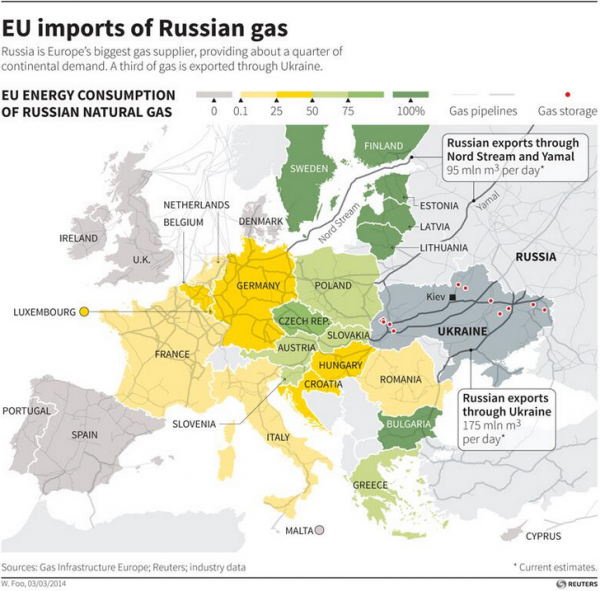 Europe's dependency on Russia's gas is worrisome and the country's recent military intervention in Ukraine is bolstering the case for easing restrictions on exports of the U.S.'s booming natural gas production. These recent tensions should lead Europe to diversify its gas suppliers over the long-term, and the U.S. seems to be its best alternative as abundant and cheap natural gas can be exported through sea. Also, greater access to U.S. natural gas would considerably reduce the ability of Russia to use energy as a political weapon. Even though liquified natural gas [LNG] export capacity can't increase dramatically in the short-term, U.S. producers see these tensions as another reason to speed approval of pending LNG-export permits.
Natural gas can be exported through a process converting it to liquefied natural gas [LNG]. LNG is natural gas cooled to very low temperatures reducing considerably its volume, making it practical, from a physical and economic perspective, to transport gas over long distances. The two main ways of transporting gas over long distances are pipeline and LNG shipping. In some instances only one or the other is viable, as LNG ships cannot operate on land, and pipelines are prohibitively expensive over long sea distances. As U.S. natural gas prices are much cheaper compared to the rest of the world, the opportunity to sell natural gas to foreign countries is huge. If Europe decide to boots its imports of natural gas from the U.S. over the next few months, this could be a great catalyst for the LNG industry in the U.S. Three companies that would greatly benefit from this growth are Cheniere Energy Partners (NYSEMKT:CQP), GasLog (NYSE:GLOG), and Golar LNG Limited (NASDAQ:GLNG).
Cheniere Energy Partners
Cheniere Energy Partners is a publicly traded limited partnership created in 2007 by Cheniere Energy (NYSEMKT:LNG), a Houston-based energy company primarily engaged in LNG-related businesses. The major assets of Cheniere Energy Partners is the Sabine Pass LNG receiving terminal and Creole Trail Pipeline in western Cameron Parish, Louisiana on the Sabine Pass Channel. The Sabine Pass LNG terminal includes existing infrastructure of five LNG storage tanks, two docks and vaporizers. Cheniere has also started recently a two-stage expansion project on its Sabine Pass facility that could make it the largest exporter of LNG in the United States.
Cheniere was also the first U.S. company to receive permission from the U.S. Department of Energy to export LNG to any country in the world that is not on a U.S. trade sanctions list. Cheniere has taken advantage of this opportunity, and has recently signed billion-dollar deals with some of the world's largest LNG importers, including European companies like Total (NYSE:TOT), Gas Natural Fenosa (OTCPK:GASNY), and Centrica (OTCPK:CPYYY). Currently, its quarterly distributions stand at $0.425 per unit, or $1.70 annually. At its current unit price, Cheniere Energy Partners offers a very attractive dividend yield of 5.80%.
GasLog
GasLog is a growth-oriented international owner, operator and manager of LNG carriers, providing support to international energy companies as part of their LNG logistics chain. The company's owned fleet consists of fifteen wholly-owned LNG carriers, including seven ships on the water and eight ships to be delivered by the world's leading LNG shipbuilder, Samsung Heavy Industries. GasLog currently manage and operate nineteen LNG carriers, which includes its owned ships as well as eleven ships owned or leased by European company BG Group (OTCQX:BRGYY), a leading participant in the global energy and natural gas markets.
Its fleet is very new, given that its first ship was delivered only in 2010. Therefore, GasLog has a navy of modern, efficient, and highly profitable tankers. Its eight ships on order are scheduled to be delivered on various dates between 2014 and 2016, meaning that GasLog will maintain for many years the youngest LNG tanker fleet in the industry. GasLog has already signed forward contracts with its customers for its new vessels, which means the company's fleet should operate at close to 100% capacity for the next few years. GasLog's last quarterly dividend was $0.12 per share. At GasLog's current stock price, this represents an annualized dividend yield of 2.1%.
Golar LNG Limited
Golar LNG Limited is one of the world's largest independent owners and operators of LNG carriers with over 30 years of experience. The company's core business is LNG transportation, but it has also operations on floating storage & regasification units [FSRU] and floating liquefaction. Its goal is to become an integrated midstream player in the LNG industry. In 2011, it performed the IPO of Golar LNG Partners (NASDAQ:GMLP) a limited partnership formed in 2007 by Golar LNG Limited to hold some of its assets.
Golar's fleet currently consists of thirteen vessels, of which four are dedicated to midstream floating solutions and nine are under dedicated time charter or available for spot employment. Its current fleet average age is relatively high, but Golar has eleven vessels that are expected to be delivered over the next few months which will reduce considerably the average life of its fleet. The company also manages eight vessels owned by Golar Partners, which are operated under medium to long-term charters to costumers including Petrobras (NYSE:PBR) and BG Group. Golar's last quarterly dividend payment was $0.45 per share or an annualized dividend of $1.80 per share. At Golar's current stock price, it offers an attractive dividend yield of about 4.5%.
Disclosure: I am long GLNG, TOT. I wrote this article myself, and it expresses my own opinions. I am not receiving compensation for it (other than from Seeking Alpha). I have no business relationship with any company whose stock is mentioned in this article.