3M (NYSE:MMM) recently declared its 2013 result and reported year-over-year revenue growth of 3.25% to $30.87 billion. Its industrial segment, which forms 34.3% of the total revenue, was the primary growth driver. This segment showed revenue growth of 6.5% to $10.58 billion compared to last year. However, 3M faced problems maintaining the growth of its Electronics and Energy segment. I expect that the company with the underlined strategies possess higher future growth potentials.
Divesting underperforming units of Electronics and Energy segment
In last two years, its Electronics and Energy segment dragged the company's revenue; it reported a year-over-year decline of 1.2% and 4.8% in 2013 and 2012 respectively.
| | | |
| --- | --- | --- |
| Year | 2013 | 2012 |
| Revenue | $5.34 billion | $5.46 billion |
| Growth or (Decline) | (1.2%) | (4.8%) |
| Operating Income | $954 million | $1,126 million |
| Percentage change in operating Income | (7%) | (10%) |
| Electronic and Energy segment Assets | $5.34 billion | $5.51 billion |
Source: Company Sec Filings
3M currently operates six units in the Electronics and Energy segment, and since November 2012, it has been strategically reviewing these units, which generate annual revenue of around $2.5 billion that could be fixed, closed, or sold. The company increased spending on research and development, realigned business units, and identified underperforming businesses. After evaluating the future growth prospects of this segment, 3M recently contacted Goldman Sachs to divest the parts of the electronics segment. However, it is expected that the business unit will be divided into small parts since it is difficult to find a single buyer for the entire unit. By adopting this strategy, 3M will be divesting its underperforming units, which could collectively fetch funds of around $1 billion. This divesting strategy will enable the company to strengthen its "Mobile Interactive Solutions Division" and "Touch Systems Department," which 3M integrated with its "Optical Systems Division" and "Electronic Solutions Division" respectively. By focusing on high performing units 3M expects revenue growth of 3%-7% from 2013-2017.
This will enable 3M to reduce its operating cost associated with these units significantly, and the funds from divestment will allow the company to focus on finding prospective acquisition opportunities in healthcare, energy, and aerospace. 3M planned to spend around $10 billion in acquisition through 2017. With its past abilities to identify opportunities and acquisitions in high growth prospective areas, the company boosted its 2013 revenue significantly compared to 2012.

Click to enlarge
Source: Company SEC filing
Analyzing the above table, more than 43% of 3M's worldwide revenue is generated by its past acquisitions. It is expected that 3M will utilize these fund to acquire the best possible opportunities, which will enable the company to enhance its future revenue streams.
Acquisition to strengthen healthcare segment
3M can build a strong presence in the healthcare market with its healthcare segment, as this market possesses high grow opportunities worldwide. However, the company has very limited penetration in the healthcare market. Expanding the product portfolio and acquisitions is expected to will help 3M enhance its penetration in this segment.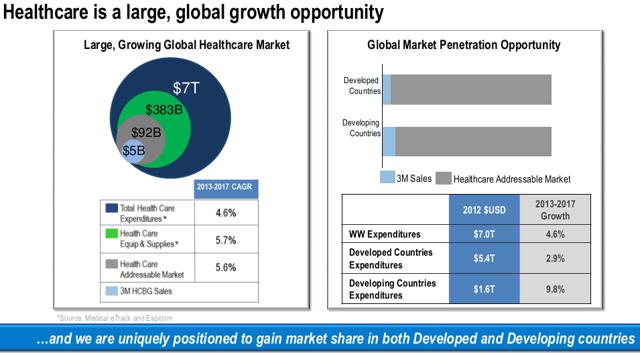 Click to enlarge
Source: Company Data
3M recently announced to acquire Treo Solutions, a New York based healthcare data analytics and business intelligence provider. This acquisition will enable 3M to extend real-time data analytics and payment redesign schemes to various healthcare providers that have adopted the 3M "360 Encompass System". Healthcare providers use this system to generate computer-assisted coding to manage the population health. Treo partnered with healthcare providers, payers, and government agencies to reduce their costs by offering healthcare analytical solutions. This acquisition will allow 3M to expand its growth opportunities and provide more comprehensive data solutions to clients about patients' conditions across all sites, better managing their costs and improving patient outcomes. The transaction is expected to close in the second quarter of this year depending on regulatory approvals.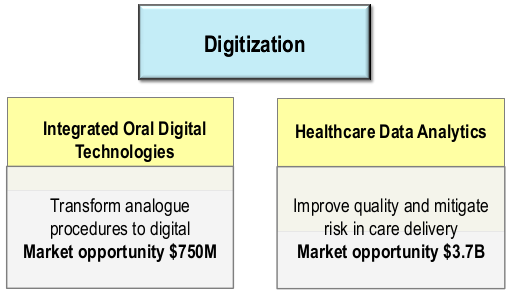 Source: Company Presentation
Treo Solutions will provide a significant opportunity to 3M, allowing the company to deepen its footprint in the healthcare digitalization market. The healthcare data analytics that improve quality have the total market potential of around $3.7 billion.
Further, its past acquisitions, particularly in the healthcare segment, helped 3M expand the breadth and depth of its portfolio. I believe the acquisition strategy will allow 3M's healthcare segment to continue to outperform compared to its other segment. Last year, its organic local currency sales grew 5% year over year with net growth of 3.8% (after considering the translation cost of 1.3%) to $5.33 billion. On a geographic basis, organic local-currency sales increased 10% in Latin America and Canada, 8% in Asia Pacific, and 4% in both EMEA and the U.S.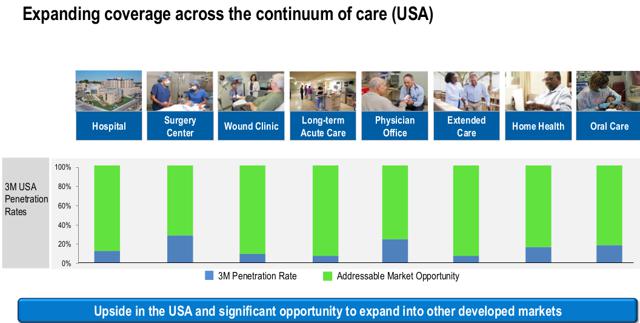 Click to enlarge
Source: Company Presentation
Despite having a low penetration rate in the U.S. as depicted in chart above, 3M's healthcare segment reported significant growth in 2013. I expect more acquisitions in the developed market, particularly in the U.S., will enable the company to enhance its penetration in the U.S. healthcare market across all the important healthcare areas.
Conclusion
Divesting the underperforming units of its electronics segment, 3M can strengthen the overall performance of this segment. Acquisitions in high growth opportunities areas such as healthcare will help 3M build a strong future financial position. With the Treo acquisition, the company could grab opportunities in the healthcare digitalization market and enhance its penetration in the U.S. It is expected that 3M's healthcare segment might report year-over-year revenue growth in the range of 3%-6% this year.
Further, 3M's strong five year financial objectives (2013-2017) will enhance investors' confidence in the company.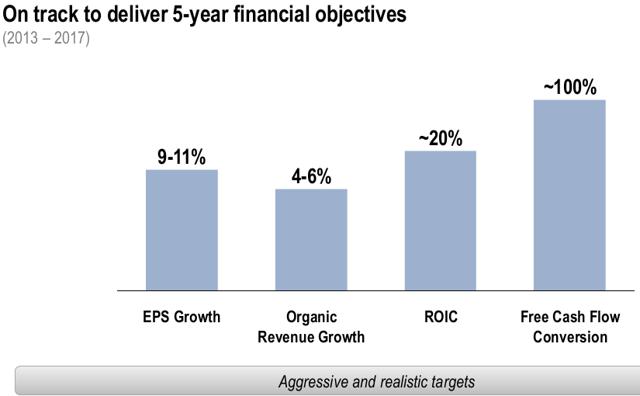 Click to enlarge
Source: Company Presentation
These growth projections and the company's initiatives will enhance its valuation and generate significant long-term capital gain for investors.
Disclosure: I have no positions in any stocks mentioned, and no plans to initiate any positions within the next 72 hours. I wrote this article myself, and it expresses my own opinions. I am not receiving compensation for it (other than from Seeking Alpha). I have no business relationship with any company whose stock is mentioned in this article.