Way back on December 24, 2012, I wrote "Reasons To Bet On A 2013 Recovery For Skullcandy." In less than two weeks, I had to write a near apologetic follow-up after a downgrade from Jeffries took the stock down another 13% in one day. It took another four months for the stock to finally bottom, including a retest three months later. Fortunately, I stuck with the thesis and continued scaling into my position. On Friday, March 7th the big payoff finally arrived in a big post-earnings surge higher. The recovery for Skullcandy (NASDAQ:SKUL) has finally arrived…but it comes with a major caveat from a stock that went berserk in response.
First, let's check off on the reasons I cited for remaining optimistic: a rapid reduction in short interest and the potential stated in the Q3 2012 earnings report.
Short interest peaked at close to 12 million shares in the summer of 2012. That short interest continued to decline steadily throughout 2013 even as the stock failed to bottom until well into the year. Short interest has essentially evaporated now at 2.8% of float as of February 14, 2014.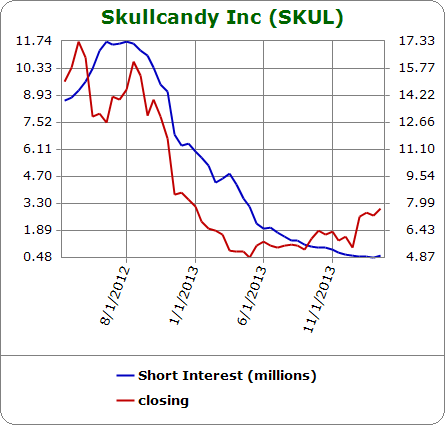 Shorts steadily bailed even as SKUL's stock bailed for many months
Source: Schaeffer's Investment Research
The put/call open interest did not continue to decline throughout 2013. In classic form, the put/call open interest ratio surged as the stock was finally bottoming.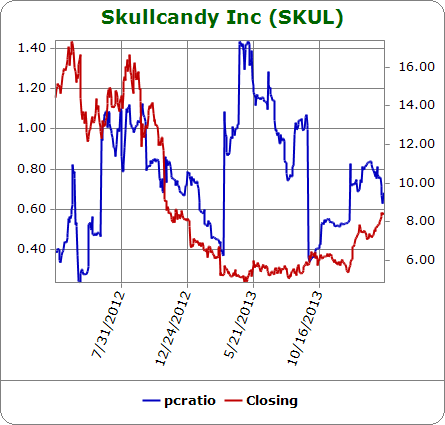 A strong surge in the put/call open interest ratio heralded the bottom for SKUL
Source: Schaeffer's Investment Research
On the fundamental side, in the Q3 2012 earnings call, SKUL cited concerns with a likely promotional holiday season, increasing competition at the low-end, and challenges in controlling online pricing by third-party retailers. SKUL's hope was to shift its product mix to the mid-tier price range from $50-100. It was a small opportunity at the time, but SKUL claimed it should be defensible for many years. An on-going mix shift to higher-priced, low margin products was a mixed bag for SKUL: positive for revenue but negative for gross margin percentage.
Now fast forward the tape…
First, 2013 was a year when the top leadership in SKUL turned over. In particular, SKUL announced the appointment of Hoby Darling as CEO on March 18, 2013. This was after a short-stint as CEO for company founder Rick Alden. On October 7, 2013, SKUL announced the appointment of Jason Hodell as CFO. On August 26, 2013, SKUL announced that Heidi O'Neill, Vice President and General Manager of Women's Training and Fitness at Nike, Inc. (NYSE:NKE), had joined the Board of Directors. While new leadership is not necessarily a panacea, in this case the switches seemed to do the trick.
The introduction to the Q4 2013 earnings announced on the evening of March 6th speaks volumes:
"2013 was a year of tremendous positive change geared toward executing our turnaround strategy. We now have a clear long-term vision for transforming Skullcandy and Astro Gaming into the most innovative brands in audio through obsessing about our consumers, disruptive technologies, and creative branding…The year was capped off by a strong fourth quarter performance focused on reinforcing our brand ethos and positioned the business for long-term success."
SKUL announced "better than expected" Q4 earnings and margins that hit target: net sales of $72.3M, gross margin of 43.5%, and net earnings per diluted share of $0.13. These numbers were all significantly down year-over-year. However, a year ago, the company was still in decline, now it is on the upswing. Here is the company's forward guidance:
"For the first quarter of 2014, the Company currently forecasts net sales to increase between 5% to 7% over 2013 levels and net loss on a GAAP fully-diluted basis to be between ($0.16) to ($0.18) per share.

For the full year 2014, the Company currently forecasts net sales to increase in the mid to high single digit percentage range over 2013 levels and net income on a GAAP fully-diluted basis to be between $0.10 to $0.14 per share."
The first quarter will return the company to growth. This growth will be led in particular by international sales in Canada, Japan, and China as U.S. retail dynamics continue to be "challenging." The majority of revenue will be in the second half the year with the back-to-school and holiday shopping seasons.
Perhaps most important for SKUL in this turn-around story is its healthy balance sheet. SKUL ended the year with $38.8M in cash and cash equivalents, a significant jump from levels a year ago at $19.3M. Total current liabilities declined from $43.9M to $39.4M with NO outstanding debt (same as a year ago).
There were also some key quotes from the earnings conference call. The following quotes are from the Seeking Alpha transcript of the session:
Again, the intro set the tone:
"2013 was a year of tremendous positive change geared toward executing our turnaround strategy and triaging certain aspects of our business and culture in order to set the foundation to return the company to growth, which we do expect to do in 2014. We now have a clear vision to transform Skullcandy and Astro Gaming into the most innovative brands in audio."
Innovation is working for SKUL:
"In Q4, we continue to execute against our strategic vision. The results of these actions was solid sell-through at both our pinnacle, core and larger retailers during the holidays, including great consumer responses to our key product story, the Crusher headphone…This is a great signal that when we innovate, we win."
SKUL noted the success of other new products: "Smokin Buds 2 strengthened our position in ear phones thanks to the product's superior fit and sound quality"; and "Air Raid, our first Bluetooth speaker, has had a lot of great hype since launching in mid-November…It's 50% louder than any other speaker at similar price points and inspired by military specifications showcasing the power, durability and quality of our innovation platform."
SKUL's transformation rests on a "5-pillar" strategy:
Marketplace transformation: control price, enhance retail and distribution relationships, and strengthen brand.
Create the "innovation future" to dominate the <$100 price range.
Expand international sales to 50% of the business.
"Expand and amplify" new categories and partnerships.
Achieve operational excellence through team and cultural dynamics making SKUL the most desirable place to work in its industry.
The company's new focus shows:
"In Q4 and early Q1, we attacked each of these pillars. We did what we said we would do, and in some cases, we did more. It's now time to shift gears and accelerate on several of the main initiatives for the remainder of 2014."
Most intriguing for 2014 is the company's plan to promote and expand its line targeted for women. SKUL is also finally joining its competitors by offering products for sale at Wal-Mart (NYSE:WMT). Of course, the company is selling its Wal-Mart products at lower price points: "The product focus will be on buds under $20, and headphones under $35 with limited testing above these price points." SKUL is also promoting its new proprietary sticky gel that helps ear buds remain comfortably in place even while sweating during exercise.
The reaction to all this news in the stock was immediate and dramatic. SKUL opened 27% higher. The gain was exaggerated by a sharp 3-day 12% decline going into earnings. Incredibly, the stock soared as high as $11.40, a 53% gain from the day before, before plunging just as dramatically back to a low for the day at $9.23.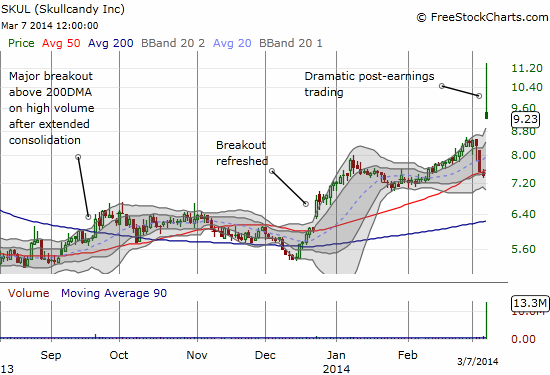 A dramatic cap to the 2013 turn-around for SKUL
Source: FreeStockChart.com
I pointed out the important breakout back in September, and it served as a nice entry point for anyone late to the SKUL story. At the time I could not have and did not anticipate anything like Friday's events. Herein lies the caveat for SKUL for now. Such major post-earnings fades often mark a buying climax. The volume of 13.3M shares was 26 times average daily trading! (For another example of the importance of such buying blowouts, see my post on predicting a likely top in Twitter's stock: "Twitter's Run-Up Reaching A Likely Crescendo"). I am certainly not surprised that a 53% one-day gain invited such an equally ferocious bout of selling; even I locked in my profits on my position shortly after the open.
The next week or more will be critical for the stock. The post-earnings gap is likely to close to at least the former 52-week high around $8.50. If buyers do not resurface at that point (I will certainly be looking to rebuild my position), it might take another earnings report or two with evidence of renewed financial growth to convince buyers to return to SKUL. In the coming weeks, I will also be watching to see whether SKUL's ascendancy has recharged the interest of short-sellers…
Be careful out there!
Disclosure: I have no positions in any stocks mentioned, but may initiate a long position in SKUL over the next 72 hours. I wrote this article myself, and it expresses my own opinions. I am not receiving compensation for it (other than from Seeking Alpha). I have no business relationship with any company whose stock is mentioned in this article.