Lazard Group (NYSE:LAZ) and its subsidiaries provides advice on mergers and acquisitions, strategic matters, restructuring and capital structure, capital raising and corporate finance, as well as asset management services to corporations, partnerships, institutions, governments, and individuals.
I commented on a trend that I saw as a possible market mover last week in my market update.
Corporate deal activity has been on the rise in recent weeks. In a world of relatively slow growth, and fewer opportunities for organic growth, it's no surprise that companies are willing to deploy cash - and in some cases rich stock valuations - to buy growth. The willingness to engage in mergers and acquisitions may also be a precursor to rising capital spending.
At present it is my favorite in the investment banking world. The stock's 2.7% yield, combined with the earning power that might be unleashed with increased M&A activity could be catalysts to lead this name higher.
The Company reported 4th quarter 2013 earnings of $0.81 per share on February 5, 2014. This beat the $0.61 consensus of the 13 analysts covering the company. That is the third consecutive quarter where they have beat street estimates.
Since emerging market equities represent 25% of Lazard's 4Q13 period end assets under management, I believe the stock may have been under selling pressure with its recent 15% correction, on concerns that the poor performance of emerging market equities year-to-date will in fact produce increased outflows in Lazard's asset management group. Now with the fact that major emerging market ETFs have seen meaningful outflows year-to-date, I can see why investors may have come to that conclusion.
However, viewing Lazard's 10-K filing, the firm disclosed that through February 21 it had seen $1.1 billion in net inflows. This would suggest acceleration from the "modestly positive" January inflows the firm indicated during its February 5 earnings call.
So, barring a major shift, 1Q14 will be Lazard's third consecutive quarter of positive net inflows.
Another positive is the $160 million cost reduction program that is currently in place as it should sustain operating margins in the 25% range. I believe earnings will come in at $2.75 this year and looking ahead to 2015 given the current trend in M&A activity, the earnings potential here is enormous.. Perhaps on the order of $3.65- $3.75 per share.
The technical picture also has firmed up after a 15% correction from the recent high of $49 -- the LT trend is decidedly UP.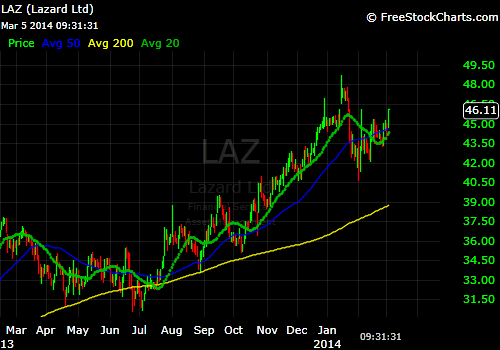 When the market discovers the earnings power that can be unleashed here, I believe the shares will trade north of $50 and my target is $54 - $55.
Given that Lazard sports a 2.7% yield, and the fundamentals that I have noted, I initiated a position in LAZ as an intermediate holding (6-9 months).
I took advantage of the "fear" that was in place with the "Ukraine" issue in the headlines and purchased shares at the close on March 3rd @ $44.35.
Disclosure: I am long LAZ. I wrote this article myself, and it expresses my own opinions. I am not receiving compensation for it. I have no business relationship with any company whose stock is mentioned in this article.
Additional disclosure: "It is my intention to present an introduction to this security and state my intent and position. It should be used as a 'Starting Point' to conduct your own Due Diligence before making any investment decision." I am long numerous equity positions - all can be seen here on my SA Blog seekingalpha.com/user/706857/instablog.