Highlights for the quarter and the year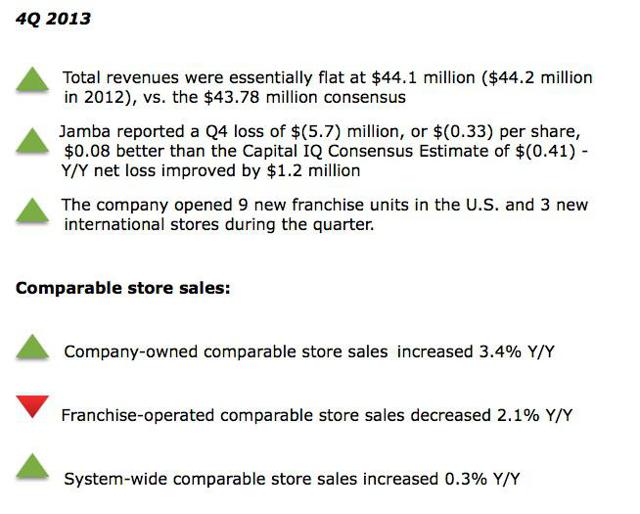 Click to enlarge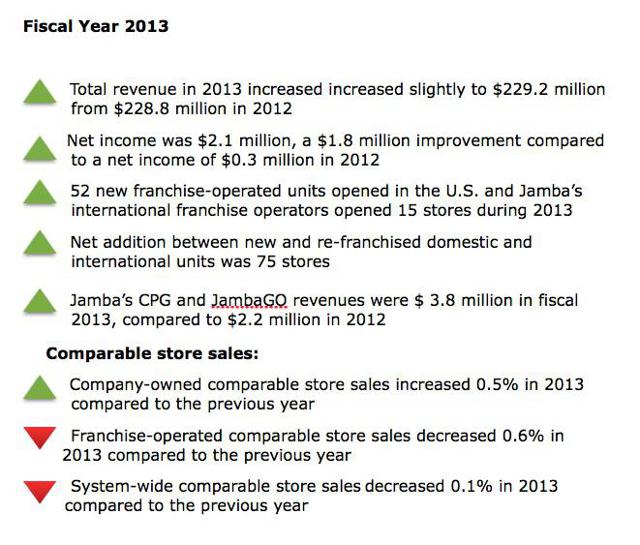 Click to enlarge
Quick summary of Jamba's turn around story
Through some relatively easy to read charts, we'll quickly provide a short summary of Jamba's (NASDAQ:JMBA) turnaround in the last few years, for those of you who may not be completely familiar with the story.
In 2008 the company reported a loss of about $150 million, and was in clear need to reverse negative system wide comparable store sales.
Although 2013 and 2012 profits are not outstanding in absolute terms, they demonstrate that the new asset light business model has dramatically improved Jamba's bottom line: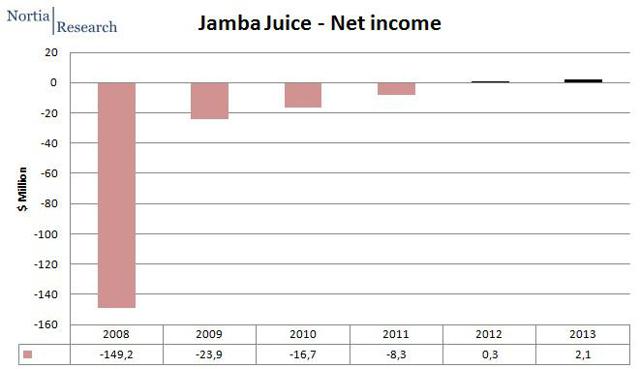 Click to enlarge
In terms of system wide comparable store sales, the inflection point was reached in Q4 2010: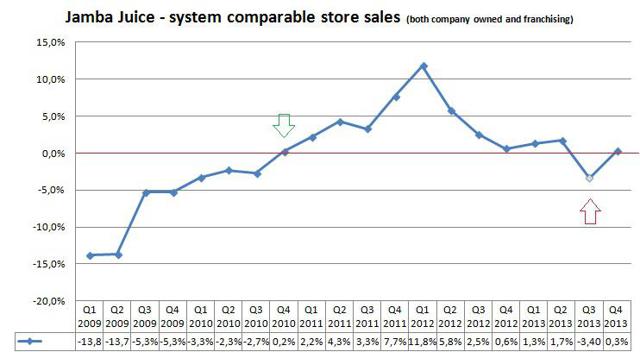 Click to enlarge
On the other side, Q3 2013 represented an unexpected, negative result that also triggered a free fall in Jamba's share price: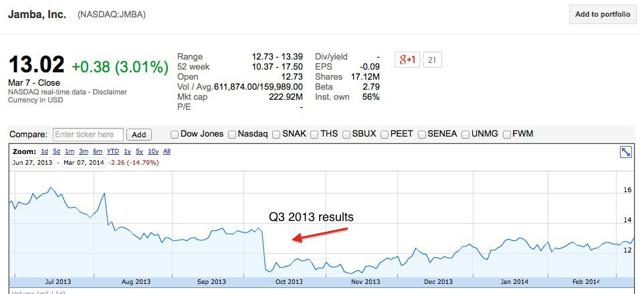 Click to enlarge
Chart from Google Finance
The new asset-light business model developed by the company is very interesting for the high margin bottom line implications; but it also needs to be supported by steady growth in franchising and consumer packaged goods [CPG] revenues - a quick look at the last few data seems to indicate that the company is on the right track both on a quarterly and Y/Y comparison:

Click to enlarge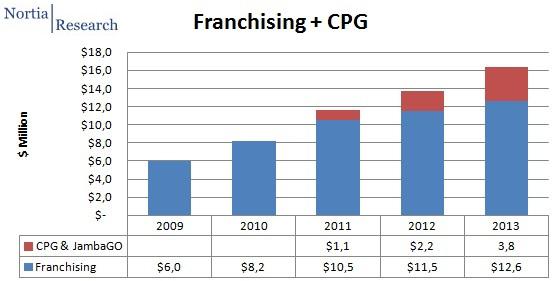 It should be noted that CPG numbers also include JambaGO, a relatively new initiative that seems to have created good traction in 2013, with the addition of about 1,000 JambaGO units at Target (NYSE:TGT) stores.
Here are some comments made by management during the most recent conference call that show confidence about the possibility to keep JambaGO momentum into 2014, as well:
Gregory J. McKinley - Dougherty & Company LLC, Research Division

Well, maybe if you could just give us a little color how the rollout with Target went, in terms of just operationally getting the kiosks into service, what your observations have been around utilization levels versus your original expectations and then how we should think about what's going to drive that additional 1,000 units this year. Is it going to be a large number of small deployments, a small number of large ones there or how would you characterize that?

James D. White - Chairman of the Board, Chief Executive Officer and President

Yes, so broadly, as I look at the Target execution and really, JambaGO overall, we're actually very pleased with the rollout in Q4 with Target. I think the folks at Target would be very pleased with the Jamba addition to their cafés. We're encouraged with the possibilities of that as we look at 2014. And as we think about JambaGO moving forward, we will always continue to have a focus around schools, both colleges and universities, and K-12 schools, which is our original focus of probably close to 1/3 of the opportunities are there, and I think you will see us deliver maybe not at the size of a Target, but 2 or 3 large-scale kind of opportunity partners that we are in well underway with discussions around implement of JambaGo, but we are confident that there's potential of up to 1,000 additional locations in 2014.
Here is also a quick look at increase in Franchising and CPG revenues in percentage in the last few years: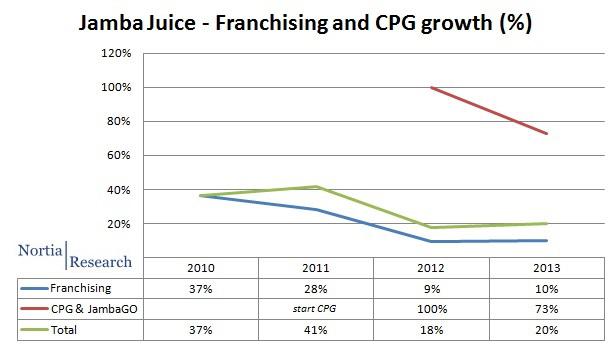 Guidance for 2014
The company issued guidance for improved company-owned store sales and increased store-level and operating margins compared to 2013, and set an ambitious goal both in terms of new store openings and JambaGO installations:
Positive company-owned comparable store sales of 2.0% - 4.0%;
Store-level margin of 18.0% - 19.0%;
Operating margin of 2.0% - 3.0%;
60 - 80 new U.S. and international store locations;
Up to 1,000 new JambaGO installations.
Our take
To summarize Jamba's accomplishment in 2013, we should probably say that it was disappointing due to the negative Q3 performance that came, at least to us, unexpected as the company had succeeded in the most challenging part of its turn around - moving to a completely new business model while restructuring at the same time the balance sheet - but seemed incapable of keeping its established sales momentum.
Q3 2013 highlighted how some planned growth initiatives were not really unfolding as management had expected.
The complete success of the turnaround may have slowed, but several metrics indicate that the company is still heading in the right direction. It may take longer than expected, but the destination is still within reach with some solid execution.
Jamba's healthy food propositions remains very appealing for its targeted consumers.
In spite of the partial disappointment, we still believe that the story is worth being monitored and a long position.
At an EV of less than $200 million, the market doesn't seem to fully recognize Jamba's brand value and the potential of its business model, that might translate most of its franchising and CPG revenue growth into profits.
While we would love to see the company develop, over the long term, a more complete menu offering capable of making its business proposition even more solid, we remain confident that the existing model may be sufficient to support some decent growth rate, which may be achieved through simplified tools like Jamba non-traditional, smoothie stations, the JambaGO self-serve machine format or even franchise-level co-branding partnerships that target maximizing consumer traffic in different day parts.
Disclosure: I am long JMBA. I wrote this article myself, and it expresses my own opinions. I am not receiving compensation for it (other than from Seeking Alpha). I have no business relationship with any company whose stock is mentioned in this article.