Headlines drove the gold price through multiple up and down cycles last week, first from geopolitical concerns in Ukraine and then from U.S. economic data, but the metal ended higher for the fifth straight week after notching a four-month high over $1,350 an ounce. A weaker U.S. dollar has played a key role in the recent strength in precious metals, however, mixed messages from the Fed last week cast doubt on whether that trend will continue.
Gold, and to a lesser extent silver, has attracted a good deal of attention from investors in the West so far in 2014, as steady price gains have resulted in positive chart patterns that have turned some bears into bulls, a change that is confirmed by ETF flows. Meanwhile, in Asia, higher prices have led to less demand, however, that could soon change if India, now the world's number two gold buyer, relaxes its import curbs.
For the week, the gold price rose 0.9 percent, from $1,328.60 an ounce to $1,340.30, and silver fell 1.6 percent, from $21.23 an ounce to $20.89. The gold price is now up 11.2 percent for the year, still 30 percent below its record high of over $1,920 an ounce in late 2011, and silver is now up 7.5 percent in 2014, almost 60 percent below its all-time high near $50 an ounce three years ago.
On Monday, the gold price surged more than two percent, rising to its highest level since last October at near $1,355 an ounce after Russia seized control of Ukraine's Crimea region over the weekend. Similarly, the price of silver neared the key level of $22 an ounce early in the week, however, both metals retreated after Russian President Vladimir Putin ordered troops on military exercises back to their bases.
In the days that followed, disappointing U.S. economic data and dovish Fed talk helped to push precious metals higher, but these price-drivers then reversed too. In the end, another week of ups and downs for precious metals resulted in spot gold ending higher for the eighth time in the last nine weeks, and it is this simple fact that continues to attract attention from investors in the West who are key to sustaining the current rally.
As shown in the graphic below from Sharelynx via this item last week at GoldSilverWorlds, this year's gold market rally has put the gold price on a course to re-enter the long-term ascending channel from which it abruptly departed during the course of last year.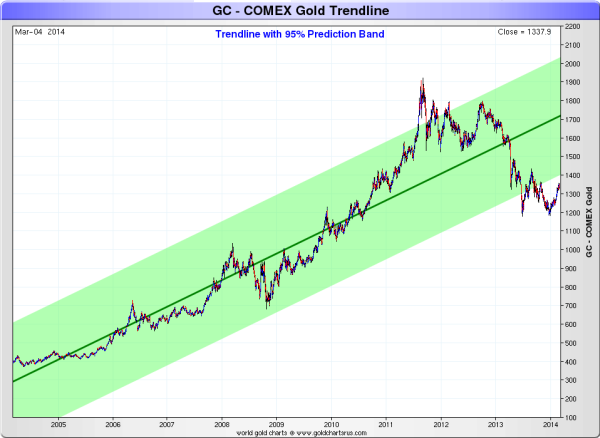 As noted in the report, the gold price has remained in this 95 percent prediction band for all of the last decade with just two important exceptions - the 2011 highs and following the 2013 sell-off.
Re-entering this channel on a permanent basis (note the brief return last August when the gold price briefly topped $1,400 an ounce) will be key to changing investor sentiment in the West.
To be sure, there is a lot of "hot money" that has come back into this sector recently after the double-bottom that concluded two months ago and, with commodity prices rising again last week and the trade-weighted dollar falling further, that could continue.
But momentum can change quickly absent strong fundamental underpinnings, and that's where recent events have left gold traders somewhat uncertain.
Much depends on the U.S. economy and what the Federal Reserve does in the months ahead. Unfortunately, this outlook is no clearer today than it was last month, due in part to an unusually harsh winter that has clouded the economic data and raised questions about future Fed policy actions.
This was clear to see last week as the economic data was mixed after many weeks of disappointing results that most have attributed to bad winter weather. How much of the recent slowdown was weather-related is the key question at this juncture, and it's important to remember that any underlying weakness in the economy will be masked, to some degree, by the release of pent up demand as we enter spring (e.g., people who didn't spend much money in January may compensate by spending more in March).
Of course, the outlook from the Fed is not clear either as new Fed Chairman Janet Yellen last week vowed to do all she can to help the economy that continues to fall short of the central bank's goal of maximum employment. This contrasted with hawkish talk from other Fed officials who reiterated that the policy committee's plan to taper its money printing effort remains on track. Higher interest rates in the U.S. are still far off into the future, and this has contributed to a weaker dollar in recent months that has helped to push the price of many assets higher.
U.S. investors making changes to their asset allocation this year are increasingly opting for precious metals based on the recent reversal from net outflows to net inflows for the SPDR Gold Shares ETF (NYSEARCA:GLD). The GLD trust added 1.5 tonnes last week following an addition of 10.5 tonnes in February, the first month of inflows since late-2012, and GLD holdings have risen during six of the last eight weeks. These inflows are not yet large, but it is the change in trend that is important here as GLD is widely considered to be a good gauge of gold sentiment in the West.
The tonnes in the trust for the iShares Silver Trust ETF (NYSEARCA:SLV) dropped by almost 40 tonnes last week, however, SLV holdings are up by 206 tonnes so far this year after experiencing only minor outflows in 2013 despite the sharp decline in silver prices. U.S. gold and silver coin sales fell off sharply last month as noted in this story from Reuters, as hedge funds reportedly sold large quantities of coins in sealed boxes.
In China, higher prices have led to less demand and smaller premiums following heavy buying earlier in the year for the recently concluded Lunar New Year holiday. Reuters reported that premiums have fallen from over $20 an ounce in January to less than $1 an ounce last week, much of this attributed to the gold price rising above $1,300 an ounce last month. After record-shattering gold demand last year, gold buying in China will be watched very closely in the period ahead, particularly if prices continue to rise.
Perhaps the more important story for precious metals markets this year will be India, where there has been increasing talk about relaxing the draconian gold import restrictions enacted last year to narrow their trade deficit. On Tuesday, a trade minister said easing some curbs on gold imports is currently being discussed, an action that would be aimed as much at reducing rampant smuggling as making things easier for jewelers who have been the victim of controversial enforcement actions in recent months. According to this Wall Street Journal story, jewelers are planning a one-day strike on Monday to protest these actions and call for a roll-back in the import curbs.
Lastly, this item at Barrons quoted Nomura Securities analyst Tyler Broder who likened gold's recent ascent to "a phoenix regenerating from its ashes" as the firm upgraded its precious metals price forecasts. Nomura raised its 2014 gold price forecast from $1,138 an ounce to $1,335 and sees prices next year at $1,460, up from $1,200. Their silver price forecast was also ratcheted up nearly 25 percent, from $16.25 an ounce to $21.52.
These recent upward adjustments to price forecasts in light of higher metal prices are becoming almost comical. I don't recall what Nomura was saying back in 2011, but, most other analysts saw the gold price rising to $2,000, $2,500, or beyond. After last year's precipitous decline, that change in rend was then projected downward to sub-$1,000 gold prices in many cases and, as noted above from Nomura, large declines for silver. With precious metals now mounting a steady comeback, analysts have changed their tune and appear to be singing "Whichever Way the Wind Blows".
Disclosure: I have no positions in any stocks mentioned, and no plans to initiate any positions within the next 72 hours. I own gold and silver coins and bars and precious metal ETFs other than GLD and SLV I wrote this article myself, and it expresses my own opinions. I am not receiving compensation for it (other than from Seeking Alpha). I have no business relationship with any company whose stock is mentioned in this article.