Two years ago, the Federal Reserve began releasing their economic projections in an effort to become more transparent. From meeting to meeting, I tracked and graphed each of the Fed's projections in an effort to trend their expectations. The Fed has provided guidance on GDP, unemployment, inflation, and the Fed Funds Rate.
GDP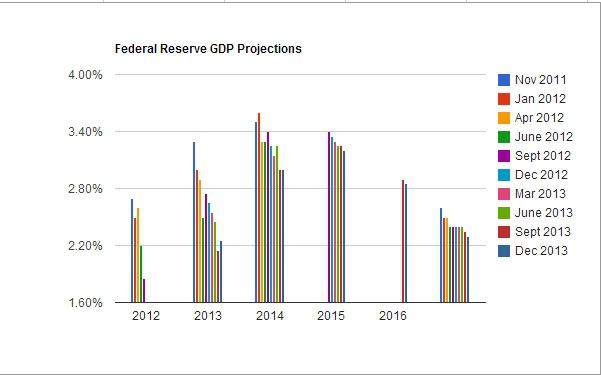 The Fed is softening its GDP expectations, despite decent Q3 and Q4 readings in 2013. The long term growth estimates (denoted on the right side) have fallen to 2.3%. It's interesting to see that the Fed started by projecting over 3% growth in 2013 only to fall by nearly a full point by the end of the year. Perhaps QE has not been as effective as it was expected to be?
Unemployment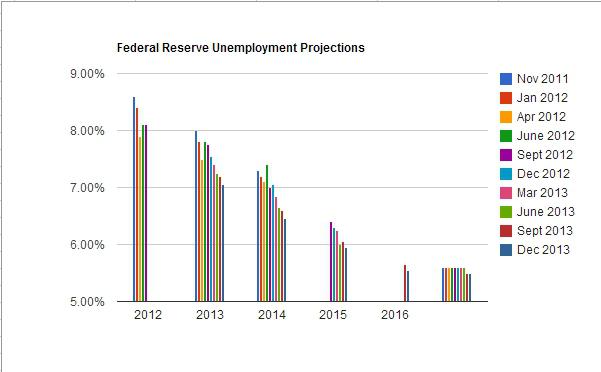 On the bright side, unemployment rates are falling faster than the Fed anticipated. In their first estimate, the Fed projected an unemployment rate of over 7% in 2014, only to see it fall to 6.6% before the year began. If the Fed is going to use unemployment as a benchmark for tapering/tightening, one must ask at what level will that accelerate?
Inflation (Core CPI)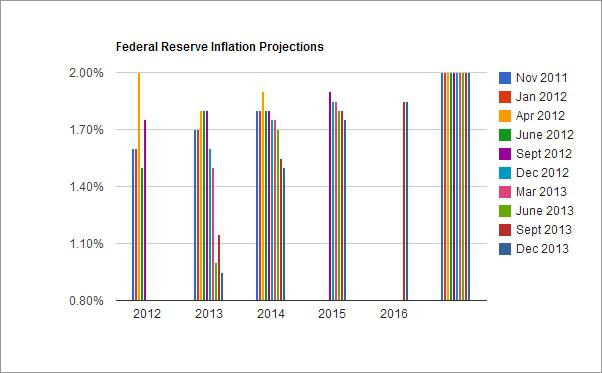 The metric the Fed is arguably most pleased with is core CPI. With inflation below expectations, could the Fed extend quantitative easing beyond its usefulness?
Fed Funds Rate: Permanent Easing?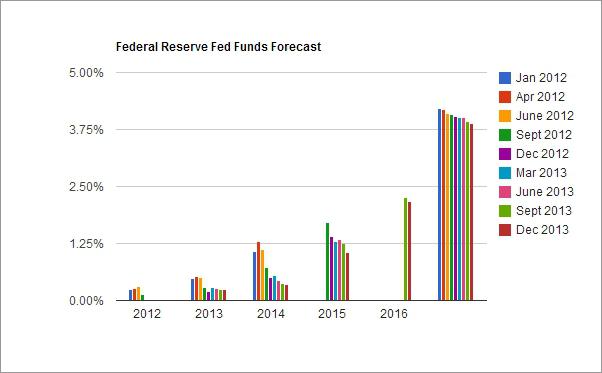 This is perhaps the chart that fascinates me the most. Over the past two years, the members of the Fed have been asked to project the Fed funds rate. In 2012, the Fed implied that at one point, Fed funds would be at 1.25% this year and close to 2% next year.
Over time, confidence in reaching these numbers has eroded and many are beginning to wonder if the Fed funds rate will be above .25% at the end of 2015. Furthermore, the long end of the Fed funds rate has fallen from near 4.5% to around 3.75%.
This chart signals that although the Fed is tapering, it is technically moving towards an interest rate regime of perpetual easing. One also has to wonder at what point will the Fed get there. By 2017 or 2018, long term rate projections could be under 3%.
How Investors Should Eye This
Fed expectations provide important information to investors. For example, if members of the Federal Reserve begin projecting inflation rates over 2% (or their defined long term target) in forward periods, it's safe to assume that interest rate hikes (or series of hikes) are looming. This would obviously affect earnings in a number of businesses that are tied to interest rates.
Additionally, I believe the Fed's outlook on economic growth is important. In the event that the economy has sustained quarters well over the long term targets (and the business cycle is not in recovery), I would be concerned about the presence of a bubble. When that contributor to growth experiences a re-pricing, the side effects would be extremely volatile for markets.
The charts were created by me with data provided from each of the Federal Reserve's economic projection releases.
Disclosure: I have no positions in any stocks mentioned, and no plans to initiate any positions within the next 72 hours. I wrote this article myself, and it expresses my own opinions. I am not receiving compensation for it (other than from Seeking Alpha). I have no business relationship with any company whose stock is mentioned in this article.