Despite some recent turmoils, Kinder Morgan Energy Partners (NYSE:KMP) is clearly a solid pick for the long-term investor. As part of the much larger Kinder Morgan (NYSE:KMI) family of companies, the stock is well poised to benefit from increase demand for energy and related midstream services.
It is therefore no surprise that the company has found a way to profit from the increased supply of cheap US crude oil production. According to a recent Bloomberg report, Kinder Morgan and BP Plc (NYSE:BP) have teamed up to export slightly refined crude oil products from a condensate processing plant, referred to as splitters, located along the Houston Ship Channel.
A smart $360M investment by Kinder Morgan
Kinder Morgan's petroleum condensate processing facility is a major coup for the company. The project consists of two splitter units with a combined capacity of over 100,000 BBLs/D. In addition, over 1.5M BBLs of storage capacity is being built out at the Galena Park terminal. The first splitter of the project is expected to start service by July 2014, with second unit expected to come online sometime in Q2 2015.
BP is supporting Kinder Morgan in this venture, agreeing to take on at least 80% of the expected capacity. In addition, the company has noted that it is in talks with various other producers and exporters regarding the remaining capacity.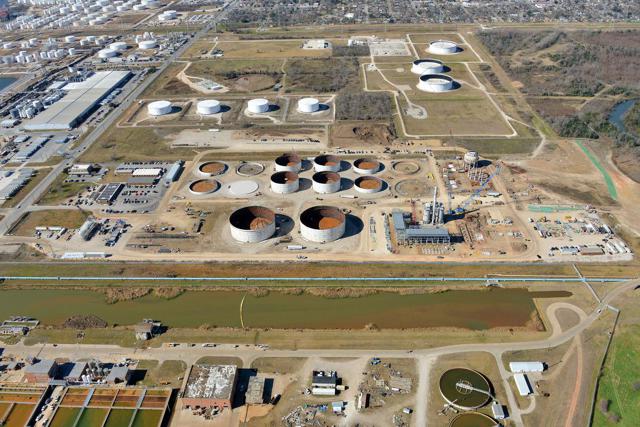 These splitter facilities will be linked up to Kinder Morgan's larger crude and condensate pipelines system which transports product from the Eagle Ford to Houston, and the associated Houston Ship Channel storage facilities. In addition, this pipeline will connect to the double Eagle pipeline to Corpus Christi. This will offer producers a lower cost option to access the Gulf Coast markets such as refiners, chemical companies, and exporters.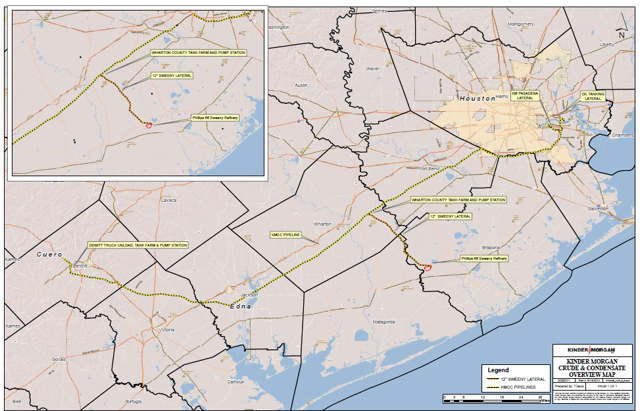 Back in November 2013, Magellan Midstream Partners CEO Michael Mears noted that Eagle Ford production could warrant up to six to eight additional splitters in the Gulf Coast. In addition, it was noted that the Gulf Coast is increasingly facing increased condensate production with no place to go unless it can be exported.
Do note that Magellan Midstream Partners is a 50/50 partner with Kinder Morgan of in the 100,000 BBL per day Double Eagle pipeline, which moves Eagle Ford condensate production to Corpus Christi.
Why is Kinder Morgan building these splitters?
In essence, this project is not a move by Kinder Morgan into being a downstream play. Rather, it is a move to further enhance its credibility as a supplier of midstream services to oil producers.
Kinder Morgan splitters are not full refineries. Instead they split off gassy molecules from light oil in a process that is both much less complex and expensive. In addition, given that the Eagle Ford production is often too light for the Gulf Coast refineries, processing it via the splitters should make it more suitable.
The general idea behind this facility is to split crude oil into its various components, such as light and heavy naphtha, kerosene, diesel and gas oil. However, this process is still likely to require the buyers to further process and refine the product.
Exporting US produced crude oil is strictly prohibited thanks to regulations put in place over 40 years ago in response to the 1973 oil crisis. However, with parts of the US awash in oil, more and more companies are looking at ways around these restrictions.
Producers of crude in the US are in a bind. While production is increasing, prices for the product have declined or remained flat thanks to limited demand. So far, the biggest winners of this arrangement have been refiners which benefit from wide crude oil differentials. In addition, refiners can also export gasoline and diesel with little to no restrictions.
At the moment, companies are allowed to export refined products. Therefore, by slightly processing the production, oil producers will be able to export the product, essentially bypassing current regulations.
New splitters are on the way
In addition, other companies such as Valero (NYSE:VLO), Magellan Midstream Partners, and Phillips 66 (NYSE:PSX) are also looking to build out their own splitter capacity, with plans for upwards of a dozen plants in the Gulf Coast processing upwards of 460,000 BBLs/D of condensate.
Conclusion
Kinder Morgan stands to benefit greatly from its new splitter capacity. While small given its overall size, the project can be easily expanded if market demand warranted it.
Along with its purchase of Jones Act tankers, Kinder Morgan knows what it is doing. The company clearly needs to provide various transportation options to its customers, especially given the current oil supply and demand dynamics.
Disclaimer: The opinions in this article are for informational purposes only and should not be construed as a recommendation to buy or sell the stocks mentioned. Please do your own due diligence before making any investment decision.
Disclosure: I am long KMI, PSX. I wrote this article myself, and it expresses my own opinions. I am not receiving compensation for it (other than from Seeking Alpha). I have no business relationship with any company whose stock is mentioned in this article.