The Center of Disease Control does a semi-annual study on wireless substitution. The number of American homes with only wireless connectivity are compared to those with only landlines. Results from their on-going studies can be seen below: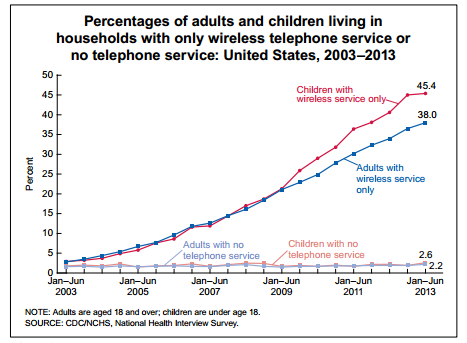 The significance of this study is not only the upward trend but the narrow variables. Studying how many Americans utilize cell phones is an interesting upward trend, but it doesn't really allow us to visualize the contextual service-based formation of a monopoly.
In his book Stocks for the Long Run 4th edition, Jeremy J. Siegel does an excellent job demonstrating the growth of both information technology and telecommunication services: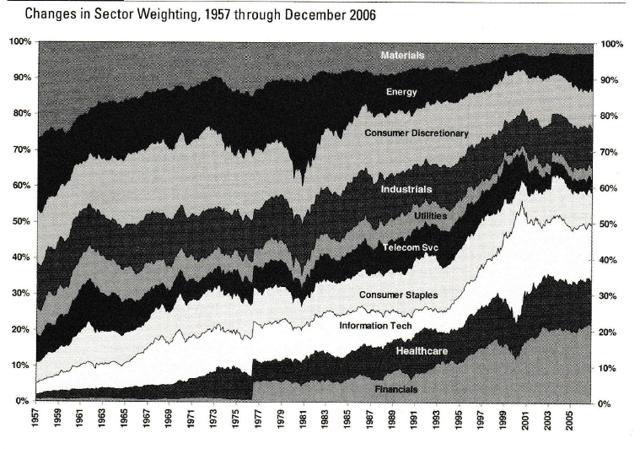 © Jeremy Siegel
As investors, how does all this innovation and relative index of shifting apply to our portfolios? Which companies are the main beneficiaries of this positive upward trend in wireless communication?
A Learning Strategy
The ultimate goal is strategic allocation of assets resulting in greatest returns. The wireless industries wide-economic moat leaves much room for innovation and advancement. Not all innovations will equally benefit consumers. Consumers choose mobile communication over stationary. Cordless phones weren't enough for them. They like receiving and sending voice and data while on the go. Thus, the ultimate service in demand here is not the cellular device or the company that provides them with a family plan. It's the company that ensures wireless signal are transmitted appropriately.
Which company can take my wireless devices licensed frequency of operation and utilize appropriate cells and channels via towers to provide enhanced voice and data coverage? In other words, who is the largest provider of wireless service infrastructure: American Tower Corporation (AMT).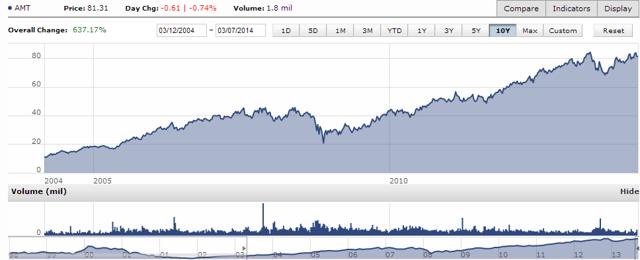 The increased utilization of wireless devices has allowed AMT's revenue to increase by $2.7 billion over the past ten years. During this same time frame the ROA % went from -4.75 to 3.21, and the ROE % from -15.56 to 15.51. AMT currently has 17.4% more total assets relative to total liabilities. This ratio equates to a financial leverage of nearly $4 billion.
AMT is old news however. We've known about this gold mine for years. There is nothing in the near future which will stop this growth.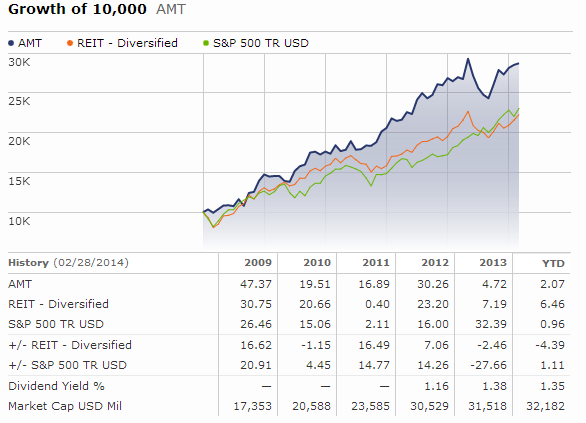 © Copyright 2014 Morningstar, Inc.
Due to AMT's Success: Negative Headwinds from Wireless Growth threaten Wallet & Purse Manufacturers
Near-Field Communication (NYSEMKT:NFC) has been increasing in demand during the past year. NFC uses radio frequencies, Wi-Fi, and Bluetooth to receive and transmit information via short distances; including monetary information. NXP semiconductors (NASDAQ:NXPI) is a major manufacturer and distributor of NFC technology. On November 19, 2013, NXPI announced their partnership with Intel and MasterCard. With the use of Intel's (NASDAQ:INTC) 4th Generation Core TM Platform®, Intel Identity Protection Technology®, MasterPass® by MasterCard (NYSE:MA), and NXPI's PN544PC's NFC technology, wireless electronic payments will be occurring more often and securely.
What should I do with this information?
Should I buy Intel? Maybe MasterCard will give me some good returns? Perhaps I should learn from the AMT example and purchase the infrastructure, NXPI? Well let's analyze the situation by looking at a few graphs starting with INTC: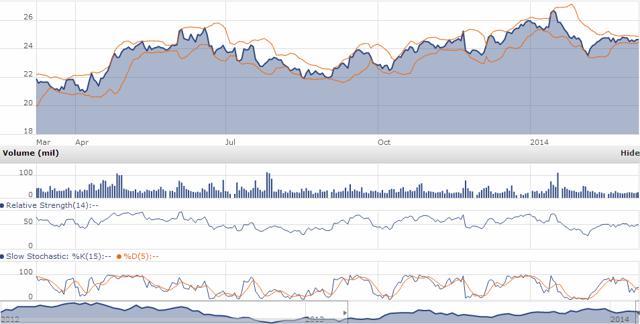 INTC's stochastic on the TTM chart don't indicate the equity being overbought, and an RSI below 70 supports %K & %D lines. The negotiations and deal confirmation between the companies were announced towards the end of 2013, which might explain the upward trend almost surpassing the resistance bar; RSI >70 and stochastic touching 100 indicate that the equity was overbought. Currently, BBand's are closing in, thus a shift in trend may occur soon. Holding off on INTC until it becomes a little less volatile and drops a few dollars, might not be a bad idea.
NXPI
Let's go ahead and jump to the hardware. NXPI's graph with the same indicators can be seen below: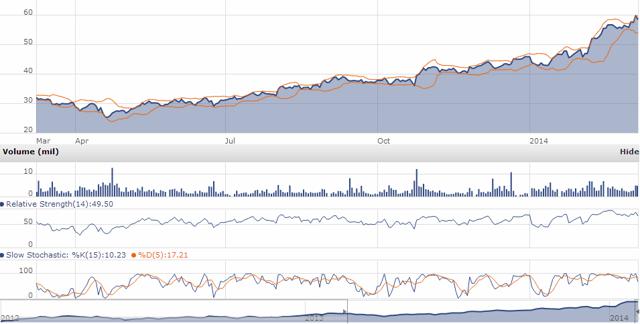 For TTM, the RSI(14) & %K (15) values are in your favor. Share prices are piercing the resistance band and have increased by $30 TTM. I can only imagine how high shares will go once this device is used to transfer not only payments, but other privileged information such as health records.
Intel is just one user of this technology. Nokia (NYSE:NOK) made a deal with Delta (NYSE:DAL), in utilizing the Lumia 820, NFC enabled device, for in-flight purchases. Many mobile devices will be utilizing NXPI for this service, including Android. Of course Apple (NASDAQ:AAPL), always standing alone, will provide a similar service through Bluetooth with their iBeacon technology. This hardware is similar to NXPI's NFC technology. NXPI's NFC technology utilizes radio frequencies via an RFID chip, however it is also Wi-Fi and Bluetooth compatible. This does create some volatility in the advancement of NFC technology. Which is why it would be unjust if I ended the article right here.
Where can I find my infrastructure for NFC that formulates a financial leverage analogous to ATM in the wireless world?
The focus of this article is to try to find the most profitable beneficiary of near-field communications. We've discussed the hardware and its users. We have also demonstrated the hardware's competition.
Due to patents, R&D costs, time, and many other variables, what NFC related infrastructure is going to remain undisrupted during the next few years? Where can I get the best ROI? To answer these questions we need to address what NFC or iBeacon Bluetooth communications will require for efficiency: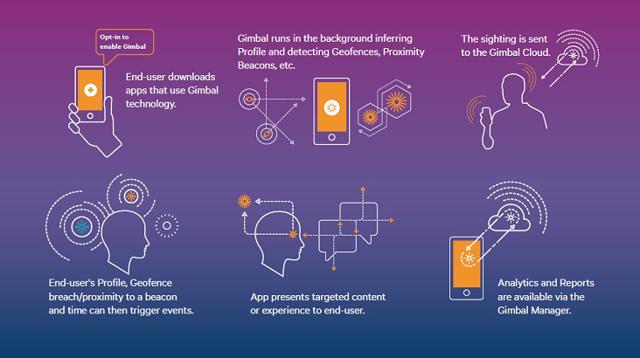 "Gimbal™ is the only context aware platform to offer geofencing, proximity utilizing Gimbal Bluetooth® Smart beacons, interest sensing, consumer privacy controls, a communication platform and much more - all in one solution."
If the future of Bluetooth technology in near field communication is going to be used for sensitive material such as electronic payments, other features provided by Qualcomm's (NASDAQ:QCOM) patented Gimbal system will be needed. This device is compatible with both Apple and Android systems. It is even currently utilized by AAPL in their own stores. Stores will not have to worry about purchasing separate infrastructure for Android or AAPL users. This cuts overhead costs, thus increasing demands for beacon technology utilization. This might create a short-term monopoly for QCOM in beacon network infrastructure. QCOM's beacon infrastructure, due to its Android and AAPL compatibility, will be installed in 20 Major League Baseball stadiums in the United States. Trading near a 52 week high, I can't even begin to imagine what the chart below will look like in two years: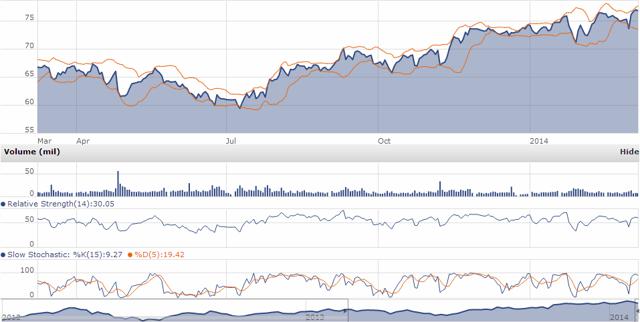 Conclusion
Am I over-estimating the scope of NFC utilization in the years to come? I thought about it, and after my head started hurting, I ran into an article in the New York Times, by Nobel Prize winner and Finance Professor at Yale, Dr. Robert Shiller. He emphasized the importance of electronic software (such as near-field communication) to formulate a value-based electronic currency which can protect us from a number of financial crisis, including inflation.
"A second improvement could be achieved by a credit card company or an entity like PayPal or Square Cash: Set up the electronic machinery to allow people to easily send conventional money, denominated in baskets, to anyone in the world." - Dr. Shiller
Using Chile's amazing inflation-index as a demonstration:
"With electronic software in the background, we can improve on the Chilean idea and make it more useful." - Dr. Shiller
So where does PayPal fit into all of this "electronic machinery"? How is eBay (EBAY) handling this NFC innovation? Billionaire Carl Icahn, who owns roughly 2% of EBAY, suggests PayPal become slightly independent which "could allow two separate management teams to focus more closely on the core businesses."
Sounds like PayPal is planning on undergoing some serious R&D. In the meantime I've got my money on the android and apple compatible Qualcomm Beacon Infrastructure.
Disclosure: I am long AMT. I wrote this article myself, and it expresses my own opinions. I am not receiving compensation for it (other than from Seeking Alpha). I have no business relationship with any company whose stock is mentioned in this article.