Linn Energy (LNCO) (LINE), the largest upstream master limited partnership, or MLP, reported its earnings for 4Q 2013 at the end of last month, and once again the market was not at all happy with the results. Shares of both the partnership and the corporation dropped by more than 4% on what the market saw to be disappointing guidance for 2014.
After a very challenging 2013, in which Linn weathered through negative media attacks and an informal inquiry by the SEC, both of which nearly jeopardized Linn's acquisition of Berry Petroleum, one would think that the stock could finally begin recovering. And indeed it has. Partnership units have recovered from around $25 per unit late last summer to almost $33 today. In addition, there are no issues on the horizon which compare to the SEC inquiry or the Berry Petroleum acquisition. Still, investors are disappointed by Linn's 2014 guidance and it's not hard to see why.
This article will look at Linn's quarter and, more importantly, guidance for 2014. This article will attempt to put both into a bigger picture perspective. The most important issue for anyone investing in Linn is the long-term sustainability of the distribution, and that will therefore this article's most important consideration. Also, because "cash in excess of distribution" is the company's most useful metric in determining ability to pay distributions, I will use this metric as a substitute for "distributable cash flow."
Why Shares Dropped
Linn is down for a few reasons. First is that the distribution will be flat in 2014. Management's expectation of mid to high single digit distribution growth will not pan out this year. For investors looking for dividend growth, this is a real drag.
So why has Linn fallen short of its goal to grow the distribution this year? Largely because of the Berry acquisition. Originally, Linn agreed to exchange 1.25 shares of LNCO for each 1 share of Berry Petroleum. But as Linn shares dropped sharply in the second half of last year, management increased that exchange rate from 1.25 to 1.69. With those newly-issued shares came increased obligations for the distribution. As a result, the distribution is now flat and it appears that the acquisition itself will not be accretive to cash flow in 2014.
The second reason for disappointment among investors is the distribution itself. While the distribution still looks to be secure, management expects to generate only $12 million of cash in excess of distributions in 2014. That gives us a "razor thin" coverage ratio of about 1.01 times. Other upstream MLPs have comparable yields, far cushier distribution coverage ratios, and at least some distribution growth.
Points of light
There is little doubt that guidance for 2014 was disappointing. Due to the elevated exchange rate for Berry, Linn will apparently take a bit longer than expected to properly "digest" this acquisition and make it accretive to cash flow. In the meantime, however, Linn's distribution is still quite secure. While the current "razor thin" margin leaves little room for error, when we consider the totality of Linn's hedging policy, that distribution is relatively secure. One hundred percent of Linn's oil and gas production for 2014 is already hedged. Production issues are the only thing that could disrupt Linn's distributions in 2014.
While some do now believe that the Berry acquisition was a mistake, lets look at the other side of the coin. Management suggested that it could soon be selling a piece of Permian acreage, acquired in the Berry transaction, which has significant horizontal drilling potential. A sale of this acreage, according to management, would lower capital intensity and could therefore help increase cash flow for distributions. Of particular benefit to Linn could be a swap of its high-growth but capital intensive horizontal drilling acreage, for mature but high-margin acreage in the same geography. Perhaps the Berry acquisition will be accretive after such a transaction.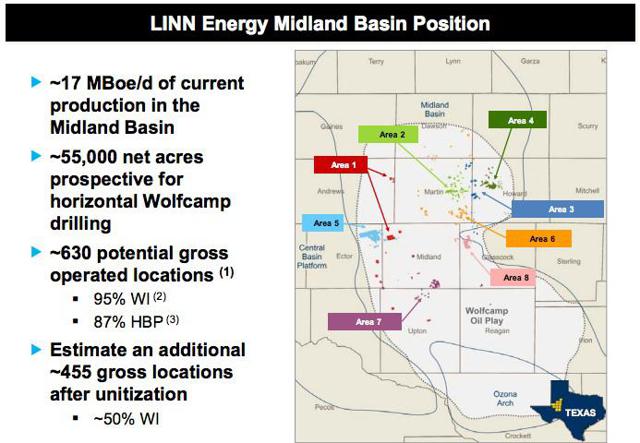 A map of potential horizontal drilling acreage to either swap or sell. Courtesy of 4Q investor presentation.
Here is another "point of light." This year, thanks largely to property acquired from Berry, Linn will grow production organically by 3%-4%. On the surface that may not seem too impressive, but consider this: Linn is scaling back on capital spending for dry gas and pouring that money into development of oilier acreage. Higher-margin oil production will be a greater proportion of production overall.
Valuation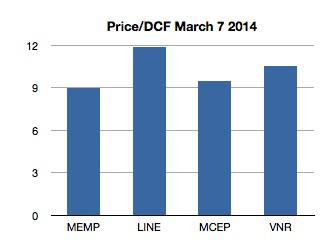 Data from 2014 per share DCF guidance of each respective partnership.
The above chart shows the price to DCF of four prominent upstream MLPs, and as we can see, Linn's valuation is the highest. Not too long ago, I wrote an article which argued that Linn deserved to trade at a premium to other upstream MLPs. Given the differing 2014 guidance between Linn and other MLPs, however, I may have to re-evaluate that statement.
Consider this: All three of the other upstream MLPs listed here have better coverage ratios than does Linn. And unlike Linn, all three also plan to grow distributions in 2014. In particular, Memorial Production Partners (NASDAQ:MEMP) yields 9.68% and has a distribution coverage ratio of at least 1.15 times for 2014. Given Linn's mediocre guidance, I do not believe that it is the best deal available among MLPs, and if you are looking to buy an upstream MLPs right now, I would recommend Memorial over Linn.
Conclusion
Overall, I would rate Linn's quarter a "C minus." Did Linn pay a bit much for Berry? Quite possibly. In the long run, however, double digit production growth from the North Midway Sunset and Uinta fields will put wind under this partnership's wings. Linn's high margin assets in the Permian also have lots of untapped CO2-injection potential, which is one thing that the acreage of most other partnerships don't. Linn is still a unique and compelling partnership.
Yes, this year's guidance is still disappointing. While there were some good facets, such as solid 2013 operating results, some organic growth in 2014, and a secure distribution overall, I believe that there are better values in the upstream MLP space right now. However, if you own shares or units of LNCO or LINE respectively, as I do, there's no need to lose any sleep.
Disclosure: I am long LINE. I wrote this article myself, and it expresses my own opinions. I am not receiving compensation for it (other than from Seeking Alpha). I have no business relationship with any company whose stock is mentioned in this article.