Home Depot (NYSE:HD) is the largest home improvement specialty retailer in the world with 2,263 retail stores spread across the U.S., Canada, and Mexico. The company operates its full-service warehouse-style retail stores and sells an assortment of materials for home improvement, general construction, lawn and garden products and provides a number of services.
2013 Earnings Outlook and Other Operational Metrics
In 2013 diluted earnings per share (EPS) went up by 25.3% reaching $3.76 from $3.00 in the previous year. Excluding the 53rd week in the prior fiscal year, diluted EPS increased by 28.3%.
The enhanced performance was on the back of improving operating margins driven by improved gross margin and effective cost management. Cost of goods sold as a percentage of sales declined from 65.1% in 2012 to 65.0% in 2013 and SG&A expenses as a percentage of sales dropped from 23.1% in 2012 to 22.7% in 2013.
Strong Revenue Growth for 2013 Expected to Continue in 2014
The company exhibited a YoY increase in sales. Sales increased by 5.4% to $78.8 billion in 2013 excluding the 53rd week in the prior fiscal year; sales for 2013 increased by 7.2% from last year.
Comparable store sales shot up by 6.8% in FY2013. The US comparable store sales increased as high as 7.5%. This was due to increasing in-store sales that grew by ~6% and online sales that grew by ~50%.
The focus on online sales provided a distinctive edge and enabled the company to increase its sales without adding more space leading to sales/square feet growth from $313 in 2012 to $335 in 2013 reflecting an increase of approximately 7%.
Healthy Dividend Payout Announcement for Q1 2014
The announcement of a 21% increase in dividends for the first quarter of 2014 is the 5th consecutive time the company has increased its dividend. This goes to show that Home Depot is on track to achieving its target payout ratio of 50%; it is currently around 40%. The company intends to raise dividends every year and has not missed out on paying dividends for the last 108 times reflecting its commitment to its shareholders.
Steady Q4 2013 Performance Despite a dip in the Housing Market
Quarterly revenues fell from $18.2 billion to $17.7 billion, reflecting a 3% decline. Initially this reflected a weaker performance; however, excluding the earnings for the extra week of operations from last year worth $1.2 billion reveals that the company actually grew by 4%. Comparable sales went up by 4.4% and in particular U.S. comparable sales grew by 4.9%. The improved performance was attributed to home reconstruction and repairs following Hurricane Sandy in 2012. Additionally the increase in online sales was 50% for the quarter on a 13 week basis showing a reasonable quarterly performance despite a slowdown in the housing market. The housing market index (HMI) dropped 3 points to 54 in October 2013. The dip is expected to be temporary and increasing activity will be observed in the coming year.
The Housing Market Outlook
The housing market recovery saw a dip after September 2013. New home sales were at 463,000 in October, 445,000 in November and 414,000 in December and were all well below the encouraging figures of the previous two quarters. Along with the slowdown in the housing market, the extreme winters of 2013 somewhat deteriorated business activity during the 4th quarter. However, once the cold temperatures normalize, the company will be on track for another rapid recovery.
150.39
Peak at Q1 2006: 191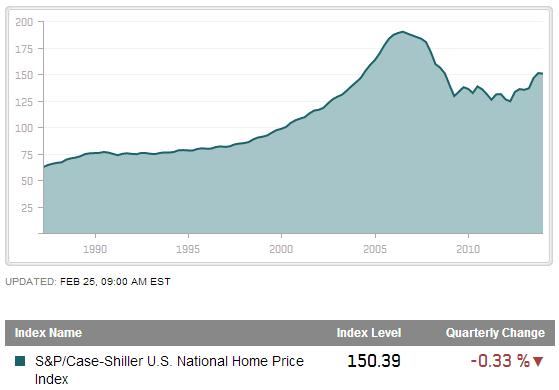 The S&P/Case-Shiller U.S. National Home Price index on February 25th 2014 was at 150.39. Home prices are still below their peak index value of 191 in 2006. The company expects home prices to increase by 6% in 2014 compared to the double digit increase seen in the previous year. The slowdown in the housing market is expected to be temporary and home prices are likely to increase as activity picks up again during 2014.
Increase in Private Fixed Residential Investment
Private fixed residential investment (PRFI) grew to ~3.1% as a percentage of the GDP at the end of the 4th quarter of 2013. This is still below the 60 year average of ~4.6%. Convergence towards the average will create more opportunities for Home Depot.
High Expectations from Spring Selling Season
Spring is the biggest selling season for the company. The company is anxiously awaiting its "Spring Black Friday" event that will boost volumes. The company sells its most popular spring items like patio furniture, barbeque grills, and landscaping materials. It is hoping to augment its portfolio with new products.
Building Product Portfolio to Drive Volumes
Home Depot is evolving its product lines for the upcoming spring quarter. In the furniture category, the company will introduce the higher end patio furniture allowing customization options to clients. The company also hopes to introduce new barbeque grills with enhanced attachments that will improve the customer's barbecue experience.
In the outdoor power segment, new lawn mowers, string trimmers, blowers and hedge trimmers will be introduced. Home Depot is also developing new product lines for projects inside homes. New ActivTouch technology will be introduced in hand showers for bath and toilet seats with integrated LED lights and new efficient water heaters will be introduced with novel features and improved diagnostic controls that will offer cost-savings.
Acquisition of Blinds.com Developing Home Depot's Growth Potential
The recent acquisition of blinds.com allowed the company to develop in-class capabilities for customized, configurable products online improving Home Depot's online store sales drastically. Blinds.com is a market leader in online window coverings giving the customers a platform to receive a comprehensive online shopping experience.
The U.S. GDP is forecasted to increase in the next year by ~2.8% and this will increase the financial strength and affordability of the citizens. This will upsurge the home construction market in the future. Further low mortgage rates have improved the credit availability of the population and this has fueled the growth in the housing market. If these rates persist, it would benefit Home Depot's sales as they are dependent on new home construction.
Filling the Gap in Demand
The number of household additions in the market has remained below equilibrium levels since 2007. If this gap is bridged in the coming years, it will create huge opportunities for Home Depot. From 2013 to 2015, approximately 1.6 million households are needed to compensate for the gap in demand that will drive future growth in sales for the company.
Aging Households in the U.S.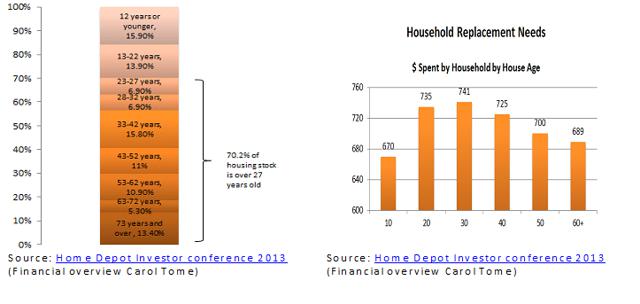 Another source of revenue for the company is the remodeling and repairing of aging houses. Around 70.2% of the housing stock in the U.S. is over 23 years old and average spending on revamping and renovation is higher in this bracket. The 2nd figure above shows aging houses and puts house replacement needs into numbers, showing the large potential for Home Depot in the U.S. market as most households fall under the higher spending category.
Home Depot Determined to Achieve Higher Targets for 2014
Spring sales are expected to be higher as more people resort to home repairs to recover the damage caused by snow following the cold winter of 2013. The company expects to grow comparable sales in 2014 by 4.6% and improve total sales by 4.8% with 8 new stores (1 in US, 1 in Canada and 6 in Mexico) and its flat gross margins.
The company intends to use innovative ideas to harness further efficiency and improve its bottom line with a target profit margin increase of 70bps aiming to reach ~13% profit margin by the beginning of 2015.
The coming year will also see a share repurchase program of ~$5 billion. This is expected to bring about an increase in earnings per share of 16.5% to $4.38. Also, a capital spending plan of ~$1.5 billion is planned reflecting an 8% increase from FY2013.
The Bottom Line
Given the positive outlook for the U.S. economy and the housing market, Home Depot appears to be ready for a good year in 2014. It is likely that the housing prices will continue to rise although at a slower pace and increased home construction and remodeling will contribute positively to the profitability of the company. Further operational efficiencies and a focus on online sales will also enhance the company's performance and increase its market share giving it an evident edge over its competitors. Smaller home improvement retailers are facing problems in coping with the temporary dip in the housing market. Home Depot is set for growth for the coming year and seems to be a good buy at this point.
Disclosure: I have no positions in any stocks mentioned, and no plans to initiate any positions within the next 72 hours.
Business relationship disclosure: The article has been written by a Blackstone Equity Research research analyst. Blackstone Equity Research is not receiving compensation for it (other than from Seeking Alpha). Blackstone Equity Research has no business relationship with any company whose stock is mentioned in this article.