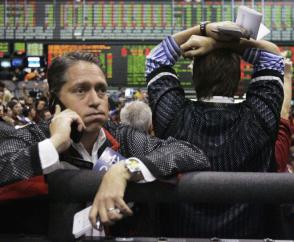 The "sell-off" is now two weeks young as red flags are hoisted daily above a mob of jaw dropped spectators, formerly known as the efficient market. There is no absence of questions on the minds of international market forecasters. Instead, we're hearing vague rhetoric from analysts and financiers that sounds more like confusion than any sort of prediction. The confident ones are still playing the "buy because markets are down" card, but we are taking an alternative, perhaps disagreeable, path. As you can read in a Trade Strategy report released today, we've taken steps to get short U.S. equities, Crude Oil, and long the VIX, founded in part on the outlook you see here in this edition of the Weekly Spectrum.
Red Flags
In Spain we're seeing a consolidation of major banks, crudely organized as quickly as possible, to stem debt holders from fleeing the scene and indirectly drying out the local credit market. In France and the U.S., bond holders are demanding higher yields on new debt issued by BNP Paribas (OTCQX:BNPQY) and GS)" rel="nofollow">Goldman Sachs (GS), both of which are strong industry leaders in finance. GS 10 year bonds will be offered this week at 280 basis points above 10 year Treasury notes, where they were sold for only 190 bps above the 10 yr two months ago on March 1, 2010. In China the debt of a major Chinese developer, Kaisa Group Holdings, Inc., has been shunned by investors who won't back any more bond issues at this time. The 12.8 percent rise in real estate prices across mainland China is beginning to stymie government support of lax loan requirements, forcing big name players like Kaisa to cut off future projects without buyers of their bonds.
All of these factors are symptomatic of a global trend which has only just begun, where higher interest rates are demanded and risk is becomes more expensive. Evidence of this trend lies with the LIBOR inter-bank 3-month lending rate, which has crossed the 0.50 percent threshold just last week, and now sits at 0.54 percent. LIBOR was the bellwether rate that ballooned during the Fall 2009 crisis, and gauges the willingness of banks to lend among themselves. Some will incorrectly call the rising yields of debt a phenomena that is "natural" given the fears in Europe. By contrast, we instead hear these rising rates as ominous whispers on the dark fates of those failing to heed their summons.
Economies in Europe are sure to stall in the next year given cost cutting and tax hikes from Germany to Greece, while the lone firing piston of global growth that is China, will soon feel the weary dragging weight of foreign consumers, crippled by unsustainable sovereign balance sheets and post-climax stimuli in decline.
Economic Data
Today is the Memorial Day holiday in the United States, so we'll turn to foreign data to get a jump on the weeks trading. Housing Starts in Japan,Private Loan Growth in Europe, GDP in Canada, and Manufacturing, Building Approvals and Retail sales in Australia can all be analyzed at our new Global Economic Calendar in the navigation bar tab at the top of this page.
Tuesday is set to be a busy day for data, when U.S. markets open for the week. Motor Vehicle Sales are predicted to rise from 8.5 to 8.9 million annual units, which would be the highest rate since the expiration of the CARS U.S. stimulus program in August 2009. The ISM Manufacturing Report should maintain a level near last month's 60.4, since new orders have remained positive for a solid 10 months. Wrapping up Tuesday we'll see data from the Construction Spending Report, which is predicted to stall from the meager 0.2 percent reading in March to 0.10 percent in April.
On Wednesday the first report will be the weekly Mortgage Applications,which have surged up to the end of the U.S. new and existing home purchase tax rebate. Last week purchase applications dropped by 3.3 percent, but were offset by a 17.0 percent increase in refinancing applications, to bring the headline composite to a positive 11.3%. We see mortgage rates rising in the next six months as lending risks become priced much higher, but for now many are taking advantage of the still attractive rates near 5 percent. Later the Pending Home Sales report is forecast to ease from 5.3 to 3.5 percent, also due to the expired housing stimulus. Watch for a disappointment here, as less consumers look to buy homes void of government sponsored tax breaks.
There's a lot on the menu Thursday in terms of economic data in the U.S, beginning with a May unemployment preview via the ADP Employment Report. This month analysts forecast a rise in ADP employment by 56,000 jobs in May, where for April the report cited 32,000 additional jobs. Initial Jobless claims are an important figure to watch this week, since last week the report cited 456,000 job seekers made initial unemployment claims against a forecast for 440,000. This week Initial Claims are gauged to report at 455,000, but it should be noted that the past 6 reports have surprised unfavorably. Q1 2010 Non-Farm Productivity and Costs data will also be released, and is expected to show 3.4% and -1.6% growth rates respectively.
From an industrial angle, we will find crucial information in the Factory Ordersand Crude Oil Inventory reports on Thursday. Factory Orders have been rising for 10 straight months and are the leading component of manufacturing growth. This report is expected to show 1.7% growth in orders during April 2010, compared to 1.3% in March. Crude Oil Inventories have ironically risen parallel to increased industrial activity in the U.S. for much of the year, and for sixteen of the past seventeen weeks. The report from the EIA will surely effect the price of the WTI continuous spot price for crude oil, which is traded on the NYMEX and represents the cost of crude in the U.S. market. We're looking for any shift in demand or inventories of gasoline and distillates as well.
On Friday the story will be all about the May Employment Situation Report. While estimates do vary, it looks like the average among analysts expect the jobs added in May to come in near 500,000, compared to 290,000 in April (including 66,000 temporary 2010 U.S. Census jobs, April). Low end estimates for the headline statistic come in at 290,000 while the upper range targets jobs added at 635,000. Downward surprises from the past four initial claims reports suggest to us that there were more individuals looking for work in May, perhaps causing the unemployment rate to pop above 10% again due to the larger workforce. Any number below 300,000 from this report on Friday will leave markets extremely anxious, while readings above 500,000 will be interpreted as optimistic.
We will avoid holding positions in this report unless geopolitical risks develop throughout the week, possibly overriding the fundamentals.
What Else to Watch This Week: LIBOR, specific reports of bond issuing problems, the U.S. 10 -year note yield, EU sovereign yields, China monetary policy announcements, and the developing risks on the Korea peninsula. Look for opportunities which will benefit from financing and risk becoming more expensive for individuals and institutions.
Happy Hunting