BHP Billiton's (NYSE:BHP) shares have been quite volatile over the last six month but failed to deliver a meaningful return for shareholders. The stock is up 0.57% over the last half year while its twelve-month trailing stock return stands at minus 9%.
I am very bullish on basic materials companies for the next couple of years -- that goes for both the metals- and mining sector as well as the mining/construction equipment sector which includes companies such as Caterpillar (NYSE:CAT). Caterpillar had two difficult financial years (2012 and 2013) due to its heavy reliance on China and the mining industry. I have also recommended the equipment manufacturer for anti-cyclical investors who want to gain exposure to a cyclical industry before its sales turn around.
The Chinese economy is currently in a relatively weak condition, but its long-term growth prospects are probably the most attractive in all of the emerging markets. The basic materials sector still offers a set of bargain-priced opportunities and I believe Rio Tinto (NYSE:RIO) and Vale (NYSE:VALE) currently make better value propositions than BHP Billiton.
(Source: Yahoo Finance)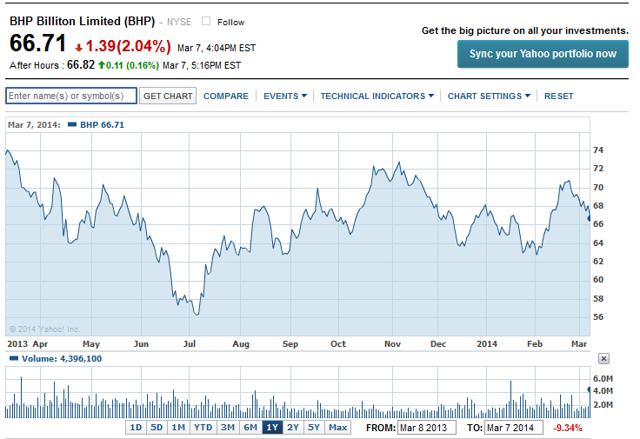 Click to enlarge
Market valuation
BHP Billiton is the most expensive metals- and mining company in the peer group (see chart below). Vale, on the other hand, trades extraordinarily cheaply because it has outsized exposure to the Chinese iron ore market but might benefit the most from a Chinese recovery.
Rio Tinto presently trades at less than eight times earnings while Vale trades at less than seven times forward earnings: Both multiples indicate serious undervaluation for BHP Billiton's competitors.
BHP Billiton trades at a relatively high P/E multiple of 12.76 -- up substantially from the peer group average P/E ratio of 9.18.
(Source: Achilles Research, Finviz.com)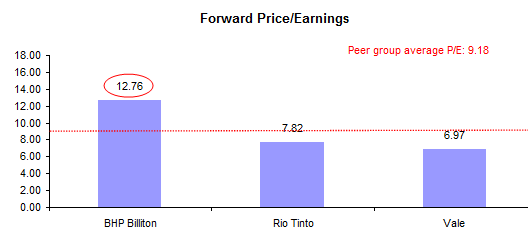 Free cash flow projection
The table below summarizes BHP Billiton's historical operating-, investing- and debt-related financing cash flows for the years 2011-2013. In addition, I have included a column containing my estimates for BHP Billiton's fiscal year 2014 cash flows as well as a reconciliation to the free cash flow to equity.
I have previously suggested that BHP Billiton is too expensive on a free cash flow basis. Even though I have revised my operating cash flow estimate for 2014 from $20.5 billion to $22.0 billion (an increase of 7.3%), BHP Billiton is still relatively expensive.
I estimate BHP Billiton can achieve a free cash flow to equity of $12.1 billion in 2014 or $2.27 per share. This translates approximately into a forward P/FCFE ratio of 29 which remains a very high multiple. Valuation upside, however, could come from a major boost to operating cash flow (for instance via an increase in volume shipments and/or rebounding commodity prices).
(Source: Achilles Research, Company Financials)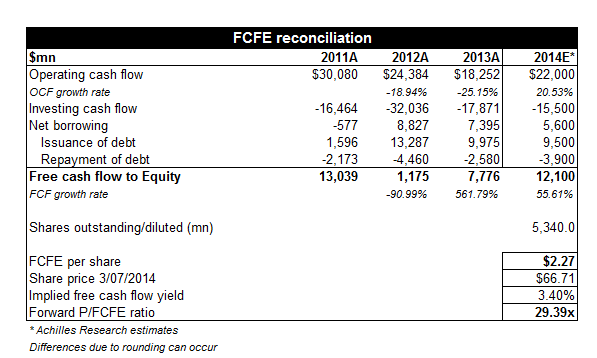 Conclusion
Even though I am bullish on the basic materials sector and have updated my operating cash flow estimates for BHP Billiton, the company still trades at a relatively high estimated P/FCFE ratio of 29. Half-year results have shown that BHP Billiton's net operating cash flow has increased 65% to $11.9 billion indicating strong momentum which could be carried forward especially if China returns to higher growth. However, I still believe BHP Billiton is too expensive given its cash flow prospects. Rio Tinto and Vale exhibit much lower valuations which suggests a higher margin of safety for anti-cyclical investors playing the return of commodity demand.
Disclosure: I am long VALE. I wrote this article myself, and it expresses my own opinions. I am not receiving compensation for it (other than from Seeking Alpha). I have no business relationship with any company whose stock is mentioned in this article.