We have consistently warned for the past two years against the European economy following the terrible example of Japan, as epitomised by economic contraction, deflation and desperation, given the relentless debt deflation process and the utterly inappropriate monetarist attitude of the ECB.
We do not view this core assumption in our asset allocation scenario as a sure thing. In fact, when the European Central Bank shows itself capable of veering from its ideological straitjacket, like when they operated a total about-face by proposing to buy peripheral eurozone government bonds, we moved quickly to advise tactical pro-risk and anti-Bund positions, depending on capital flows and levels, but strictly on a tactical and temporary basis.
However, the European compromise which appears to be emerging between a more accommodative monetary policy and more restrictive fiscal budgets than anticipated will create an unprecedented economic cocktail, which should be more positive than we had considered up to now for core European nation fixed yield instruments and strongly increase the chances of seeing German 10-year bond yields fall below 2.50% to flirt with our latest target range of 2% to 2.25%.
Even if Greece does not default, this medium-term target is not a flight-to-safety trade but stems from our concerns that Europe may be falling into a Japanese-style trap.
Speaking of Japan, some fresh news came out Sunday morning on Japan that warrants our attention.
Update on Japan
Unemployment has climbed to 5.1% (expected 5%). While this figure is below the 5.6% rate of July 2009, this is the 27th consecutive month in which the number of employed declined y-o-y.
Job losses remained concentrated in manufacturing, which is surprising since Japan was supposed to benefit from the full-throttle economic growth of its Chinese neighbour.
Moreover, the ratio of job offers to job seekers at government placement offices (a useful indicator of the employment market) fell to 0.48, which compares to an expected hike to 0.50. This means that there were only 48 job offers for 100 people seeking work.
As you can see for yourself in the graph, below, which compares this ratio with the Core-Core CPI, 0.48 represents a depths of recession level, like during the huge Asian crisis of 1998.
At the beginning of its "lost decades" in 1990, it stood at 1.45.
At the time, unemployment was 2%, when all the economic forecasters were hailed the success of MITI and held up the Japanese model as an example, just as they are doing today with the German model.
Consider the works of a very transitional Finance Minister in France (3 months in 1999 between Dominique Strauss-Kahn and Laurent Fabius):
'Les Dents du géant : le Japon à la conquête du monde', 1987; 'L'Etat et l'individu au Japon', 1990; 'La France au miroir du Japon : croissance ou déclin', 1996.
But, it was those misnamed inflation statistic which shocked again.
Deflation came to -1.6% y-o-y in April for CPI excluding energy and food items.
What is ironic is that, as a result of this deflation, disposable real household income climbed 0.8% y-o-y in April, despite a 0.6% decline in nominal income.
Japan CPI (ex Food & Energy) Job Offers/Job Seekers
In white, CPI posting record deflation (-1.6%) and in orange job offers continue to hover at lowest levels…
click to enlarge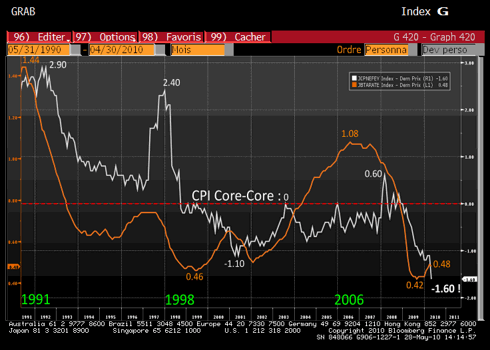 And to think that one of the ECB's biggest concerns is coming inflation from growing Asian economies.
Update on Europe
It would appear that the peripheral nation debt crisis and the European Union decision to put itself onto a branch during the week of May 3-7 has finally shaken up some ECB members, which should make for some lively debates between the Mellonesque Weber and his colleagues from southern nations:
Christian Noyer, ECB and Bank of France, on the euro:
· It is clear that today we are in a zone which is close to the long-term average, thus a zone which is more normal.
· This will certainly help us in the sphere of foreign trade.
· It's the case for the entire eurozone.
Michael C Bonello, BCE and Central Bank of Malta, on macroeconomic risks, recession, deflation and debt deflation:
· In the present period of renewed crisis, the risk to the projections is clearly on the downside, mainly because of the clouded outlook for demand in Malta's main trading partners and the likely spillover from the deflationary fiscal policies being adopted in many countries.
· The recovery in Europe is also constrained by the deleveraging process currently underway in the banking sector and in the private sector generally.
Lorenzo Bini Smaghi, ECB from Italy, on default risk:
· Default is not a viable solution.
· One cannot doubt the determination of the 16 euro-area countries to stick together and do the necessary to defend what has been achieved over the past 10 years.
· There are "no alternatives" to fiscal-consolidation measures.
· Several market participants seem to be sceptical, in particular about whether the Greek adjustment program will succeed.
· This "perception" looks "more like an assumption than the result of a serious assessment.
A point on the US commercial paper market, as discussed in Saturday's Thaler's
Foreign US commercial paper issuance plunged the most in the past ten months.
US managers, mainly money market funds, do not want to find themselves stuck in the same position as the Reserve Fund, which was dragged down the paper issued by Lehman Brothers (OTC:LEHMQ).
Total debt levels have fallen by $18.6bn, or 4.8%, to their lowest level since September 2009.
Moreover, fund managers have radically shortened the maturities of CP they buy, not simply out of apprehension toward European banks, if they read only the WSJ, but also because the new requirements, which take effect May 28, force money funds to shorten the average maturity of holdings to 60 days from 90 days and keep 30 percent of their portfolios in cash or securities that can be liquidated within one week.

Rack up one more point against money velocity.

Asset allocation biases and advised option strategies
The challenge in this section is to distinguish between:
· The macro and thus long-term biases, which remain downward on government debt yields and negative on risky assets (equities and European real estate, commodities, etc.). This entails a deflation/depression scenario, which requires a lot more effort from the ECB than a shame-faced QE.
· The short-term and thus more tactical biases with more focus on capital flows, on which we often base option strategy advice and which have pushed us in recent days to advise put spreads on the Bund (over bought) and call spreads and call ladders on the Eurostoxx, which was illogically suffering from the euro's unexpected depreciation.
It therefore makes no sense to follow these option positions on a daily basis which, given the high volatility of underlyings, may be modified, restructured or resold the very day after they are set up.
However we can continue to describe here positions we believe are sexy, given that they are in keeping with a particular context of portfolio organisation and are not for everyone.
In any case, I remain available to talk on a one to one basis with clients.
For example, at this time, we really like:
· Eurostoxx call spreads 27/28 June
· Eurostoxx call ladders 27/28/28.5 June
Put spreads against calls on the Bund, or pure downward tunnels.
Disclosure: Long 20 years OAT and 30 years BTP Zero Coupons, EDF Corp 5 Years 4.5%, Grece 2 Y and 10 Y bonds