I last published an article on China Mobile Limited (NYSE:CHL) and put forth my arguments why CHL is worth buying. Then, the current price was $54 and CHL has since launched its 4G services and started distributing iPhones in China. Contrary to my opinion, the current price of CHL fell to $47 at the time of writing, trading near its 52 week low.
In my previous article, I wrote that CHL had about $70b in Net Cash (less debt) which represents an estimated $17.50 cash per share. Of which, approximately $2.70 of free cash flow was generated in 1H 2013. While CHL has not reported any new financial results since my last article, I do not anticipate substantial declines to this cash per share figure.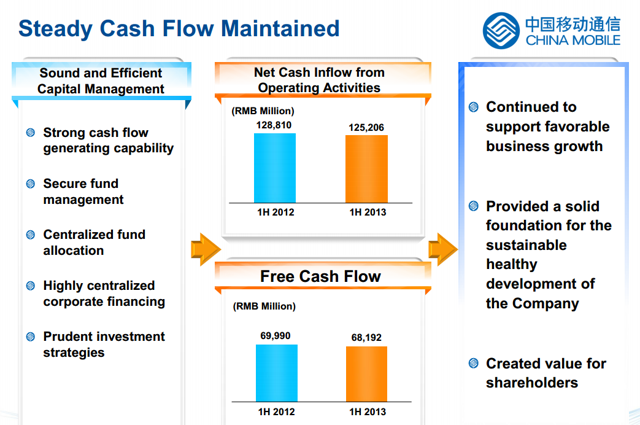 Source: China Mobile Limited Corporate Presentation
I also highlighted that Average Revenue Per User (ARPU) should increase with more customers taking up 3G subscription packages instead of 2G. In 1H 2013, CHL an ARPU of RMB66 as compared to China Unicom's 3G mobile ARPU of RMB77.6 during the same reporting period, although China Unicom's full year ARPU from 3G mobile customers fell and the 2H 2013 figure reported was RMB73.1.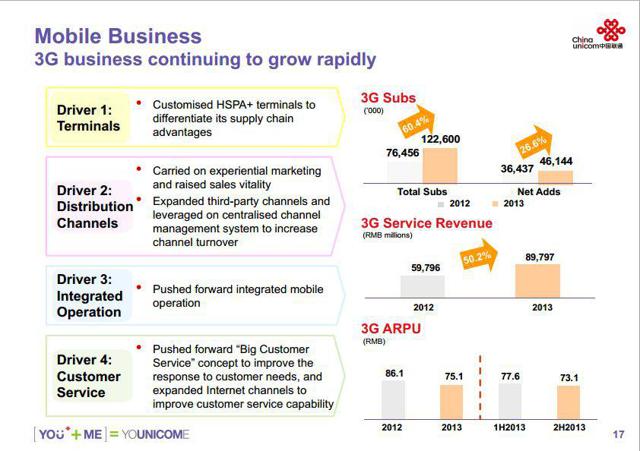 Source: China Unicom Corporate Presentation
I expect significant revenue growth coming through new 3G customers and CHL's existing customer base upgrading their 2G subscriptions to 3G.
CHL publishes new customer subscription growth and the figures show strong growth in 3G subscriptions.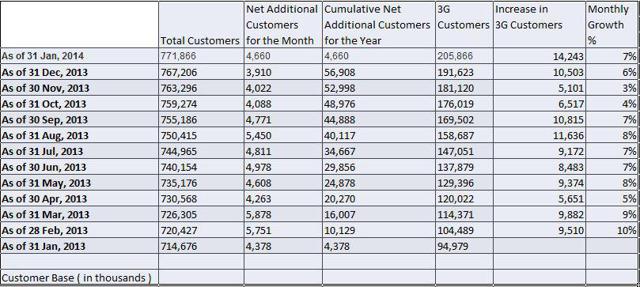 Source: China Mobile Limited
3G customers have been growing consistently every month at a much faster rate compared to total CHL customer growth. This shows CHL's ability in offering competitive 3G plans even as competition intensifies.
I strongly believe that CHL remains a firm buy with stable cash generating capabilities and growth coming from a higher ARPU through 3G customer growth. The risks and rewards for this company has increasingly turned in favor of buying the stock especially at its 52 week lows.
I revised my initial 1 year Price Target from $71 to $57 based on 13x 2014 PE of $4.38 which is the consensus earnings forecast as provided by NASDAQ.
Disclosure: I am long CHL. I wrote this article myself, and it expresses my own opinions. I am not receiving compensation for it (other than from Seeking Alpha). I have no business relationship with any company whose stock is mentioned in this article.