A common strategy used by many investors is to buy a basket of several small or micro-cap companies (generally less than $1 billion market cap stocks) with pending binary events (e.g. FDA decision or clinical trial results) approximately 3-6 months ahead of the expected catalyst date and sell into the expected upward momentum in both stock price and trading volume.
The goal of this bio run-up strategy is to greatly reduce the risk of investment losses by taking profits ahead of the binary event by capitalizing on the expected increase in both stock price and volume as more short-term momentum and day traders become active, which typically occurs at about 2-3 weeks out from the catalyst date and results in extreme price volatility and intraday swings. Click on the preceding link for a website describing this strategy in greater detail and click here for a link to a YouTube video at my website outlining the same.
1.) Long-Term Hold, Get Paid to Wait: Abbott Labs (NYSE:ABT) ($47.56, $73.4 billion (B) market cap)
Some other financial and stock metrics for ABT include a 3.7% dividend yield, 52-week range of $43.45-56.79, trailing 12-month price to earnings (P/E) ratio of 14X, 1Q10 total sales = $7.7B (43% US, 57% rest-of-world) with 53% derived from pharmaceutical segment, 17% from nutrition, 12% from diagnostics and 10% from vascular / stents.
ABT derives the majority of its revenues from the pharmaceutical segment with key growth drivers that include niche products such as NIASPAN (cardiovascular / lipid disorders), biological agents such as HUMIRA, and recent collaborations / acquisitions focused on generic drugs in emerging markets such as India. ABT derives approximately 20% of its pharmaceutical sales (or about 10% of total sales) from emerging markets; so the recently announced Zydus collaboration and Piramal acquisition will leverage its established infrastructure in markets such as India with estimated 20% annual sales growth projected by ABT in that country.
ABT can be viewed as a proxy for the global healthcare sector, with the majority of its revenue derived from outside of the US, in addition to a diversified portfolio of business segments that that also include nutrition, diagnostics, and vascular disease/ stents. With ABT trading within 10% of its 52-week low, the Company's dividend yield represents a 1.1% premium to the S&P 500 Index ETF (exchange-traded fund) (NYSE:SPY), which currently yields 2.6%.
Aside from the recent deals in key emerging markets such as India, ABT has several pending FDA decisions estimated to occur during late 3Q10 to early 4Q10, with no firm decision deadlines for medical devices / diagnostics.
ABT submitted a Pre-Market Approval (PMA) in January 2010 for the Architect HIV Ag/Ab Combo Assay (Diagnostic) to simultaneously detect the combined presence of HIV antigens (Ag) (proteins produced by the HIV virus) and antibodies (Ab) (proteins against HIV antigens).
In addition, ABT has submitted a pair of FDA 510(k)s, seeking marketing clearance for the Architect HE4 (human epididymis protein 4) (new automated diagnostic test for ovarian cancer based on immunoassay technology to detect know bio-markers) and the Urine NGAL (neutrophil gelatinase-associated lipocalin is an early bio-marker for acute kidney injury) Assay for use with ARCHITECT System.
2.) Bio Run-Up, Correlated Trades: Arena Pharma (NASDAQ:ARNA) ($3.08, $312 million market cap), Orexigen Therapeutics (NASDAQ:OREX) ($5.44) ($257 million), and Vivus (NASDAQ:VVUS) ($12.66, $1 billion market cap).
A FDA decision is expected in late October for the Arena Pharma's experimental obesity / weight loss drug, lorcaserin, with two additional pending New Drug Applications (NDAs) at the Agency for similar drugs by Vivus and Orexigen Therapeutics. In addition, on 15-July the Endocrinologic and Metabolic Drugs Advisory Panel will review the NDA submitted by VVUS for QNEXA (with expected FDA decision by late October) and an additional meeting for this advisory panel is scheduled for 15-16 September with expected reviews for ARNA and OREX (CONTRAVE) weight loss drugs, but an official agenda has not been published yet.
3.) Restarting the Catalyst Cycle: BioDelivery Sciences (NASDAQ:BDSI) ($2.91, $70 million market cap)
BDSI is a specialty pharmaceutical company that develops new indications and formulations of established drugs by applying its proprietary drug delivery technology platform, BEMA (BioErodible MucoAdhesive) Film Technology, while seeking FDA approval through the 505(b)(2) pathway, which represents a lower risk / cost and quicker route to commercialization as compared to the process of developing new chemical entities or biological agents, which typically lack long-term safety and efficacy data in humans.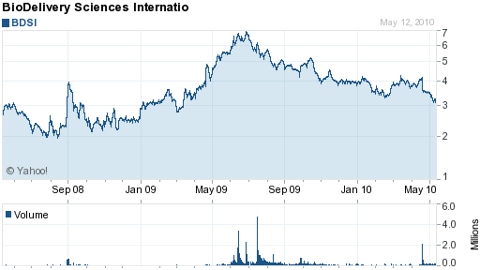 BDSI focuses on the niche market of pain management and supportive cancer care and as illustrated in the two-year stock chart above experienced the typical bio run-up ahead of FDA approval last year for the breakthrough cancer pain product ONSOLIS (fentanyl buccal soluble film). Subsequently, the stock price has given back most of the gains and currently trades just below the $3 per share level as the Company looks to restart the bio-catalyst cycle with two potential NDA filings next year.
BEMA Buprenorphine (BioErodible MucoAdhesive buccal drug delivery) - Buprenorphine is a DEA Schedule 3 Controlled Substance that is currently marketed as a pain drug in injectable (IV) form in the U.S., in addition to sublingual (SL) and transdermal (skin patch) formulations outside of the U.S. BDSI has provided guidance for a possible licensing deal in 2010 for this compound and plans to start a Phase 3 acute pain study by mid-2010 with a goal of filing for FDA approval by mid-2011.
BEMA GRANISETRON (BioErodible MucoAdhesive buccal drug delivery) - the FDA has agreed with the Company's plan for a new FDA filing (expected by year-end 2011) without the need for Phase 2 or 3 clinical efficacy studies for this compound, which is being developed as a novel formulation for buccal (cheek) delivery of the approved nausea / vomiting drug KYTRIL (granisetron) that is currently marketed in a variety of oral and IV formulations.
4.) Extreme Trades: Cardium Therapeutics (AMEX:CXM) ($0.51, $39 million), Antares Pharma (AMEX:AIS) ($1.66, $138 million market cap)
In early December 2009, CXM filed for FDA 510(k) marketing clearance of EXCELLAGEN XL and FX (customized, collagen-based topical gel 2.6%) for dermal (skin) wounds such as diabetic ulcers, pressure ulcers, venous ulcers, second degree burns, and other types of wounds. A response from the FDA is estimated during mid-2010 since there are no firm decision deadlines for medical device submissions at this time.
AIS has provided guidance for pivotal Phase 3 results under a Special Protocol Assessment (SPA) for ANTUROL (transdermal oxybutynin ATD gel) in the treatment of overactive bladder during 3Q10 with a possible NDA filing during 4Q10 based on the results of this study.
Disclosure: No positions