Editor's Note: This article covers stocks trading at less than $1 per share and/or with less than a $100 million market cap. Please be aware of the risks associated with these stocks.
In this article, I will discuss the opportunities and challenges for AeroGrow International (OTCQB:AERO), a company which I previously blogged about on PTTResearch.com. My analysis will center around AERO's opportunities and strategic plan. It will also draw comparisons to one of its closest comps, GrowLife (OTCPK:PHOT), whose market cap was 16 times higher than AERO's on the day of PHOT's 52-week high of $0.47, despite AERO being the larger organization.
This is not to disparage PHOT's opportunity. Both companies are well-positioned to take advantage of accelerating market and political trends. However, as I will show, AERO has products and distribution partners, like Amazon (NASDAQ:AMZN), Home Depot (NYSE:HD), and Target (NYSE:TGT) to drive superior results.
In addition, AERO has four significant catalysts: 1) Scotts Miracle-Gro's (NYSE:SMG) substantial vested interest in the company -- in fact, SMG is positioned to benefit greatly from its role 2) the re-launch of product line that went from $0 to nearly $40M in 2 years during its initial launch, 3) accelerating demand for organic produce, and 4) the growing trend of marijuana legalization in the U.S.
Because of these and other factors (which I will discuss), I believe the market cap gap between PHOT and AERO should continue to narrow markedly in the coming months.
Let's dive in…
For starters, according to the National Gardening Association, 85 million households are active in gardening. 36 million households are believed to participate in food gardening. 13 million households are participating in fresh herb gardening. These are huge numbers considering that there are 115 million households in the U.S.
Equally impressive, the legal marijuana market in the U.S. is now estimated to be a $1.4 billion industry, with 50%+ growth expected for 2014. According to CNBC, the total U.S. marijuana market is likely between $35 and 45 billion in size. The wide range is owed to the difficulty in accurately assessing current consumption. Regardless, even at the low end, we're talking about an enormous industry. FYI, the tobacco industry is closer to $100 billion. Alcohol is closer to $200 billion.
Amid the hype surrounding marijuana legalization, a number of stocks have experienced meteoric increases in market value. As of January 1, the recreational sale and use of marijuana is now legal in Colorado. That landmark legislation has sparked increased interest in companies like Cannabis Science (OTCPK:CBIS), Growlife (OTCPK:PHOT), Hemp (OTCPK:HEMP), Medical Marijuana (OTCPK:MJNA), Medbox (MDBX), Terra Tech (OTCQX:TRTC) and others.
However, the most interesting play I found on marijuana legalization is not on the aforementioned list. Incredibly, despite being the most attractive and well-established vendor we found, it was arguably the least discussed among investors: AeroGrow International.
AeroGrow was launched in 2002 and is the innovator, manufacturer, and marketer of the patented AeroGarden® product line. Its portfolio consists of 6 highly differentiated indoor gardens, pod seed kits, and accessories. AeroGarden's product line features NASA-proven advanced hydroponic systems made simple for the consumer.
Any person who wants to grow herbs, flowers, salad greens (and/or marijuana plants) can do so indoors, year round, without the need for soil. In other words, AERO isn't just a play on the legalization trend - it is also a play on the accelerating demand for organic produce. This is a global $30 billion market, growing at more than 15% annually.
After a long period of R&D investment, AERO launched its first product in 2006 and grew like a proverbial weed through 2008. To date, sales have surpassed $110 million with well over a million AeroGardens sold.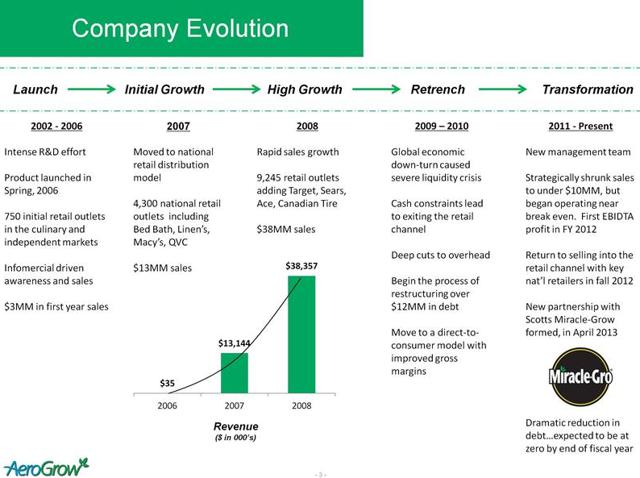 Source: AeroGrow Investor Presentation - December 2013
As you can see in the timeline above, the Great Recession set the company back several years due to liquidity issues. In 2011, the company appointed Mike Wolfe as its new CEO to get the company back on track. Wolfe has strong roots in Colorado and a track record for being involved with companies that get acquired. Later in this article, I will discuss why AERO is already poised to be next. For now, his stated focus is to generate revenue growth.


Source: AeroGrow Investor Presentation - December 2013
AERO's transformation plan included the installment of a new management team and a new sales strategy that shifted away from its traditional Retail-to-Consumer Sales model to a new Direct-to-Consumer model. As part of this transition sales expectedly shrunk, though not because of decreased interest or opportunity in the marketplace. AeroGrow also cut costs significantly, leading to profitability and a key partnership with Scotts Miracle-Gro Company that promises to enable explosive future growth.
Target Market
AeroGrow's product line addresses the 80 million gardeners and 50 million cooks in the United States alone. The company also aims to reach both female and male consumers of all social economic statuses who want to grow healthy, fresh, pesticide-free plants.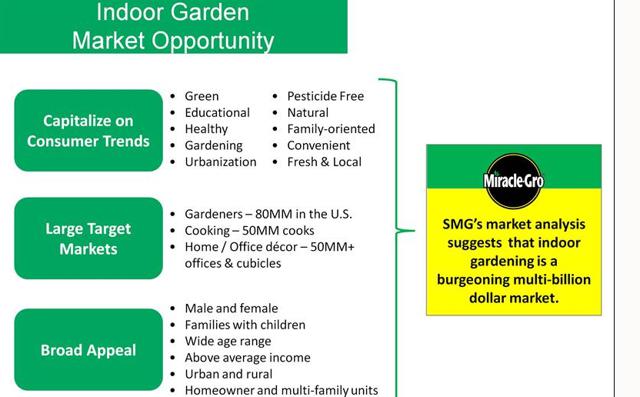 Source: AeroGrow Investor Presentation - December 2013
Scotts Miracle-Gro Partnership
Scotts Miracle-Gro recognized that indoor gardening is an enormous and fast-growing market. According to AERO management, SMG's due diligence determined that AeroGrow's technology had the most attractive combination of commercial appeal and efficacy for indoor gardening. Hence, in April of 2012, SMG invested $4.5 million into AERO and authorized the company to re-brand / co-brand its AeroGarden product line into the Scotts Miracle-Gro AeroGarden.
Notably, we believe that Chris Hagedorn is leading the charge from the Scotts side of the equation. For those who don't know, Chris is the son of SMG's CEO, James Hagedorn. Chris now sits on AeroGrow's broad of directors. The implication is that Scotts is taking this relationship very seriously.
Indeed, our research has shown that Scotts has been providing AERO with favorable access to manufacturers, product placement, customer lists, and logistical economies. Scotts has also been leveraging its high profile within retailing giants (like Home Depot) to get AeroGrow on the fast-track to gaining significant traction into major player within the retail channel around the world.
We expect to see this traction translate into a significant reacceleration of growth into stores like Amazon, Costco, Home Depot, Home Shopping Network, Sam's Club, and Target. We believe that future targets include sub-segment leaders like Bed Bath & Beyond (NASDAQ:BBBY), Whole Foods (NASDAQ:WFM), and of course Wal-Mart (NYSE:WMT). Thus far, its success with existing partners has been promising. On December 26, Amazon issued a press release in which AERO was highlighted as one if its top-sellers.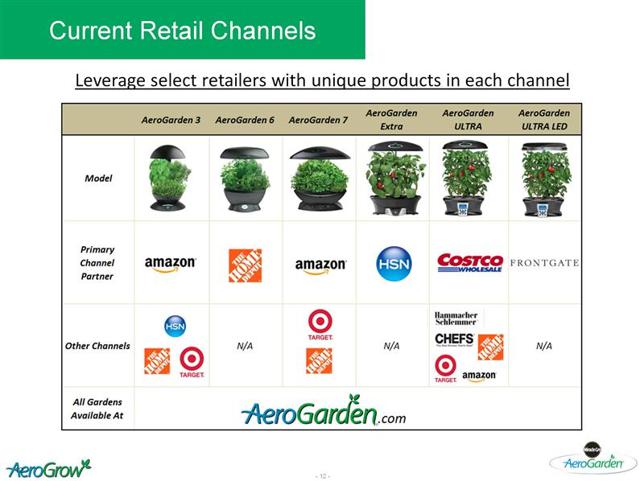 Source: AeroGrow Investor Presentation - December 2013
The name change and strategic partnership are important. They provide the enhanced creditability and visibility AeroGrow needs to take its products to the next level. For investors who don't know, relationships like this have a history of producing game-changing results for the constituents involved.
In 2006, Pipeline Data (my institutional investment-consulting business) selected Absolute Software as one of its top picks. In 2005, Absolute licensed the LoJack name and rebranded its Computrace product under the moniker, "Lojack for Laptops." Soon, Absolute inked deals with Dell and other laptop manufacturers, attracting institutional investors and setting the stock ablaze. In just over a year, the $2 stock hit $20, a 10-bagger. In the process, its market cap approached $1 billion.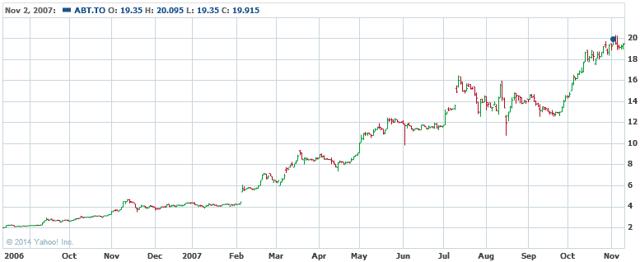 In the case of AERO, its branding deal sets the stage for the company to be acquired by Scotts. As part of the arrangement, Scotts holds shares of Series B Preferred Stock, bearing an annual dividend of 8.0%, payable in shares of common stock at a fixed conversion price. While this dividend creates dilution for shareholders, it only amounts to about 3.5% annually. This is miniscule when compared to AERO's opportunity… and the benefits being generated by the Scotts relationship.
Interestingly, beginning on April 22 of 2016, Scotts will have the option to raise its current stake in AERO to 80% in exchange for a large cash outlay to be determined later, based on AERO's trailing 12-month revenues on the exercise date (the details of this are outlined in public SEC documents). If AERO's sales take off as I expect, I see little reason why Scotts won't exercise this option and perhaps acquire the company in its entirety.
Though Scotts would technically have control of the company, AERO would receive tens of millions in new funding. In addition, Scotts' incentive to make AERO successful would be greater than ever. AERO management could use the new-found capital to accelerate growth or do a share repurchase (which would presumably have a major impact since the company has so few shares available in the public float).
FYI, when SodaStream received a major cash infusion (via its 2010 IPO), sales growth quickly reaccelerated and skyrocketed from 5% (down from 16% in the prior years) to more than 50%.
| | | | | | |
| --- | --- | --- | --- | --- | --- |
| SodaStream (NASDAQ:SODA) | 2008 | 2009 | 2010 | 2011 | 2012 |
| Revenues | 129,664 | 136,246 | 208,414 | 288,953 | 436,316 |
| Growth | 16% | 5% | 53% | 39% | 51% |
SODA's shares responded by tripling in 8 months. Indeed, being able to finance channel inventory is a major contributor to the growth of a winning product.

The Rising Tide
Another thing going for AERO is the growing do-it-yourself trend, which was sparked by the recession. Green Mountain Coffee Roasters (NASDAQ:GMCR) has been a 100-bagger and now sports a $12 billion market cap. SodaStream now generates over $500 million in sales and boasts a $1 billion market cap. AERO is just coming out of restructuring and has established several top-tier partnerships, but still has a market cap of under $100 million.
Having grown sales from zero to $40 million in two years in the 2006 timeframe, I believe they are well-positioned to do it again. In fact, given enough capital, I believe they could potentially grow larger and faster than they did the first time around. The reason is that organic foods and legal marijuana are exploding trends that barely existed during their first go-around in 2006.
Regardless of when the company re-achieves $40 million in sales, I believe it will just be a stepping stone toward something much larger. If you look at the historical financials for SodaStream, it's not hard to envision AERO becoming a larger company (remember, every company begins with a base of zero revenue). Here are some key reasons:
SodaStream's end product has to compete against name-brand icons, like Coke and Pepsi. AERO's end product doesn't have onerous name-brand competition. In fact, home-grown produce is likely to be seen as favorable, not inferior.
SodaStream's end-product is cheap to buy in stores, especially relative to effort to make it at home. I experienced this first-hand during my evaluation of the product. In contrast, fresh produce is more expensive to purchase, especially compared to the cost of making it at home with an AeroGarden.
As marijuana home-growing becomes legal in more states, as it is in Colorado, consumers will have even more incentive to purchase an AeroGarden. Marijuana is very expensive (as compared to produce and soda). Thus, the financial benefit of growing it at home will be significantly higher than SodaStream can ever hope to match.
Growing produce and marijuana is much more complex than adding favoring to carbonated water. The proper lighting (time and intensity) and nutrients are key factors that elude most do-it-yourselfers. AERO eliminates this issue by customizing its growing packages to the product you are growing. In other words, all of the intelligence needed is built into the product.
Based on all of this, the idea of AERO becoming as big as (or bigger than) SodaStream is a legitimate debate. Accordingly, the odds of it happening need to be baked into a valuation assessment. This was the basis on which that I correctly identified GlobalStar (NASDAQ:GSAT) as a pick to triple. Opportunity is a major aspect of equity analysis. In this case, I believe that SODA's peak valuation represents AERO's long-term potential.
Running the numbers, this would equate to about $50 per share (even after accounting for full share dilution).
The Product
AeroGarden features advanced hydroponic technology. It grows plants 6 times faster than soil when under the same lighting and 10-15 times faster compared to a plant growing in a sunny window. AeroGarden provides customers with tremendous consumer value by growing $150 worth of herbs in just two months. In other words, they're poised to triple their investment in an AeroGarden in less than a year.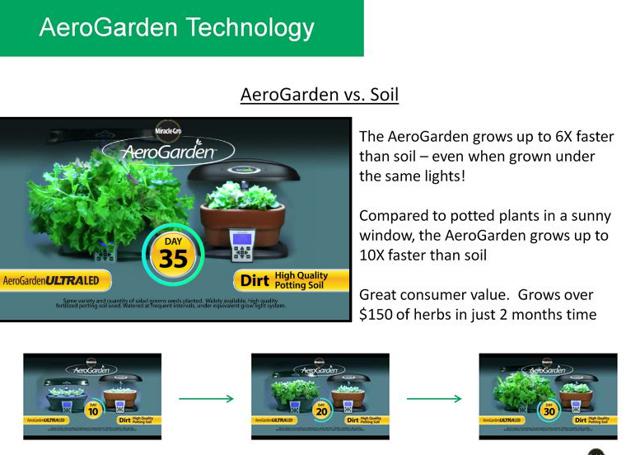 Product Line
AeroGrow's product line consists of 6 highly differentiated AeroGardens that meets the demands of their large target market though different distribution channels. For example, the entry level AeroGarden 3 retails at $80 and is primarily sold on Amazon to reach its urban customers. Since customer tend to upgrade to higher-end models, the company plans on offering an even more affordable model to get its foot in the door with more consumers.
Simultaneously, the company has yet to find the ceiling for how much it can charge for a high-end unit. Its "Ultra" LED model sells for $349 and has been sold exclusively at Frontgate to satisfy its suburban market. During AERO's December 2013 investor presentation, CEO Mike Wolfe stated that the high-end Ultra LED Model had sold out due to high consumer demand and acceptance. Follow up research has determined that the unit remains severely backlogged.
AeroGrow also provides its customers with a complete series of accessory items that work with the AeroGarden. These include growing lights, self-watering devices, and over 40 different seed pod kits ranging from chili peppers to salads. The gross margins on follow-on items is very attractive, providing another incentive for AERO to get as many units into consumers' hands as possible.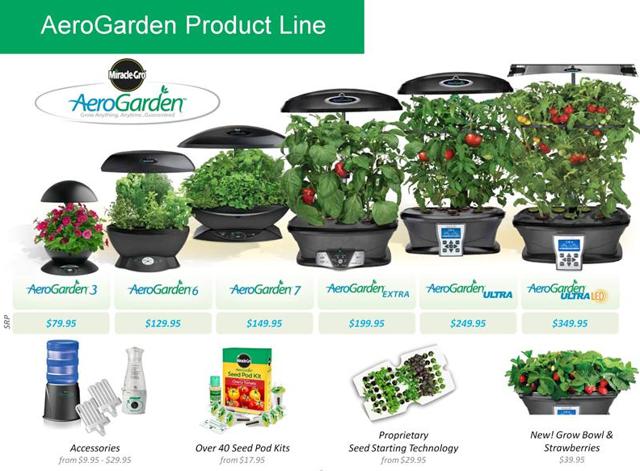 Source: AeroGrow Investor Presentation - December 2013
Recurring Revenue
One of the most important elements of AeroGrow's market strategy is their recurring revenue. AeroGrow has a classic razor blade strategy. Once they sell one of their AeroGarden products to a customer they are then in position to drive accessory purchases from that same customer every 3 months. All accessory products have exceptional profit margins and the typical AeroGrow consumer (who spends an average of $166 on their first purchase) ends up spending $433 over 3 years, as seen in the figure below.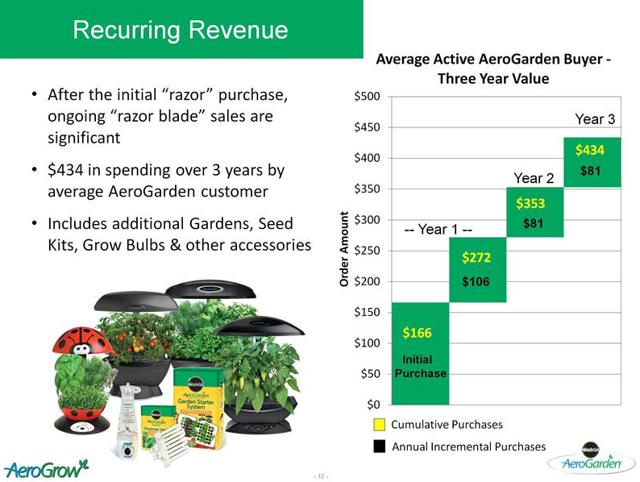 Source: AeroGrow Investor Presentation - December 2013
Distribution Strategy
AeroGrow has two distinct channels of distribution: Direct-Response and Retail Distribution.
The Direct-to-Consumer channel currently enables AeroGrow to experience high profit margins, because they are able to sell their products directly to their target customers through the company's catalog and website. CEO Mike Wolfe says that the direct channel will be a staple as AeroGrow moves forward in 2014.
The retail channel is set to experience significant growth in 2014 due to AeroGrow's newly-formed partnership with Scotts Miracle-Gro. The partnership has given the AeroGrow brand, credibility, and financial backing to achieve its goal of becoming the number one indoor gardening brand through its growing retail distribution channel.
For instance, just 8 months after partnership was formed, the AeroGarden product line has now been placed at major retail outlets such as Costco, Home Depot, Amazon, and the Home Shopping Network. This promises to provide huge upside for the AeroGrow Company. In fact, the day the AeroGarden 3 was released on Amazon it sold over 1,000 units in just 1 hour.
In 2014, AeroGrow's product line is looking to be on the shelves of over 10,000 stores in the U.S. We predict it will also find its way onto the shelves of additional retail giants, such as Wal-Mart, Target, and Bed Bath and Beyond.
New Products
In 2014, AeroGrow will create a new entry level AeroGarden which will sell for just $50. The new model will make the AeroGarden brand affordable to all consumers and expand its appeal to numerous retail outlets. Historically, when a customer buys an entry level AeroGarden, that same customer will eventually purchase a more expensive model, so this good/better/best model makes great sense for the company's expansion aspirations.
In 2014, AeroGrow will also introduce the Ultra I-Garden which is a web-enabled garden that includes a webcam, which will allow customers to monitor and photograph their plants via smart phones (and other internet devices) in real-time from virtually any location in the world.
Ultra I-Garden Product Model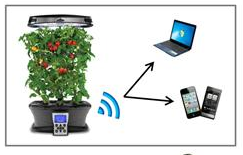 Source: AeroGrow Investor Presentation - December 2013
Marijuana Edition?
One of our analysts traveled to Colorado to get a first-hand view of the impact of legalization there. One photo in particular caught my attention: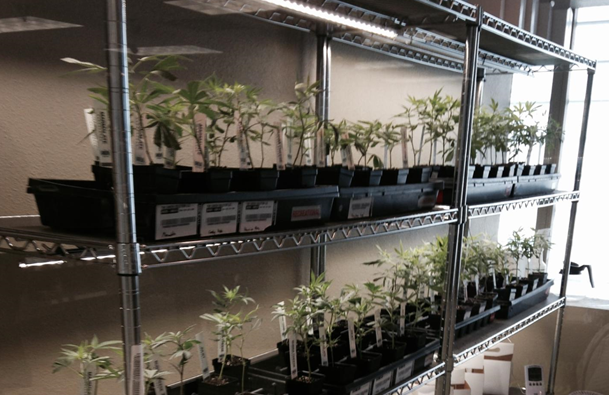 This was taken at The Green Solution in Denver. Buying plants is part of the legalization in Colorado, but as you can see, these plants are potted in soil and have no built-in light source. It appears to me that AERO has a major opportunity to bring its hydroponic and built-in lighting technology to marijuana dispensaries across the country as the legalization trend expands. Its current product would simply need to be optimized for growing marijuana -- optimal nutrients, lighting, instructions, etc.
We obtained the photo below. It depicts marijuana being grown in a standard AeroGarden, with one plant being grown in soil. Despite not being optimized for marijuana, the AeroGarden still grew the seeds 33% faster. Thus, 50% more marijuana can be grown in an equal timeframe. Considering the amount of marijuana that can be grown in this amount of space the AeroGarden likely pays for itself in just one batch.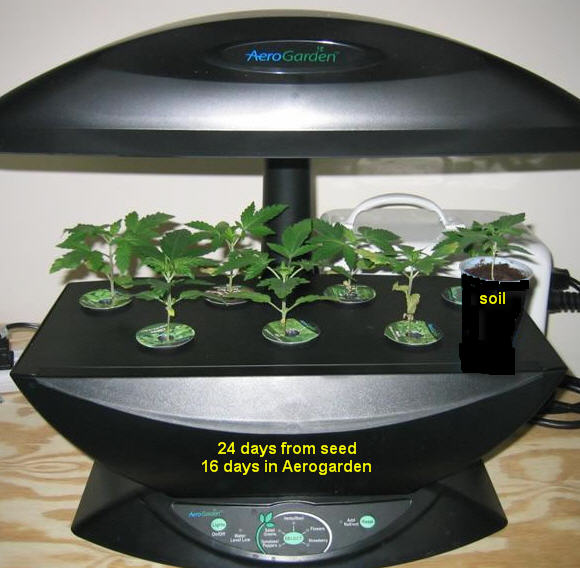 A reader also sent in a video, depicting an AeroGarden that was used to grow marijuana. The results were impressive, but my response was, "Imagine how it would grow if AERO actually optimized the lighting and nutrition. That's a big part of their value proposition. People who are currently using AeroGardens to grow marijuana don't have the benefit of AERO's botanical expertise. That could (should) change before long."
Key Metrics
AeroGrow sees most of its indoor gardening sales in the months of November and December, which is diametrically opposed to Scotts Miracle-Gro, which sees most of its sales in the spring and summer months. This adds to the speculative motivation for Scotts to acquire AERO.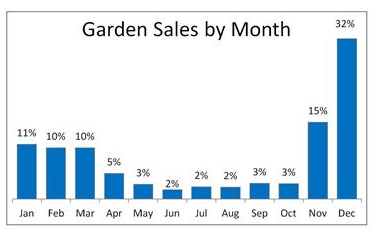 Source: AeroGrow Investor Presentation - December 2013
AeroGrow's current sales consist mostly of AeroGardens, since the company is entering a high-growth stage. AERO's main goal for 2014 will be to significantly increase the sales percentage of AeroGardens by aggressively pushing the products through their direct and retail distribution channels. This will set the stage for recurring accessory and upgrade sales in the years to come.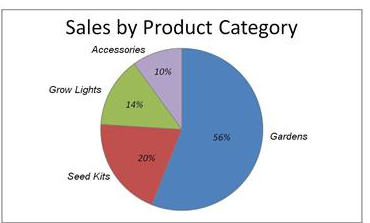 Source: AeroGrow Investor Presentation - December 2013
It is also important to point out that AeroGrow has drastically cut their overhead from $343,000 a month in 2011 to only $250,000 a month in 2013. AeroGrow's CEO Mike Wolfe believes that the $250,000 overhead level is sustainable for the foreseeable future, even as the company grows.
If this proves to be the case, just a return to $40 million in revenue would drive substantial EPS for the company. Assuming 40% gross margins and a 33% increase in R&D / SG&A over Wolfe's $250,000 estimate, the company would generate well over $10 million in operating profits. This would largely flow to the bottom line due to the company's $60+ million in net operating loss carry forwards (NOLs).
Before the recession, AERO grew from virtually nil to $40 million in 2 years. At the time, the stock fetched a split-adjusted $740 per share. Of course, investors shouldn't expect a return to those levels. Its current capital structure is markedly different, but I do believe AERO's strategic plan is now stronger than it was during its first run.
Further, the company is now attacking a substantially larger opportunity, due to exploding demand for organic produce and the expanding de-legislation of marijuana use.
Competition & Comparative Valuation
Based on our research, GrowLife may be AERO's closest competitor in the coming years. PHOT is a holding company focused on the indoor gardening industry. PHOT's holdings include 58Hydro.com, Evergreen Garden Centers, GrowLife Hydroponics, Phototron, Rocky Mountain Hydroponics, SGT, and Urban Garden. The company owns stores in California, Colorado, Maine, Massachusetts and New Hampshire, as well as cannabis.org, which is an information portal for the medical marijuana industry.
Clearly, PHOT is positioning itself for success as the legislative environment becomes more favorable for marijuana. However, on a comparative basis, our analysis suggests that anyone who owns PHOT at current levels would be better served by owning AERO. Here's why:
PHOT did $1.5 million in sales during its last fiscal year. AERO did $7.3 million. That's nearly 5x as much as PHOT. In fact, AERO produced $5 million in revenue in the last quarter alone.
According to Yahoo Finance, at $0.47 per share, PHOT had a market cap of $330 million. Despite being a larger company, AERO's market cap is markedly smaller. If you are bullish on PHOT, this stat has to be an eye-grabber.
Last year's $1.5 million was PHOT's biggest year. 2013 will be bigger… and I have no doubt that 2014 will be even bigger. However, we have yet to see how fast the company can expand organically (without the use of acquisitions). In contrast, AERO achieved sales of $38 million in 2008, which was nearly triple the levels it achieved in 2007.

In other words, AERO has proven its ability to grow fast and sell in high quantities. After coming through the recession, its new CEO, relationship with Scotts, and expanding distribution presence (Amazon, Home Depot, Target, Home Shopping Network, and Costco, among others) promise to get AERO's growth reaccelerating.
This is not to say that PHOT is a bad company or stock. I have no comment on that topic today. However, I will say that PHOT is doing a great job of growing. It is also positioning itself specifically to the marijuana opportunity more aggressively than AERO (at least relative to its public disclosures). On the flip side, AERO is bigger and has a more impressive list of distribution partners.
In other words, each company has good reasons to claim itself the more valuable company. Yet, PHOT's market cap is several times higher than that of AERO. Personally, I believe AERO has better positioning. Scotts, Amazon, Home Depot, Target and AERO's other partners all know that legalization is a growing trend. They all want to be ready to profit as soon as it becomes politically acceptable to do so… and they've hitched their wagons to AERO to do so.
I won't knock anyone if they believe that PHOT is better positioned. However, any intelligent investor has to admit that it's a legitimate and tight debate. Accordingly, the intelligent investor must conclude that the market caps of PHOT and AERO should also be fairly tight.
As it stands now, the gap is incredibly wide. A PHOT enterprise value of $300 million implies that shares of AERO should be higher (even accounting for full-dilution and Scotts exercising its option at a $40 million revenue level). Thanks to increased media attention to marijuana legislation and the organic produce trend, investors probably won't have to wait long before AERO gains greater visibility.
Accordingly, AERO is the only marijuana stock in the Poised To Triple portfolio.
One last thing -- Investors are encouraged to buy an AeroGarden and tell their friends/family to do the same. It will educate you on the company's product. I did (and have been blogging about the experience on PTTResearch.com)!
Disclosure: I am long AERO. I wrote this article myself, and it expresses my own opinions. I am not receiving compensation for it. I have no business relationship with any company whose stock is mentioned in this article.
Additional disclosure: Aspects of this report originally appeared in the PTT Newsletter for January 30, 2014 at PTTResearch.com. Mr. Gomes' investment Methodology is the basis of his selection process, as well as his asset allocation and trading decisions. Investors who seek to act on his research should first read his Methodology and Portfolio Tracker at PoisedToTriple.com.