In my "BDC Rankings" for February, profitability is one of the key criteria for ranking the 25 BDCs that I cover and includes the following components:
Dividend Coverage
This is obviously important when considering BDC yield and is covered in more detail in "Historical & Projected Dividend Sustainability". When assessing coverage I look at many things including recurring vs. onetime income and expenses especially the incentive fees related to capital gains paid to management companies. For projected dividend coverage I have used either analyst or my personal baseline projections for each BDC. Currently there are only four BDCs that are not projected to cover dividends: BlackRock Kelso Capital (NASDAQ:BKCC), MCG Capital (NASDAQ:MCGC), Solar Senior Capital (NASDAQ:SUNS) and Full Circle Capital (FULL). However I have not done detailed projections for these companies and I am using analyst projections and recent financial results.
EPS Growth
EPS for BDCs is measured using net investment income ("NII") compared to most public companies that use simple net income. The key differences are NII is before realized and unrealized gains in the portfolio and some taxes, that more accurately reflects recurring income. Most mature BDCs have limited upside potential when considering EPS growth and are required to pay 90% of income and gains to shareholders instead of using them to grow. There are a few levers that management can use to increase returns such as higher leverage or higher yield investments. BDCs that have been effective in using these levers are Prospect Capital (NASDAQ:PSEC) and KCAP Financial (NASDAQ:KCAP). A few higher quality BDCs have found ways to increase returns organically as well such as Main Street Capital (NYSE:MAIN), Hercules Technology Growth Capital (NASDAQ:HTGC), THL Credit (NASDAQ:TCRD) and Golub Capital BDC (NASDAQ:GBDC). The younger BDCs that are still growing and using new capital or increasing efficiencies usually have higher amounts of EPS growth in the first two to three years such as TCP Capital (NASDAQ:TCPC), Fidus Investment (NASDAQ:FDUS) and Medley Capital (NYSE:MCC). Many times these companies benefit from waived management fees until the IPO proceeds are mostly deployed.
Operational Expense Efficiency
As discussed in "BDCs With The Lowest Fees: Part 1" internally managed BDCs usually have a lower cost structure with the exception of American Capital (NASDAQ:ACAS) that has a lower amount of income producing assets as a percentage of overall assets and uses lower amounts of leverage. Lower fees for the other internally managed BDCs is a key advantage for MAIN, KCAP, HTGC, MCGC and Triangle Capital (NYSE:TCAP).
Overall Profitability Rankings
There are many other things that I take into account when assessing relative profitability between BDCs including my personal 'core NII' projections that measure mostly recurring income and expenses with moderate portfolio growth and use of leverage consistent with guidance from the company. Another large factor that has been impacting BDCs is yield compression due to increased competition as discussed in "THL Credit: Falling Yields And Growing Dividends?". This has been driving yields down for some BDCs quicker than others as portfolio companies refinance or payoff loans. This could increase if merger activity heats up. The BDCs that are more at risk are the ones with higher yield portfolios especially with higher amounts of subordinated loans that have seen increased competition. This would include companies such as KCAP, MCGC, TCAP, FDUS, PSEC and Gladstone Capital (NASDAQ:GLAD). A few of the larger BDCs with portfolio yields less than 12% and moderate amounts of subordinated loans are GBDC, ACAS, Solar Capital (NASDAQ:SLRC), Apollo Investment (NASDAQ:AINV), Ares Capital (NASDAQ:ARCC) and Fifth Street Finance (NYSE:FSC), will more than likely be impacted less but I still need to perform a detailed portfolio analysis focused on prepayment risk such as "Triangle Capital Suffers From Repayments: But Is It An Opportunity?".
The following table shows some of the categories included in the profitability rankings along with the current relative profit rank that takes into account the most recently reported results. There are still three remaining companies to report later this week: KCAP, Horizon Technology Finance (NASDAQ:HRZN) and TICC Capital (NASDAQ:TICC).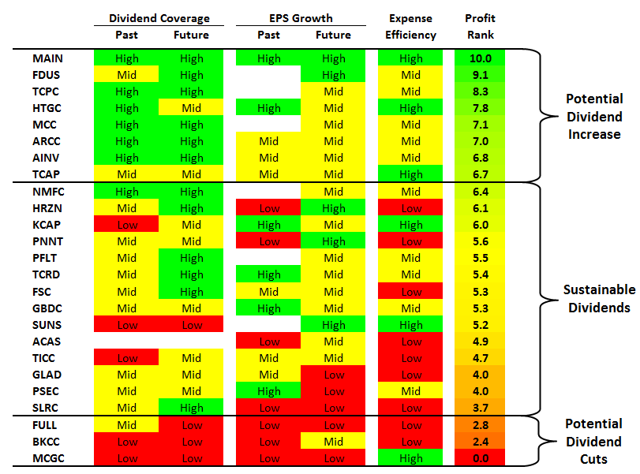 I purposely did not include historical dividend growth in this chart because it is not necessarily an indicator going forward. Some of the younger BDCs have increased dividends more than average and are now becoming mature at comfortable payout levels and other BDCs such as SLRC have recently cut dividends but could redeploy debt capital and increase in the future. Investors should only use this information as a starting point for due diligence. See the following for more information:
Disclosure: I am long MAIN, TCPC, FSC, ARCC, FDUS, TCRD, PSEC, NMFC. I wrote this article myself, and it expresses my own opinions. I am not receiving compensation for it (other than from Seeking Alpha). I have no business relationship with any company whose stock is mentioned in this article.