Newmont Mining Corporation (NYSE:NEM) had a busy 2013 as the company optimized plans across its portfolio, including revitalizing mine plans for Waihi and Tanami, and improved its economic profiles for several of its organic growth projects including the development of the Merian project in Suriname. The company has reduced operational costs by $1 billion while achieving the top end of its gold production guidance of 5.1 million ounces. Newmont brought the Phoenix Copper Leach and Akyem operations into commercial production. Amid all this, its stock continued to sell off over the year and has lost 25.19% of value.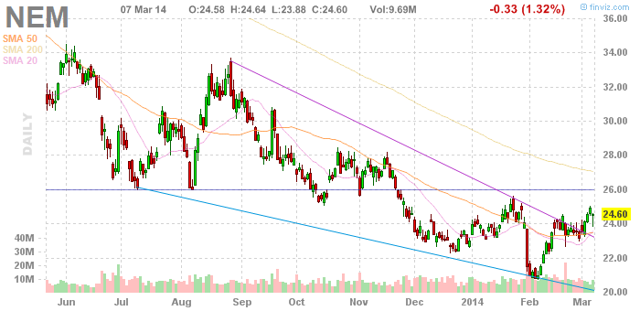 In 2014, the selloff continues and the stock fell to nearly $20/share when the company announced poor financial results due to Gold and Copper prices for the full year of 2013. Its revenue has gone down to $8.3 billion compared with $9.9 billion in 2012. Consequently, net loss from continuing operations came to $2.5 billion compared with net income of $1.9 billion in 2012. Its cash flows from operations were affected by the top line growth which was negative over the year; operating cash flow was at $1.6 billion in 2013 compared with $2.4 billion in 2012.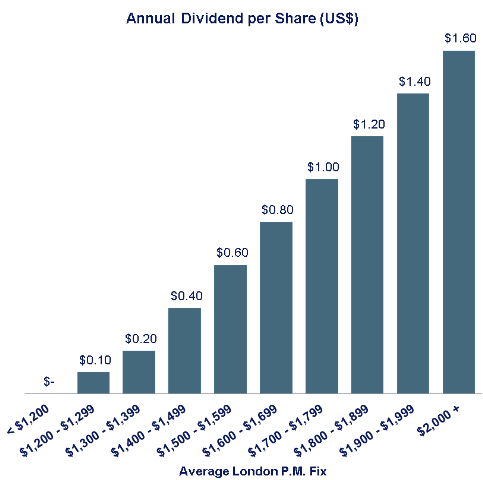 The situation continued to worsen on 19th February when it announced further cut in its dividends and linked its dividend growth directly with gold prices. It declared a quarterly dividend of $0.15/share. The latest cut in the first quarter of 2014 dividend is based on its new gold price-linked policy, as shown in the above chart. The first payout level will begin between $1,200 and $1,299 per ounce, with an annual dividend of $0.10 per share or $0.025 per quarter. The second payout will be between $1,300 and $1,399 per ounce, with an annual dividend of $0.20 per share or $0.05 per quarter. For each $100 per ounce additional increase in the average realized gold price above $1,300 per ounce, the annual payout will increase at a rate of $0.20 per share or $0.05 per quarter.
With this strategy, the company has quieted rumors related to its dividends which are strongly impacting its share price. Since the new announcement of new dividend policy, NEM's stock has gained some momentum in the past two weeks. With this policy, the company is looking to provide financial flexibility in the existing gold price environment while offering investors continued leverage as prices rise.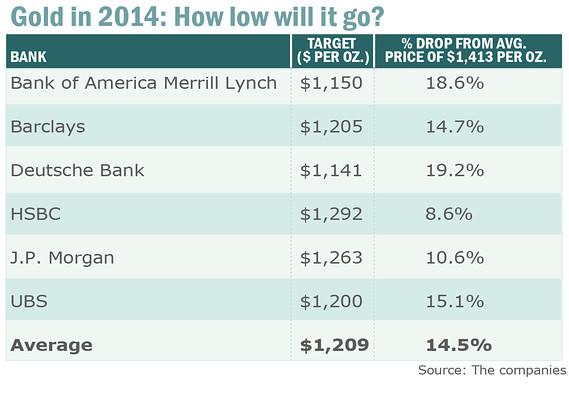 It is predicted that gold will drop 14.5% according to recent forecasts from the six largest banks. An average price of $1,209 is expected for 2014. Here the question arises, "why will gold prices keep falling?" Based on Bank of America Merrill Lynch, lack of buyers' interest in gold is the biggest worry. A constant tapering in the Federal Reserve's bond buying, stronger global economy and no sign of inflation could also pull interest away from gold. This indicates that gold will follow its terrible 2013.
If these trends continue in 2014, Newmont profits will further contract and the company will continue to pay lower or no dividends with a newly adopted dividend policy. I recommend investors not to consider this gold stock when the rate of risk is too high and the company is undergoing losses even though the stock price looks to be significantly undervalued. Also, the company has said that it is looking to pay dividends from cash generated by free cash flows. In the trailing twelve months, its free cash flows have been negative at $357 million which are not able to cover current dividend payments of around $613 million. I feel Newmont will generate negative free cash flows when it is looking to invest around $1.5 billion in consolidated capitals of which 90% is allocated to sustaining capital. Its operating cash flows may came down further if the company's top line contracts more with the drop in gold prices.
In conclusion
Newmont is not a safe place anymore for dividend investors with its newly announced dividend policy. The company's revenue is completely linked to the fluctuation in gold prices which are likely to come down further and will impact Newmont's earnings and cash flows.
Disclosure: I have no positions in any stocks mentioned, and no plans to initiate any positions within the next 72 hours. I wrote this article myself, and it expresses my own opinions. I am not receiving compensation for it (other than from Seeking Alpha). I have no business relationship with any company whose stock is mentioned in this article.