When it comes to the market today, growth is definitely favored. Companies with strong growth profiles are getting high valuations. In the technology space, there's an interesting divide between many top tier names, one I'll look to examine today. The key name to watch is Microsoft (NASDAQ:MSFT). The technology giant is growing revenues at a nice clip right now, but the company in recent years has struggled to transfer those gains to the bottom line. Today, I'll detail why that process might continue, and why it could make this name a short on valuation as the stock approaches $40.
Competition forces price cuts:
Over the last couple of weeks, we've heard rumors that Microsoft has slashed prices for Windows 8.1 licenses. Stronger competition from Apple (NASDAQ:AAPL) and Google (NASDAQ:GOOG) is a primary reason according to the Bloomberg article. With this move, Microsoft is trying to increase its market share for lower-priced tablets and other devices. The main goal will to be rival Google's Chromebooks. You can also view this as Microsoft realizing Apple's dominance in the mid to upper range tablet area.
So what is Microsoft doing? Well, the company is reportedly cutting Windows 8.1 license prices from $50 to $15 for devices that retail for less than $250. That's a 70% price cut for manufacturers, although it may not apply to all. Here's why, according to Bloomberg:
While the regular Windows list price was $50, some of the largest global computer makers paid closer to $30 after incentives such as marketing funds provided by Microsoft, the people said. Products that receive discounted license fees won't be eligible for such marketing support and incentives, one of the people said.
Windows 8 was not received as well as Windows 7, so adoption rates have been slower. Microsoft also entered the tablet space later than some of its key rivals, so that put the company behind. Just like Intel (NASDAQ:INTC), Microsoft may need to take on extra expenses to play catch-up. Obviously, the price cut is aimed at boosting Microsoft's share in the lower cost tablet/device arena. However, there will be a negative impact on margins here for two reasons. First, Microsoft obviously is not going to make as much on a $15 license as it would on a $50 one. The second problem is Microsoft may be shifting consumers away from its higher margin products. Either way, it seems likely that Microsoft's margins will be impacted here. Pricing pressure at Windows and declining margins are the main reason why a recent analyst note had the stock getting a Neutral rating.
Overall, Microsoft analysts see a revenue increase this year of 8.5% currently. While that is decent growth, analysts expect earnings per share to increase by just a nickel to $2.70. Obviously, earnings growth is expected to trail revenue growth. In fact, earnings per share in the current quarter are expected to fall by 9 cents to $0.63 per share. In Microsoft's prior year, the company had non-GAAP revenue growth of 4.1%, but non-GAAP earnings per share declined by 5.8%. It looks like the gap between revenue and earnings growth will continue in the current fiscal year, which ends in June. I'll show later how Microsoft's earnings growth is expected to trail that of Apple by a wide margin.
US cash constraints:
One item that I've been worried about when it comes to Microsoft is a low US cash position. Many technology names like Microsoft and Apple are very profitable, and generate a lot of cash. However, a lot of that cash is generated outside the United States. For companies to use that cash for dividends and buybacks, they have to either bring the cash back to the US, and face repatriation taxes, or issue debt against those foreign cash resources. Most companies have been unwilling to repatriate funds and pay the tax. Microsoft's US cash position is very low compared to its overall cash balance on the balance sheet, as per the 10-Q filing. This could be troublesome for a couple of reasons going forward, and in this section, I'll detail how it could impact earnings per share.
First, let me start by giving you some cash/debt statistics. In the balance sheet below, I've compiled Microsoft's cash pile statistics, which include cash, cash equivalents, and short-term investments. I've broken these resources down by US based and foreign holdings, as discussed in the quarterly filing.

At the end of calendar 2013 (remember Microsoft uses a June-ending fiscal year), less than 10% of Microsoft's cash resources were US based. That percentage was lower than at the end of the past two years. Foreign held resources jumped by nearly $15 billion in the past year, but domestic resources did not even rise by $1 billion. That's due to the dividend and buyback. In fact, I stated in a December 2013 article that Microsoft possibly needed to take out more debt in calendar Q4 just to pay the dividend and buy back stock. Microsoft took out €3.5 billion in Euro debt during December and another $3.25 billion in dollar denominated debt at the same time. As you can see above, that made the company's total debt number jump at the end of 2013.
Some of the Euro debt may have been for the Nokia purchase that Microsoft expects to close in the first calendar quarter of 2014. As for the US funds, Microsoft has $2 billion worth of debt due this June, and the dividend is running at a $2.3 billion plus payment each quarter. That doesn't even count the buyback, of which Microsoft bought back $2 billion worth of shares in the latest quarter. You can see why Microsoft issued debt in the US. US cash was only up about $930 million in the past year, and that's after the company took out more than $3 billion in debt.
So what's my main point here? Well, there are a couple of reasons why earnings per share will be hurt. First, the huge increase in debt will mean more interest expenses. If Microsoft did not have to issue the debt, interest expenses would be lower. Interest expenses are not going to kill Microsoft's earnings, but there is a slight impact.
The larger impact is in relation to the buyback. Microsoft bought back $3.5 billion worth of stock during the first half of the fiscal year (July to December), which is more than 1.1% of the company's market cap (and shares are close to the 52-week high). However, the outstanding share count only declined from 8.328 billion to 8.300 billion. Dilution from executive options obviously had a huge impact here. The problem is that as Microsoft continues to increase its dividend at lofty rates, that will mean less for the buyback. Add in the fact that Microsoft paid $35 a share for the buyback during the first half of this fiscal year as opposed to about $28.64 in the same time period last year, and the company can't get as many shares. Dividend investors will love the added dividends, but that will negatively impact earnings per share.
The key point here is that Microsoft's earnings per share growth could be negatively impacted over time by a less powerful buyback. Microsoft's US cash position is low, and the company is paying over $9 billion in dividends a year at the current rate. Another increase is expected late this summer or early in the fall. If Microsoft doesn't improve its US cash flow in line with the growth of the dividend, the buyback will slow back down to $1 billion per quarter or less. That means that the share count won't go down as fast as expected, and earnings per share ultimately will be hit. That's why Apple's tremendous buyback right now is so valuable, because Apple is expected to reduce its share count by around 8% year over year when it reports the current quarter. Microsoft is buying back billions in stock a year currently and struggling to get the share count down at all.
The valuation - growth already built in:
When it comes to Microsoft's growth profile, the company is in a good spot compared to some other large techs. However, Microsoft's valuation is also a bit above many other names. In the table below, I've compared Microsoft against Apple, Intel, and Cisco Systems (NASDAQ:CSCO) in terms of current growth estimates and valuations.

*EPS growth and P/E value is non-GAAP.
Microsoft leads in terms of expected revenue growth, but that's it. In terms of earnings per share growth, Microsoft is expected to be a mile behind Apple, thanks to Apple's much stronger buyback. In terms of dividend yield, Microsoft is well behind both Intel and Cisco Systems. In terms of valuation, Microsoft has the highest. That's why Microsoft can't have its earnings per share pressured, because it would just push the valuation up further at the same share price. Now I know some may disagree with the use of fiscal years above, since they are all different. But if you were to shift to calendar 2014, the P/E gap isn't much different, as you can see in the chart below.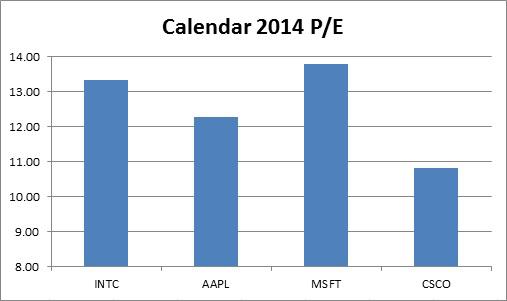 Microsoft currently trades at a 12.45% premium to Apple on a calendar 2014 P/E basis. That's a bit of a premium, given the lack of earnings per share growth. This is why I think Microsoft shares are basically priced for their current level of growth, without too much potential upside. Currently, the mean and median price targets are $38.60 and $39.00, respectively, so analysts don't see a ton of upside either.
The stock is due for a pullback:
For the past four months or so, Microsoft has been mostly a range bound stock. You haven't seen the stock really break above $39 or below $35. For now, I think that's mostly the range investors should use for their decision making, especially as markets haven't done much lately. As you can see in the chart below, Microsoft has a history of pulling back when it hits its upper Bollinger band. I do think there's a little more potential short-term upside here, but if this name gets to $39 again, that upper band will be in play again. That could be when the next pullback starts.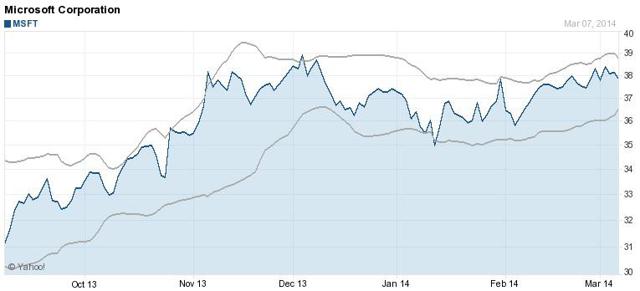 (Source: Yahoo! Finance)
Final thoughts:
It appears that competition has forced Microsoft to slash prices for Windows 8.1 in lower priced devices. Microsoft is looking to gain a strong foothold in the lower priced tablet arena, but it appears the ultra-competitive segment will ding the company's margins. Additionally, US cash constraints could have an impact on the buyback going forward, which would limit the company's ability to reduce the share count. Additionally, the rally in shares over the past year makes the buyback less effective due to much higher prices. It's likely that Microsoft will have some trouble boosting EPS at a level similar to revenue growth going forward. Any earnings per share pressure is a bad sign for a stock already trading at a premium to other large cap names in the space. I maintain my view that Microsoft could be a decent buy in the $34 to $36 range. However, the stock has again recently crossed $38 and as it approaches $40, I think it becomes a decent short idea.
Disclosure: I have no positions in any stocks mentioned, and no plans to initiate any positions within the next 72 hours. I wrote this article myself, and it expresses my own opinions. I am not receiving compensation for it (other than from Seeking Alpha). I have no business relationship with any company whose stock is mentioned in this article.
Additional disclosure: Investors are always reminded that before making any investment, you should do your own proper due diligence on any name directly or indirectly mentioned in this article. Investors should also consider seeking advice from a broker or financial adviser before making any investment decisions. Any material in this article should be considered general information, and not relied on as a formal investment recommendation.