May was a month where most investors saw "fear" return to the markets, the increased volatility and intra-day swings bringing back not so pleasant memories of September 2008. Major concerns in Europe as well as continued uncertainty on the stability of the U.S. economic recovery resulted in the S&P500 going down 8.20% in the month of May.
In May, here at ActiveETFs | InFocus, we had some very insightful interviews with Bill Thomas, CEO of Grail Advisors focusing on the mutual fund conversion process, with Paul Weisbruch, VP of Street One Financial on the misperceptions about ETF liquidity and with Rob Ivanoff, Director of Research at FPR about how advisors are reacting to Active ETFs.
In terms of fund flows and performance, Actively-Managed ETFs performed poorly in May as most Active ETFs suffered a drop in value. However, largely due to what could be mildly termed an "explosion" in assets for PIMCO's Short Maturity ETF (MINT: 100.1252 -0.02%), the Active ETF sector in the U.S. as a whole more than doubled in size. In Canada, the Active ETFs continued to have difficulty in gaining any significant traction with investors. See the full details in the tables below.
Fund Flows: (Click tables to enlarge)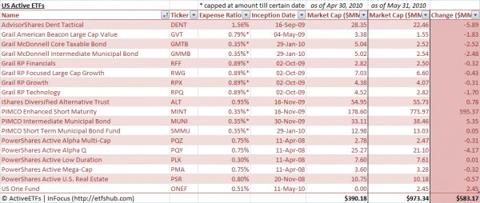 In the U.S., the AdvisorShares Dent Tactical ETF (DENT: 19.3599 -0.57%) saw its assets reduced by close to $6 million this month, leaving it with a market cap of about $22 million. This was likely a combination of money flowing out of the fund as well as existing assets depreciating in value. We had recently put DENT in the spotlight, as part of a new feature focusing on the performance of individual Active ETFs, to understand the possible causes behind DENT's underperformance.
Nearly every single Active ETF on the table lost value, likely due to the negative market activity causing fund NAVs to drop. The only funds that were able to grow their NAV were the iShares Diversified Alternatives Trust (ALT: 50.66 +0.26%), the PowerShares Active Low Duration (PLK: 25.37 0.00%) and the 3 PIMCO Active ETFs. The standout in that group this past month has no doubt been the PIMCO Enhanced Short Maturity ((NYSEARCA:MINT)) fund, which has clearly benefited from the flight to safety that we have seen as investors gave up the pursuit of risky returns. These are the kind of investors and market conditions that MINT has targeted all along. With treasury returns still at rock bottom, most investors would indeed want to better the miniscule return they would get from treasuries. That's the potential that MINT provides. As a result, MINT's assets more than quadrupled in one month, jumping from $178 million to about $774 million. This brought the total assets within Active ETFs in the U.S. to $973.34 million, closing in on the billion dollar mark.
Industry Moves:
May also saw Grail Advisors moving to file plans for an enhanced liquidity active ETF with Western Asset Management, an offering that will likely go head-to-head with PIMCO's Enhanced Short Maturity ETF which has seen explosive growth this past month.
In a continued effort to avoid further delays in its ETF launch plans, AdvisorShares modified its registration for the Peritus High Yield ETF (HYLD) to remove any use of derivatives within the portfolio, something that has been red-flagged by the SEC.
Given the ongoing debate on ETF liquidity and the manner in which advisors and investors perceive low volumes as a sign of poor liquidity, we also put out a detailed piece on the subject here.
Finally, in May, we also saw the launch of a new actively-managed ETF called One Fund (ONEF: 23.60 -0.72%) on May 11th, which will be an actively-managed ETF of ETFs, run by portfolio manager Paul Hrabal of US One.
New Entrants and Filings:
1. US One launches One Fund (NYSEARCA:ONEF), an Actively-Managed ETF of ETFs – direct link.
2. Grail Advisors files registration for Grail Western Asset Enhanced Liquidity ETF – direct link.

Disclosure: No positions in above-mentioned names.
Disclaimer: Views and opinions expressed on EtfsHub are those of the author alone and do not in any way represent the official views, positions or opinions of the employers – both past or present – of the author in question, or any other institutions and corporations associated with the author. Neither the information nor any opinions contained or expressed above and elsewhere on EtfsHub constitutes or should be construed as a solicitation or offer by EtfsHub to buy or sell any securities or other financial instruments or to provide any investment advice or recommendations. EtfsHub shall not be liable for any claims or losses of any nature, arising indirectly or directly from use of the information on or accessed through the site. Please see full disclaimers here.