Perhaps one of the biggest stories during earnings season this time around was Green Mountain Coffee Roasters (NASDAQ:GMCR). The company missed on revenues, beat on earnings, and issued disappointing guidance. The big news however was a deal with Coca-Cola (NYSE:KO) that I called a desperate act at the time. Green Mountain shares rocketed higher, and I encouraged investors to wait on this name until the stock calmed down. Now that earnings are a little more than a month behind us, the stock has pulled back a bit, affording a good chance to analyze the name again. Today, I'll detail how investors can now look at this name.
Estimates have come down:
Since fiscal Q2 guidance was weak, analyst estimates obviously needed to come down. Green Mountain stated that fiscal Q2 revenues would grow in the low to mid single digits, and analysts were looking for 8.1% growth to about $1.09 billion. That number now stands at a more realistic 4.2% growth figure, or about $1.05 billion. It is possible that Green Mountain gave light guidance in an effort to set up a beat at the next earnings report. The primary reason for doing this is because at the last earnings report, the company knew it could hide poor guidance with the Coca-Cola deal. Unless the company announces another major deal at the next earnings report, investors will probably return to focusing on the company's results. Lowering estimates and expectations helps with that process going forward.
Green Mountain also forecasted non-GAAP EPS of $0.93 to $0.98 for the quarter, excluding a bunch of items, and that forecast was also below the $1.02 analysts were looking for. I'm not as worried about EPS, because even in the quarters where Green Mountain has missed on revenues (like the last one), it usually beats analyst estimates for EPS. In the past four quarters, the company has beaten analyst estimates by 19 cents, 5 cents, 14 cents, and 6 cents, respectively. It would not surprise me if the company comes in around $1.00 or slightly over for fiscal Q2, and current estimates call for $0.95.
In the past few years, Green Mountain's revenue growth has nearly stalled. Just a couple of years ago, with some help from acquisitions, this company was more than doubling its revenue growth. In the latest quarter, year over year growth was just 3.5%. Investors have looked beyond the revenue troubles because lower coffee prices and other items have really boosted the bottom line. Going forward, investors will look for a return to solid revenue growth as the company explores new markets and new products, mostly thanks to the Coca-Cola deal. While coffee prices have rebounded off their lows recently, Green Mountain usually locks in most of its prices 12-18 months out. For now, the company will be fine with its coffee pricing. In a year or so when prices will start to hurt, Green Mountain hopes that some leveraging of operating expenses will offset any gross margin weakness. For the current fiscal year (ending in September), analysts expect $3.72 in non-GAAP EPS, up from $3.39 a year ago. For the following year, additional growth is expected to $4.03 per share. Net income growth will probably outpace EPS growth, thanks to a rising share count at first on the Coca-Cola deal dilution.
The buyback has been helped:
Included in the Coca-Cola deal was a 10% stake in Green Mountain. Coca-Cola would get almost 16.7 million shares at just under $75, which was a cash infusion of $1.25 billion for Green Mountain. Green Mountain would use the proceeds for two items, the first being capital expenditures for new Keurig systems and products that would involve Coca-Cola products.
But the larger use of cash would be for the company's stock buyback. In 2012, a $500 million buyback was authorized, and another $1 billion was added on last November. According to page 16 of the most recent 10-Q filing, the buyback had a little more than $1.1 billion remaining as of December 28th. Obviously, the Coca-Cola deal will add a fair amount of dilution to current shareholders upfront, and Green Mountain will use the buyback to offset some of that dilution. In the following table, I've detailed how many shares the company can buy back with the remaining buyback program, based on the average cost per share.

I highlighted two numbers. Just under $75 a share is where Coca-Cola bought in, so if Green Mountain averaged that amount, net dilution would still be almost two million shares (not counting other dilutive securities like executive options). However, once Green Mountain shares spiked on the news of the deal, it became apparent that buying back shares on the cheap would not be possible at least for now. The other number I highlighted was $125, which is just above the 52-week trading high for Green Mountain. Green Mountain shares were even higher in the after-hours session when the Coca-Cola deal was announced, but the trading day high was $124.42. At that price, about 9 million shares could be repurchased with the buyback. As shares have come down, the buyback is in a better position. Green Mountain can buy back more shares, which reduces the share count quicker and will help earnings per share. If shares continue to decline, one must wonder if Green Mountain will step in and try to support its share price, kind of like Apple (NASDAQ:AAPL) did recently.
Still a fair amount of short sellers:
One reason why Green Mountain had such a large spike on the Coca-Cola deal is because this name had a high short interest. A short squeeze was definitely possible on good news, and most investors saw the deal as good news. As I detailed in a recent article, short interest came down at the mid-February update. As you can see from the chart below, this was the lowest short interest point in nearly two years.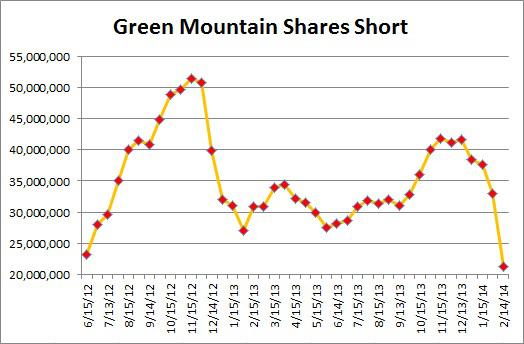 At more than 20 million shares short, short interest is still elevated. After the Coca-Cola deal was completed, a little more than 165 million shares were outstanding, ignoring any share repurchases and executive options dilutions. We'll get the end of February short interest update in the next few days, and it will be interesting to see what happens. Did more shorts cover because of the deal, or did short interest increase thanks to shares rocketing to new highs? One thing is certain. With volume coming back down to its roughly 2-4 million average, Green Mountain's days to cover ratio will be back in the high single digits or low double digits soon. That means that further short squeezes are still possible.
Valuation is more reasonable:
When looking at any name, one of the most important items is valuation. Investors don't want to overpay for a stock, and if you bought Green Mountain above $120 recently after earnings, you overpaid for now. In the table below, I've compared Green Mountain against another coffee giant, Starbucks (NASDAQ:SBUX), and SodaStream (NASDAQ:SODA), which allows you to make your own soda at home. With Green Mountain looking to enter the cold products business, SodaStream will be a serious Green Mountain competitor going forward. In the table below, Green Mountain's EPS growth and P/E are non-GAAP, since that's what analysts use. SodaStream and Starbucks analysts use GAAP values.

Looking directly at these numbers, Green Mountain looks overvalued at the moment, especially if you convert the P/E to GAAP. However, investors are buying this name for its potential over the next couple of years. The new line of cold products, along with some international growth, could get Green Mountain's growth back into double digits. Also, SodaStream is being punished with a low valuation currently due to earnings per share struggles. While the Green Mountain P/E certainly looks high, it was over 33 at the recent 52-week high (and higher in the after-hours trade the day the Coca-Cola deal was announced). Investors may still want to wait for a slight pullback, which I'll cover in the next section. However, as I said in my post-earnings article, this stock would look a lot different at $100 than it would at $125. At $125, it looked like a short. At current levels, it may become a decent buy.
Support at the 50-day:
Green Mountain's epic rally after earnings really pushed its moving average lines a bit higher, as you would expect. Now that shares have come down a bit, it's time to look at where support might start to come into play. The first moving average that could be tested is the 50-day, which you can see in the chart below. That number is a bit over $93 currently, and should break $95 by the end of this week. Green Mountain shares are still a bit above the moving average, so it would take a fall into the $95 to $100 range for this moving average to be hit in the next week or two. That should be the next level of support.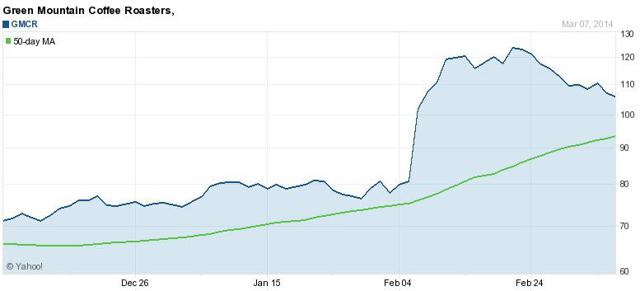 Click to enlarge
(Source: Yahoo! Finance)
Final thoughts:
The Green Mountain craziness has calmed down, and that gives investors a realistic chance to look at this stock. The Coca-Cola deal was a deal that was certainly needed, but it wasn't worth $125 a share to investors right off the bat. Now that shares have pulled back nearly $20 from the high, investors might want to start looking at this name again. Analyst estimates have come down to more realistic levels, and the valuation is improving. Additionally, the name still has a large amount of shares short, which could lead to additional short squeezes. Shares may trade down to the 50-day moving average, so I wouldn't necessarily go all-in just yet. However, the recent pullback does allow investors a chance to look at Green Mountain in a better light.
Disclosure: I have no positions in any stocks mentioned, and no plans to initiate any positions within the next 72 hours. I wrote this article myself, and it expresses my own opinions. I am not receiving compensation for it (other than from Seeking Alpha). I have no business relationship with any company whose stock is mentioned in this article. Investors are always reminded that before making any investment, you should do your own proper due diligence on any name directly or indirectly mentioned in this article. Investors should also consider seeking advice from a broker or financial adviser before making any investment decisions. Any material in this article should be considered general information, and not relied on as a formal investment recommendation.