Arguably the most compelling short squeeze stock of 2014: Weight Watchers
This write-up has two parts: 1) a fundamental analysis explaining why Weight Watchers (NYSE:WTW) is mispriced and out of favor relative to its current enterprise and normalized earnings power. 2) The unbelievable technical reason why WTW is an excellent short squeeze candidate, here at its March 7, 2014 closing price of $20.46.
Part One: The Fundamental Thesis
Huge Addressable Market - According to Weight Watchers' 10-K, this is a $62 billion global industry, with upwards of 3 billion people around the globe who are considered overweight. Weight Watchers' revenue in FY13 was $1.724 billion. Despite Weight Watchers' current headwinds with free apps and activity monitors, Weight Watchers has only captured a relatively small piece of a large global pie, with ample opportunities for revenue growth, with the right strategy.
The marquee brand in weight loss and industry leader - Founded in the early 1960s by Jean Nidetch, Weight Watchers has been, arguably the most trusted weight management brand over the past sixty years. Unlike the countless fleeting diet fades that have overpromised and under delivered, at the heart of Weight Watchers is a lifestyle system with different levels of support, camaraderie, and feedback to help participants not only lose weight, but to maintain the weight loss over extended periods of time. This isn't a short term, one time aspiration goal; rather it's a lifestyle and mindset that has helped millions of program attendees over the past sixty years.
Weight Watchers generates revenue from four segments (Meetings Fees (49.3%), Internet Revenue (30.3%), In-meeting product sales (12.3%), licensing fees and royalty (8.1%)). Unlike a free app or activity monitor, Weight Watchers offers a comprehensive approach to weight management including, tools, training, knowledge, and encouragement, whether this occurs in a meeting or utilizing its online platform to suit the needs of its unique users.
After many years of impressive financial performance, Weight Watchers has encountered a rough patch, led by the current threat of free apps and activity monitor. Technology has been a disruptive force in many industries, and although, no question this is formidable threat, I would argue that Weight Watchers' brand name, reputation, and its system will prevail. Moreover, Weight Watchers has hired a new Chief Technology Officer to revamp its Weight Watchers.com interface, refresh its online tools and is opportunistically prospecting new growth pathways.
Specifically, as discussed on its Q4 earnings call (see the transcript),
Weight Watchers is making a concerted push to gain a foothold in the health insurance marketplace. This was a major topic of discussion during the Q4 earnings call on February 14th and a target new growth arena,where they will investment to attempt to reaccelerate subscriber growth, participation, and user engage. Thinking opportunistically and out of the box, I would argue, as the Obama administration is trying to bend the cost curve of healthcare, with an emphasis on preventive healthcare awareness. The White House's message of food nutrition, exercise, and the pursuit of healthier lifestyles, are on the same wavelength as WTW and therefore, Weight Watchers would be the perfect partner to team up with. Given Weight Watchers' trusted brand and reputation for achieving results for its customers who adhere to the program, and how empirical evidence proves preventive health saves the health care system money,Weight Watchers would be excellent partner to team up with to carry out this mission.
Turning off my imagination for a minute, management is now actively investing in and actively pursuing testing/pilot program with health insurance market. This is a sound strategy with the potential to create excellent future revenue. If some health plans reimburse portions of the cost of a gym member, it's within the realm of possibility that Weight Watchers could partner with the major insurance providers (like United Healthcare (NYSE:UNH), WellPoint (WLP), Aetna (NYSE:AET), etc.)
Management is fully aware of and has fully disclosed its issues - if you read the Q4 earnings transcript (which Seeking Alpha offers for free on its website and the link is included earlier in the article), management was very forthcoming, humble, and sober, admitting its slowness to upgrade its technology offering as well as fully anticipate and counter act the competitive threats of free apps and activity monitors. Since management understands the problem and acknowledges the challenges, which they have, then this creates a sense of urgency and consensus view that the entire organization collectively needs to row the boat in the same direction to right the ship. As there is always a lag between the required time to implement a turnaround, this clear recognition gives me comfort the turnaround can occur by the end of FY14.
This is a great business with excellent gross margins and operating leverage - I want to avoid a sell side style type of report with thirty pages, twenty eight graphs, and the restatement of previous financial results. However, let's quickly walk through some important aspects of Weight Watchers' financial performance to establish a baseline and understand the economics of this business.
Revenue Mix
Weight Watchers' Revenue and Revenue Mix (source:10-K)

FY13

FY12

FY11

FY10

FY09

Meetings fees

$

851.6

$

934.9

$

990.3

$

819.6

$

817.5

Internet revenues

522.2

504.3

399.5

238.8

196

In-meeting product sales

212

253.2

281.8

260.5

251.4

Licensing, franchise royalties and other

138.3

147

160.9

145.2

147.7

Total

$

1,724

$

1,839

$

1,832

$

1,464

$

1,412
Income Statement (from Weight Watchers' 2013 10-K)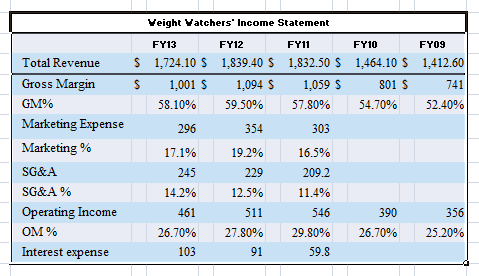 So, clearly, at least financially, this historically has been a very impressive financial performer, with excellent gross margins and operating margins. Despite the $2.358 billion in gross debt, the EBITDA coverage to interest expense is robust. As Weight Watchers gains traction in its turnaround, it will have the free cash flow to pay down its debt. Mid twenty percent operating margins are the envy of most businesses.
Jessica Simpson campaign buys them time and should stem the decline (short term) - In the third week of February, the Jessica Simpson campaign and marketing blitz kicked off. She looks great and has made public appearances on morning talk show circuit. This is should help stabilize the business and buys WTW time to implement its four prong strategy unveiled at its Investor Day Conference and reiterated on its Q4 earnings call on February 14th.
Balance Sheet - The bears will point out that Weight Watchers has $2.358 billion in debt and only $174 million in cash. Yes, at face value, this is high and initially gave me pause. However, this debt isn't due anytime soon and it consists of two tranches of credit facilities. Tranche 1 expires on April 2, 2016 and is $300 million, and the second larger piece, is a $2.058 billion tranche expiring on April 2, 2020. This debt is variable and Weight Watchers has purchased interest rate swaps to protect against an adverse move in interest rates. Weight Watchers' management forecasted a FY2014 interest rate expense of $125 million. In the third quarter of FY2013, Weight Watchers suspended its $0.175 per quarter dividend to maintain cash and shore up its balance sheet.
FY 2014 Guidance - Management has guided E.P.S in a range of $1.30 - $1.60 down from consensus street views of $2.78. Gross margins are forecast at 54%, marketing cost should approach last year's level, SG&A will be lower with the cost saving initiatives, interest expense are forecasted at $125 million. Despite taking down FY14 revenue guidance by upwards of $400 million, if Weight Watchers generate results near the midpoint of its Febuary 14th 2014 guidance range, its operating income provides ample coverage to cover its interest expense.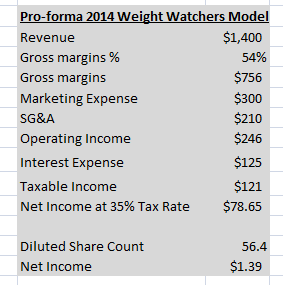 Part Two: The short squeeze technical piece
As of Weight Watchers' 2/26/14 10-K filing, there are 56.4 million fully diluted shares of Weight Watchers. Here is where the story gets interesting, Artal Group S.A., which is the private equity firm run by Raymond Debbane, currently owns 28.749 million shares of WTW or 50.95% of Weight Watchers' shares. As of 12/31/2013, including Artal Group, the top ten institutional holders owned 49.69 million shares (88.1% of its fully diluted shares outstanding). However, as of 2/14/14, the day Weight Watchers took down guidance, there were 12.346 million shares short WTW. Outside of Artal Group, Fidelity owned 5.8 million shares (SC 13 G filling 1/10/14), Capital Research owned 4.9 million shares (hasn't filed in 2014), and First Manhattan Company owned 3.6 (according to its SC 13 G filling 2/14/14).
Now the exciting part, let's do some back of the envelope, first grade math. Given Artal's history of buying Weight Watchers from H.J. Heinz in 1999, which I will reference later in this write up, it's highly unlikely Artal sold any shares. From February 14th, the day Weight Watchers sharply reduced its FY14 earnings guidance from street census $2.78 to a range of $1.30 - $1.60, Weight Watchers has traded approximately 31.7 million shares. Now, Fidelity and Capital Research haven't filed their SC 13G forms since the earnings warning, so no one knows for certain, but assuming neither one sold any shares in FY2014 then Artal (28.749 million shares), Fidelity (5.8 million), Capital Research (4.9 million), and First Manhattan (3.6 milion) collectively own roughly 43 million shares. So, again, notwithstanding the possibility that Fido or Cap RE threw in the towel, this means that virtually 92% of WTW's available float could still be short.
The math is simple (56.4 million fully diluted shares - the top four holders stakes of 43 million = 13. 4 million. 12.346 million shares short / 13.4 million = 92.1%)!! Moreover, I have friends on the buy side who have confirmed that it's prohibitively expensive to borrow Weight Watchers shares to short, with very high annualized margin borrowing rates, and it's almost impossible to locate shares to short. Therefore, given the fact that more than 92% of the float could be short, ex Artal's stake and if the other big three haven't sold, the fact that 31.7 million shares have traded between (2/14 and 3/7), it's logical to infer that at the very least, WTW is technically oversold and given the price action shorts haven't covered. This begs the question, why are shorts so greedy and exposing themselves to asymmetrical risk given the borrowing costs to short and the very real prospect of a short squeeze that could take this stock back to the $30s in a New York minute. This is pure speculation on my part, but if an aggressive activist investor like Carl Icahn, Stan Druckenmiller, George Soros, or Bill Stiritz were to wade into the pool on the long side, WTW might become a $30 stock on a short squeeze alone. The reason I mention these billionaires specifically is because they were aggressive buyers of Herbalife and made money squeezing Bill Ackman.
Brief Artal Group S.A. history - Forbes wrote a great piece on September 4th, 2012 titled "The Mystery Man Weight Watchers and Private Equity Deal of the Century".
Conclusion - Whether you are intrigued by this stock by the potential technical short squeeze, which I believe could be imminent with any positive news, or you are a longer-term Buffett-like value investor who relishes filling your shopping cart with great brand and out of favor stocks at attractive prices, I would argue Weight Watchers is a mispriced equity that's cheap relative its normalized earnings power measured against its enterprise value. From a full disclosure perspective, I'm long WTW at $21.75 and may add to my recently acquired WTW holdings within the next 72 hours. Any hedge fund investors, who are short, feel free to poke holes in my thesis and conjecture. I welcome the rigorous debate.
Disclosure: I am long WTW. I wrote this article myself, and it expresses my own opinions. I am not receiving compensation for it (other than from Seeking Alpha). I have no business relationship with any company whose stock is mentioned in this article.
Additional disclosure: I am long WTW at $21.75 and may buy more within the next 72 hours.