By David Berman
Global stock markets took a nasty tumble in May, but analysts remain enthusiastic about stocks. According to Pierre Lapointe, global macro strategist at Brockhouse Cooper, recommendations among analysts covering companies within the S&P Global 1200 rose in May to their most bullish stance in more than two years.
Click to enlarge: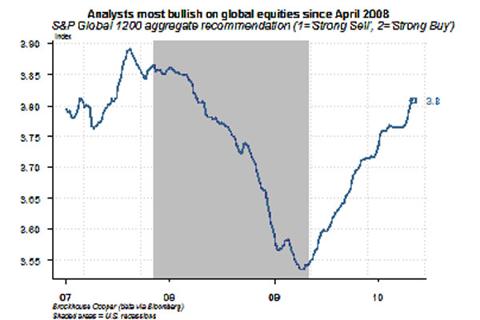 "On a scale of one to five (one being a strong sell recommendation and 5 being a strong buy), the aggregate recommendation increased from 3.76 to 3.81," he said in a note.
Every sector was revised upward. Financials, energy and industrials – all higher risk, cyclical areas of the market, which were among the hardest hit during the May selloff – got the biggest boosts.
Mr. Lapointe also looked at which companies within the S&P Global 1200 received the biggest upgrades. National Australia Bank Ltd. was at the top of the list, followed by Stockland, Man Group PLC and Fosters Group Ltd.(OTC:FBRWY).
Just three Canadian stocks cracked the top 50: Canadian Imperial Bank of Commerce (NYSE:CM), Power Corp. of Canada and Nexen Inc. (NXY).
Mr. Lapointe said:
Analysts fine tune their earnings estimates all the time. But they only change their recommendation when they are convinced that the potential return for a stock has improved or deteriorated substantially.

The fact that the consensus is even more bullish in the face of a full-fledged stock market correction is very positive to us.
Of course, this doesn't rule out the possibility that analysts are contrarian indicators. As Mr. Lapointe's chart shows, analysts were at their most bullish in late 2007, when the S&P 500 was sitting at a record high. It would soon fall more than 50 per cent before bottoming out at a 12-year low.
At the same time, analysts were at their most bearish (or least bullish) in early 2009, when the S&P 500 was about to embark up an 80 per cent gain over the next 14 months.
Maybe this time analysts have it right.