General Electric (NYSE:GE) has undergone some transformational changes over the past decade. After a number of years of unfocused expansion and poor returns, CEO Jeffrey Immelt steered the company back into profitability.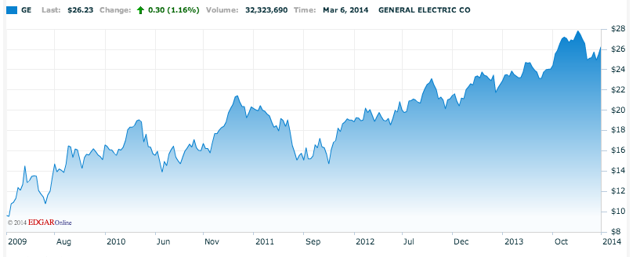 Click to enlarge
(Nasdaq.com)
As a result of his strong performance in 2013, GE announced its intention to grant Immelt a sizable raise in salary--a significant portion of which the CEO re-invested into the company by buying 105,000 shares of GE stock.
CEO Jeffrey Immelt
Immelt is an Ohio native with an MBA from Harvard Business School and worked at GE since 1982. In 2001, amid the chaos after 9-11, Immelt became CEO. His ability to get results sparked President Obama to appoint him as president of the Economic Recovery Advisory Board in 2009 to advise on recovery efforts after the financial collapse. In 2011, President Obama also asked Immelt to be chairman of his panel of economic advisors.
Overcoming Past Troubles
GE endured a long period of unfocused investment, which negatively impacted the company's bottom line throughout the 1990s. The company engaged in a scattered approach to acquisitions, which sapped the company's resources and resulted in cutting its stock value by 50 percent in 2002. Immelt took on the job of bringing the company focus back to its roots, implementing new strategies and tightening its financial belt. A recent decision included plans to spin-off GE Capital. The hard work paid off in a resurgence of profit and better positioning for the economic problems of Great Recession. The company now finds itself in a good position to take advantage of increasing opportunities as the economy recovers.
A Profitable 2013
At the earnings conference call in October 2013, Immelt was able to report sound earnings for the company and significant growth in the recovering economy. Orders were up 19 percent; and at that time the company had provided a $3.9 billion dividend from GE Capital. Growth was steady both domestically and overseas. Immelt foresaw continued expansion throughout 2014.
GE Moves Forward For It's Shareholders Including Buffett
Immelt continues to provide solid leadership for the company with an optimistic outlook for 2014 and beyond. Although continuing slow growth in Europe may put a drag on overseas earnings, Immelt has expressed confidence in the company's ability to draw revenue from a broad range of other areas to keep GE in the forefront of the list of companies with strong growth prospects.
We continue to be in favor of GE, given Immelt's bold move to reinvest his bonus; CEOs usually keep their-at times outsized-salaries personal. Warren Buffett (NYSE:BRK.B) seems to agree with us as he recently increased his company's stake in GE to 10 million shares. GE overall shows a strong uptrend as evidenced in the chart above, and 2014 has already brought indicators of growth in the US economy.
Although one could argue Immelt's recent investment is just a gesture to boost shareholder confidence, GE's overall strength suggests differently: this could be a well-calculated, highly profitable decision which will benefit his, Warren Buffett and all GE shareholders.
Disclosure: I have no positions in any stocks mentioned, and no plans to initiate any positions within the next 72 hours. I wrote this article myself, and it expresses my own opinions. I am not receiving compensation for it (other than from Seeking Alpha). I have no business relationship with any company whose stock is mentioned in this article.