In November 2013, I presented my bullish bias on MFRI Inc. (NASDAQ:MFRI). The article can be read here. I remain long MFRI and have added to my position recently. This article will give an overview of MFRI, why I have added and why I believe the company remains cheap at this level.
My latest article on Gogo Inc. (NASDAQ:GOGO) has risen 18.9% since published and I believe MFRI is about to do the same over the next few weeks.
Brief overview of the company

MFRI manufactures and sells filtration products, piping systems, and industrial process cooling equipment. The company sells their products in the United States and internationally. MFRI's subsidiaries include Midwesco Filter Resources, Inc. and Perma-Pipe Inc. The piping system business segment engineers, designs, manufactures, and sells specialty piping systems and leak detection and location systems. This segment's specialty piping systems include industrial and secondary containment piping systems for transporting chemicals, waste streams, and petroleum liquids; insulated and jacketed district heating and cooling piping systems for energy distribution to multiple locations from central energy plants; and oil and gas gathering flow lines and long lines for oil and mineral transportation. The Piping System business segment's leak detection and location systems are sold as part of its piping systems products to monitor areas where fluid intrusion may contaminate the environment, endanger personal safety, cause a fire hazard, impair essential services, or damage equipment or property.
What interests me in the above paragraph is the opportunity MFRI has in the oil and energy industry.
The potential
My system has triggered a buy in oil and energy stocks recently. I have also seen a number of oil and energy stocks make new highs, which correlates with some of the factors that I use when I want to buy a stock.
If one has to study the United States Oil Fund (NYSEARCA:USO), one can observe that volume has been increasing lately, and a golden cross is about to occur. This is defined as the time when the 50 day moving average crosses over the 200 day moving average on a daily chart as observed below. This is very bullish and signifies an uptrend can occur.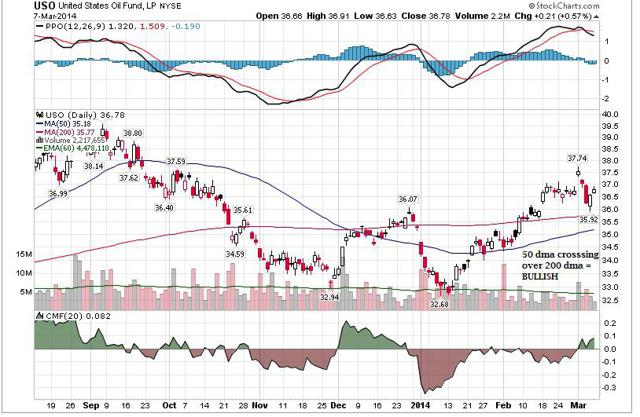 I believe that 2014 will be a great year for oil and energy stocks. As the demand for oil continues to increase, so will the demand for MFRI products.
Latest earnings report
The last earnings report announced on December 9th, 2013 was another record for the company.
President and CEO Bradley Mautner commented:
"The demand environment for Piping systems remains active and we are now pursuing a wide variety of promising opportunities worldwide of varying size and duration with the aim of diversifying our business from a product, project and geographic point of view. We are also pursuing certain ventures that offer the potential over the long term to replicate the success we have had in the middle East".
I believe this is very important for MFRI. One has to remember that the company still has a big backlog of orders and if it starts winning new contracts, the potential for massive growth is there. The table below summarizes the backlog.

As discussed, the earnings call was stellar. Net sales increased 23% from the 2012 quarter, with net sales reaching $58 million, up from $47.2 million. Gross profit rose to $16.9 million as compared to $8.7 million in the previous year. Sales in the piping system remains very strong, whilst the filtration product industry remains poor, as profit decreased by 17.4%.
One must remember that MFRI had sold their thermal care subsidiary on April 26, 2013. I wonder whether the potential of selling the filtration part of the company is there. Their piping system remains to be very strong and I think the company is using all their effort and energy to grow this business. Something to keep in mind.
Net income also rose to $7.4 million, compared to $0.5 million in 2012, once again, due to very strong growth in piping products.
Fundamental analysis
Fundamentals haven't changed in the last few months and remain very strong. The company is valued at around $100 million. Book value reads at $10.95. Only 5.96 m shares in the float, with 23% owned by insiders. What I like is that insiders have not sold any shares, even though the stock has had a nice rise in the last 12 months. The company also has over $10 million in cash, which reduces the chances of a secondary offering of shares.
Technical analysis
I continue to study the weekly chart of MFRI.
Prices continue to stabilize over the 10 day moving average on the weekly, and a beautiful bullish flag has been forming. One has to keep an eye on volume. I will add for the third time once new highs are achieved. Stochastics are not overbought so the move can happen easily.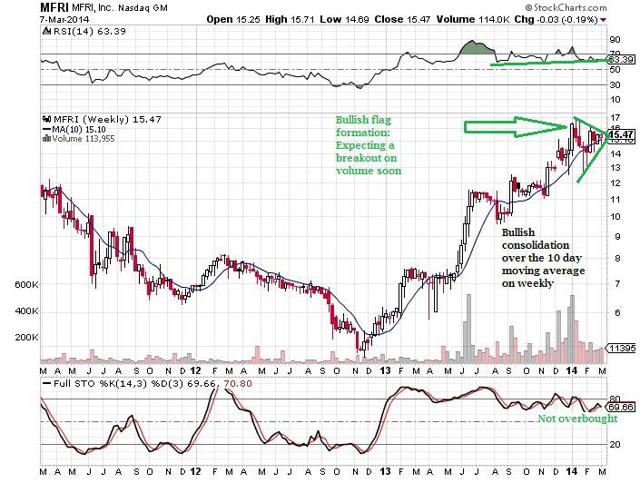 The daily chart is also strong as prices have been consolidating over the 50 day moving average.
Conclusion
I remain long MFRI and has recently added MFRI shares to my portfolio, now risking 2%. I continue to like the company, the potential for the future and the opportunities that lie ahead in the oil and energy sector. Oil prices are on the rise and I expect new highs over the Summer, and I believe MFRI can benefit from this. Further more, earnings in the next few weeks should be very strong as a result of the backlog, and with the low float, a jump in price is expected.
Disclosure: I am long MFRI. I wrote this article myself, and it expresses my own opinions. I am not receiving compensation for it (other than from Seeking Alpha). I have no business relationship with any company whose stock is mentioned in this article.