Back in mid-February we identified as an "Elephant" in our hunt for profit opportunities, one in the form of ProShares Ultra Pro Russell 2000 ETF (NYSEARCA:URTY). Then this animal had just started a wild charge, originally from $73, but by then at $80. Our sale target was $91, an 11% gain.
Stampeding well past that, now at $97, what does our guide team advise? These guys, among the best informed, best paid local experts, sure had the first take on URTY well positioned. Too bad we had to miss the first +10% of its charge. Still, they got us in perfect place for the next events.
But now, have their expectations for his next move caught up to where he is now, perhaps even beyond? Will his momentum provide even more exciting images? Here's what they see in store now:
((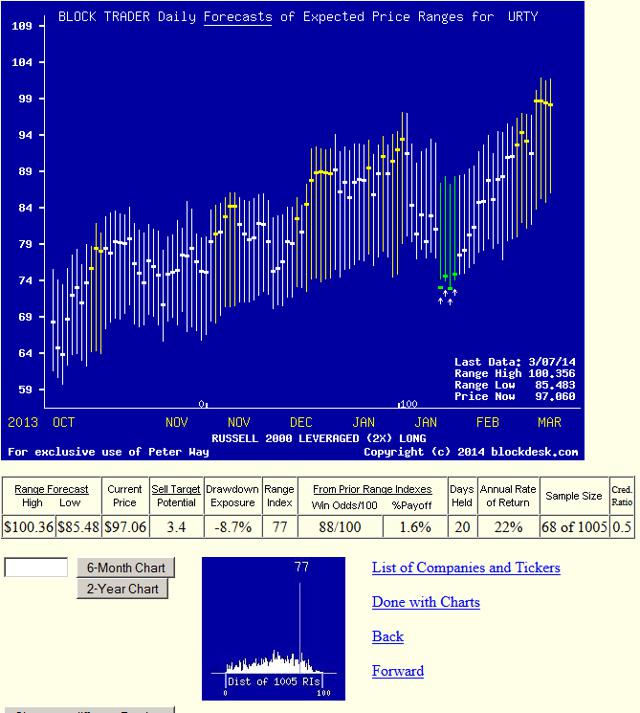 (used with permission)
That looks like it's time to give URTY a rest. He's clearly gotten fatigued, at least as the pros track his moves, and what influence they see the locals may have on him next.
When he has gotten to this stage in earlier days, in almost 9 out of every 10 times (88 out of 100) URTY has pushed on to expected gains. But look at their size! Would you put valuable resources at risk out in his path for only 1.6%, no matter how good the odds?
He's still very dangerous; one of those -8.7% surprise rages could undo most of the gains we've been able to get. And over three-fourths of what they think might yet occur are not likely to be pleasant to anyone this far ahead on their scorecard.
No, the guides are telling us it's time to give this one a rest for a bit, and hunt up some other fresh game, ones offering more attractive trophies to hang on the wall of our bank account.
Disclosure: I have no positions in any stocks mentioned, and no plans to initiate any positions within the next 72 hours. I wrote this article myself, and it expresses my own opinions. I am not receiving compensation for it (other than from Seeking Alpha). I have no business relationship with any company whose stock is mentioned in this article.